Independence Day has new meaning this year for millions of people across the pond. On this side, it's a three-day weekend, a time to binge-watch shows before the fireworks.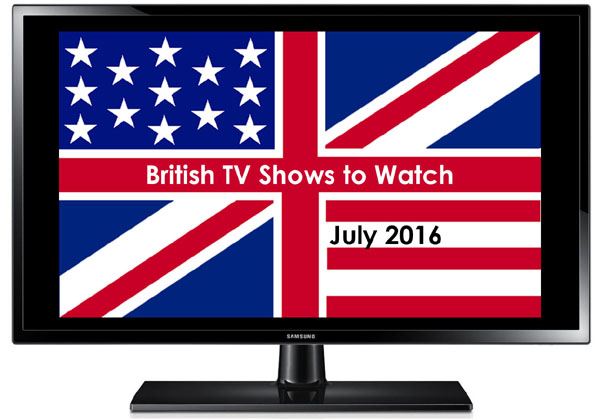 NATIONAL PREMIERES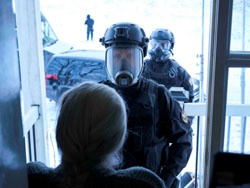 Between: Season 2 (Canada)
The town of Pretty Lake has seen everyone over the age of 21 wiped by a mysterious disease, and the government's quarantine of a 10-mile diameter area leaves the 21-and-under inhabitants fending for themselves. Joining the cast in Season 2 are Steven Grayhm (Smallville) as Liam Cullen, a mysterious visitor who might (or might not) have the secret to curing the virus that has plagued the town, and Mercedes Morris (Couple-ish) as Renée, a cult leader in Pretty Lake. Between: Season 2, a Netflix Original Series, premieres today, 1 July 2016, on Netflix.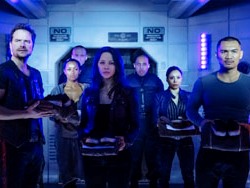 Dark Matter: Season 2 (Canada)
Based on the comic book of the same name by series creators Joseph Mallozzi and Paul Mullie, this sci-fi series follows six people who woke up on a derelict spaceship with no memories of who they are or how they got on board. Calling themselves One, Two, Three, Four, Five, and Six, they were hauled off by the Galactic Authority in the Season 1 finale, seemingly the victims of Six having sold them out. In "Welcome To Your New Home," the first of thirteen new episodes, the crew mates are now inmates at Hyperion-8, a Maximum Security Galactic Detention Facility Lunar Base. Season 2 of Dark Matter premieres tonight, 1 July 2016, at 10 PM ET, on Syfy.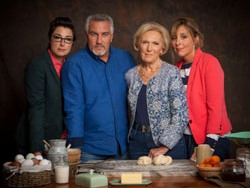 The Great British Baking Show: Season 3
Season 3 of this mega-hit food competition series (screened as The Great British Bake-Off: Series 6 in the UK) features a dozen amateur bakers mixing, kneading, and whipping themselves into a frenzy to be named the best baker amongst them by judges Mary Berry, the UK's "doyenne of baking," and artisan bread-making expert Paul Hollywood. Those who fall flat in the Signature Bake, Technical Bake, and Showstopper Bake challenges for Cakes, Biscuits, Bread, Desserts, Alternative Ingredients, Pastry, Victorian, and Pâtisserie won't make it to the Semi-Final (Chocolate), much less the Final. Sue Perkins and Mel Giedroyc return to host Season 3 of The Great British Baking Show, which premieres in the US tonight, 1 July 2016, at 9 PM ET, on PBS. (Check your local listings.) PBS will also air additional seasons of The Great British Baking Show over the next two years. Stay tuned for updates.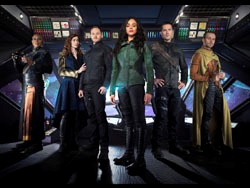 Killjoys: Season 2 (Canada)
This sci-fi series follows three interplanetary bounty hunters, sworn to remain impartial, as they chase deadly warrants throughout the Quad, a distant system on the brink of a bloody, multi-planetary class war. The new season opens with "Dutch and the Real Girl," in which Johnny (Aaron Ashmore) and Dutch (Hannah John-Kamen) must rescue a kidnapped D'avin (Luke Macfarlane), but that's just the start of a larger adventure that sees the team taking on old enemies, the seeming omnipotence of the tyrannical Company, and the mysterious agenda of Khylen (Rob Stewart), Dutch's former mentor. Season 2 of Killjoys premieres tonight, 1 July 2016, at 9 PM ET, on Syfy.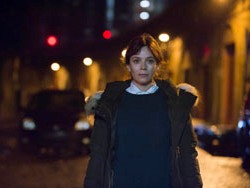 Marcella
Anna Friel (Pushing Daisies, The Heavy Water War) stars as Marcella (pronounced mar-che-la) Backland, a former detective who returns to the Met's Murder Squad after the breakdown of her marriage. Her first case involves a series of murders that seem oh so similar to the spate of unsolved killings she'd worked on before starting a family a decade earlier. She has a hunch about the murderer and suspicions about her husband Jason (Nicholas Pinnock, Fortitude), but her fragile state could break her. (For further details, read this article.) Co-created by Hans Rosenfeldt (The Bridge) and Nicola Larder (The Tunnel), Marcella, a Netflix Original Series, premieres in the US today, 1 July 2016, exclusively on Netflix.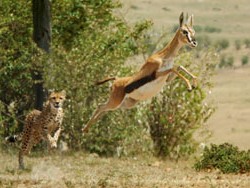 The Hunt
Narrated by famed naturalist Sir David Attenborough and shown in Ultra HD, this new nature series from the makers of Planet Earth illustrates in dramatic detail the strategies predators use to catch their prey and the ones the prey use to escape. Each episode of the seven-part series centers on one of our planet's key habitats and reveals the challenges predators and prey face in their environments, from open grasslands and dense forests, to the arctic and the open ocean. Produced by Silverback Films for the BBC and co-produced by BBC America with BBC Worldwide and NDR Naturfilm, The Hunt premieres in the US on Sunday, 3 July 2016, at 9 PM ET, on BBC America.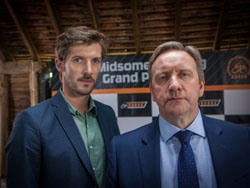 Midsomer Murders: Series 18
The detective duo of DCI John Barnaby (Neil Dudgeon) and DS Charlie Nelson (Gwilym Lee) are back to solve more murders in the idyllic villages of Midsomer, the deadliest (fictional) county in England. Supporting them in their investigations is Causton CID's new forensic pathologist, Dr. Kam Karimore (Manjinder Virk, Ordinary Lies). Guest stars in the six new feature-length mysteries include Kingsley Ben-Adir (Vera) and Tessa Peake-Jones (Grantchester), amongst others. (For further details, read this article.) Stateside fans, take note: This is the final series in which Gwilym Lee costars. Barnaby will have a new sidekick in Series 19. Midsomer Murders: Series 18 premieres in the US on Monday, 4 July 2016, on Acorn TV.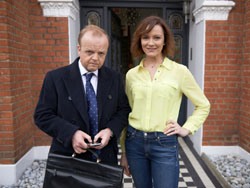 Capital
Adapted by BAFTA® Award winner Peter Bowker (Marvellous) from the bestselling novel of the same name by John Lanchester, this three-part drama centers on the denizens of Pepys Road, a single street in South London transformed by soaring property prices. One day they all receive an anonymous postcard that reads simply, "We want what you have." And so begins the mystery. The all-star cast includes Toby Jones (The Secret Agent), Rachael Stirling (Detectorists), Radoslaw Kaim (Spies of Warsaw), Wunmi Mosaku (Dancing on the Edge), Adeel Akhtar (River), and Gemma Jones (Unforgotten). Capital premieres in the US on Monday, 11 July 2016, at 10 PM ET, on Pivot.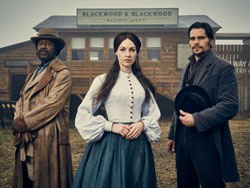 Jericho
Not to be confused with any of the other series and films titled Jericho, this British western set in 1870s Yorkshire stars Jessica Raine (Partners in Crime) as Annie Quaintain, a recently widowed mother forced to sell everything to pay off her late husband's debts. Penniless and shunned by society, Annie and her two children set out for Culverdale Valley, where she sets up a lodging house in the lawless shantytown of Jericho. But a desperate crime threatens to shatter her family's chance at a new life. Costarring Hans Matheson (The Tudors) as Yorkshire native Johnny Jackson, and Clarke Peters (The Wire) as ambitious and enigmatic American Ralph Coates, the eight-episode Jericho premieres in the US on Monday, 11 July 2016, exclusively on Acorn TV.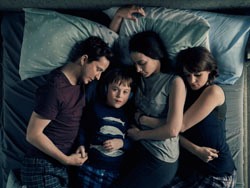 The A Word: Season 1
Based on the Israeli drama series Yellow Peppers, and recently recommissioned for a second series, this riveting drama captures an authentic portrait of one multi-generational family after their young son is diagnosed with autism. It stars newcomer Max Vento as 5-year-old Joe, and Lee Ingleby (George Gently) and Morven Chrsitie (Grantchester) as Joe's parents, Paul and Alison. Also featuring in the cast are Vinette Robinson (Sherlock), Greg McHugh (Gary: Tank Commander), and Christopher Eccleston (The Leftovers). (For further details, read this article.) The A Word: Season 1 premieres in the US on Wednesday, 13 July 2016, at 10 PM ET, on SundanceTV, the first broadcaster outside the UK to air the series.
Cradle to Grave: Series 1
Set in 1974 Bermondsey, South London, this eight-episode comedy follows the real-life events of British broadcaster Danny Baker (the first-ever winner on the hilarious panel show QI) and his family. It stars Laurie Kynaston (Our World War) as Danny Baker, and Peter Kay (Peter Kay's Car Share) and Lucy Speed (EastEnders) as Danny's parents, Fred "Spud" Baker and Bet Baker. Based on Baker's autobiography Going to Sea in a Sieve, co-written by Baker and BAFTA winner Jeff Pope (Cilla), and featuring tunes from Bob Dylan, Squeeze, and The Who, Cradle to Grave: Series 1 premieres in the US on Monday, 18 July 2016, exclusively on Acorn TV. A second series has been commissioned. Stay tuned for updates.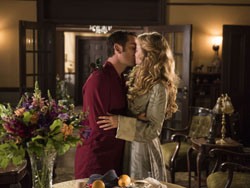 Murdoch Mysteries: A Merry Murdoch Christmas (Canada)
Based on the "Murdoch Mysteries" book series by Maureen Jennings, this Canadian TV series has been charming American viewers for nine seasons now (soon to be ten). So what better Christmas-in-July gift than a feature-length Murdoch Mysteries holiday special? When a philanthropist is found dead before the holidays and his gifts to Toronto's orphans go missing, it's up to Murdoch (Yannick Bisson), Ogden (Hélène Joy), and the team at Station No. 4 to solve the mystery and save Christmas. Featuring guest stars Ed Asner (Up), Brendan Coyle (Downton Abbey), and Kelly Rowan (The O.C.), Murdoch Mysteries: A Merry Murdoch Christmas premieres in the US on Monday, 25 July 2016, exclusively on Acorn TV.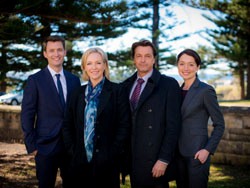 Winter (Australia)
In "The Killing Field," the feature-length pilot of this Australian murder mystery series, a teen girl named Becky goes missing in the small country town of Mingara. The search for her leads to the gruesome discovery of the corpses of five dead women in a field, prompting the local authorities to call Detective Eve Winter (Rebecca Gibney, Packed to the Rafters) and her elite team of homicide detectives for help. Following the pilot is the six-episode first season, which features a new case. Winter premieres in the US on Monday, 25 July 2016, on Acorn TV.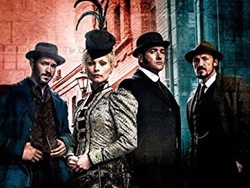 Ripper Street: Season 4
You can take former copper Edmund Reid (Matthew Macfadyen) out of London, but you can't take the copper out of Reid. Over in Whitechapel, his replacement as the head of the (1897) modernized Station H is Detective Inspector Bennet Drake (Jerome Flynn). Captain Homer Jackson (Adam Rothenberg) is still doing his brand of forensic pathology, but he's changed his ways to save Long Susan (MyAnna Buring) from hanging for her crimes (from Season 3). Only the gallows await her, so he gets help from Bennet and Rose (Charlene McKenna). Meanwhile, a skeleton in Reid's closet threatens to change his life forever. Ripper Street: Season 4 premieres Thursday, 28 July 2016, time TBA as of this writing, on BBC America.
NON-PREMIERE PROGRAMS ADDED TO STREAMING SERVICES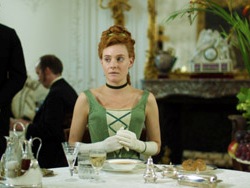 The Crimson Petal and the White
Based on Michel Faber's international bestseller, this four-part psychological thriller follows the fortunes of Sugar (Romola Garai, The Hour), a notorious prostitute who longs for a better life. Sexually adept, ambitious, and clever, she casts a spell on William Rackham (Chris O'Dowd, Moone Boy), feckless heir to a perfume business and husband to a wife slipping slowly into insanity. As their lives intertwine, events are set in motion that will change them forever. Co-starring Gillian Anderson (The Fall), Amanda Hale (Bright Star), Shirley Henderson (Southcliffe), and Richard E. Grant (Jekyll & Hyde), The Crimson Petal and the White begins streaming Monday, 4 July 2016, on Acorn TV.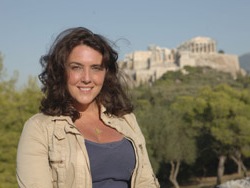 Genius of the Ancient World
Historian, author, and broadcaster Bettany Hughes (Helen of Troy) hosts this three-part documentary about three giants of ancient philosophy who lived within 100 years of each other between the 6th and 5th century B.C.: the Buddha, Socrates, and Confucius. Through her travels to India, Greece, and China, she reveals how each of them "embodied a shift from a reliance on the supernatural to explain humankind's place in the cosmos, to one where rational thought offered new, exciting possibilities." (Source: Bettany Hughes) Genius of the Ancient World begins streaming on Monday, 4 July 2016, on Acorn TV.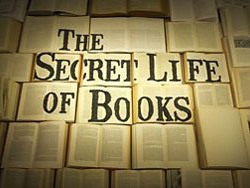 The Secret Life of Books: Series 2
In this follow-up to the intriguing first series, presenters, including multi-award-winning actor and director Fiona Shaw (Harry Potter), revisit original manuscripts and authors' diaries to reveal new insights into six works of classic literature. Titles include Edmund Spenser's Elizabethan epic The Faerie Queene, Edward Lear's Nonsense Songs (which gave us "The Owl and the Pussycat"), George Eliot's The Mill on the Floss (which reflects her experience of disgrace from an affair), Thomas de Quincey's autobiographical classic Confessions of an English Opium Eater, Laurie Lee's memoir Cider with Rosie, and Arthur Ransome's Swallows and Amazons, a classic of children's literature. The Secret Life of Books: Series 2 begins streaming Monday, 11 July 2016, on Acorn TV.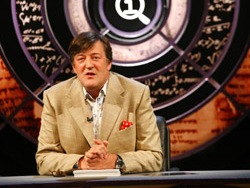 QI: Series 5 & 6
Topics starting with the letters E and F make for hilarious, NSFW exchanges between host Stephen Fry, permanent panelist Alan Davies, and guest panelists in this wickedly funny edutainment series. From questions about England, Europe, and endings (I kid you not), to France, fight or flight, and the future, these two series feature the brilliance of Ben Miller (Death in Paradise), David Mitchell (Upstart Crow), Emma Thompson (Barney Thomson), and the late Sir Terry Wogan, amongst many others. QI: Series 5 & 6 begin streaming Monday, 25 July 2016, on Acorn TV.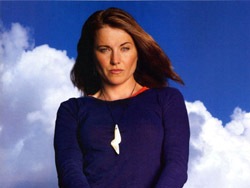 Warrior Women (Canada/UK)

Brought to the screen by television's most famous woman warrior, Lucy Lawless (Xena: Warrior Princess), this five-episode documentary series brings to life history's most charismatic women warriors: Joan of Arc, Grace O'Malley, Mulan, Boudica, and Lozen. Shot on location in France, Ireland, Britain, China, and New Mexico, and featuring stories that are a heady mix of historical sleuthing and provocative reconstruction, Warrior Women begins streaming Monday, 18 July 2016, on Acorn TV.
(All photos in this section courtesy of Acorn TV, except for The Secret Life of Books © BBC.)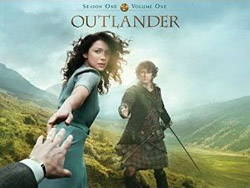 Outlander: Season 1
Members of Amazon Prime who want to relive the early days of the romance between 20th-century Claire Randall (Caitriona Balfe) and 18th-century Jamie Fraser (Sam Heughan) will soon be able to binge-watch the first season of this hit action-historical-period drama and timey-wimey love story at no charge (beyond the monthly or annual Prime fee — more about this here). Adapted from Diana Gabaldon's bestselling "Outlander" novels, and costarring Tobias Menzies as both Claire's (first) husband and his evil ancestor, Outlander: Season 1 becomes an Amazon Prime title starting Saturday, 9 July 2016.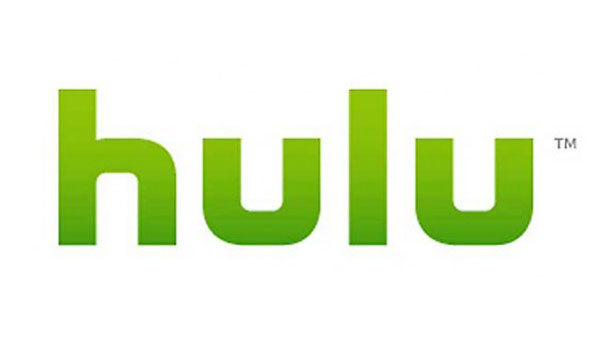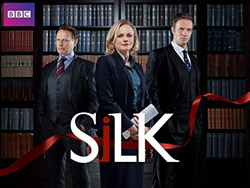 Silk: Series 2
With Martha Costello (Maxine Peake) now a QC, barrister Clive Reader (Rupert Penry-Jones) still aiming for silk, and Senior Clerk Billy Lamb (Neil Stuke) doing his best to manage their chambers, it's another season of tense legal drama full of cases, crooks, and courtroom adversaries. Joining the cast of Series 2 are Frances Barber (Doctor Who), Amy Wren (The Last Kingdom), Phil Davis (Poldark), Indira Varma (Game of Thrones), and Shaun Evans (Endeavour). Silk: Series 2 begins streaming today, 1 July 2016, on Hulu.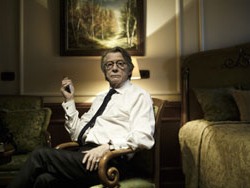 The Last Panthers
Inspired by the real-life gang of Balkan jewel thieves known as the Pink Panthers, this international crime thriller follows three people connected by a daring daytime diamond heist in Marseilles: British insurance agent Naomi Franckom (Samantha Morton, In America), who is sent by her nefarious boss Tom Kendle (John Hurt, Elephant Man) to recover the stolen ice; French-Algerian cop Khalil Rachedi (Tahar Rahim, A Prophet), who is investigating the case; and Milan Celik (Goran Bogdan, We Will Be the World Champions), a Bosnian criminal trying to get cash to save his brother's life. Dark, tense, and gritty, The Last Panthers begins streaming Sunday, 17 July 2016, on Hulu.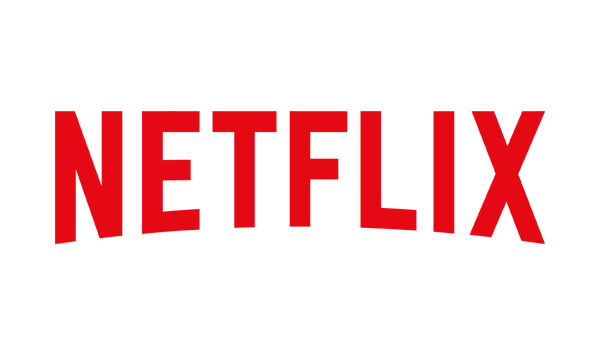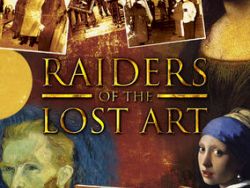 Raiders Of The Lost Art: Season 2
Through archival footage, reenactments, and expert commentaries from art detectives and forensic art analysts, this anthology documentary series reveals the fascinating stories behind missing (and not always recovered) masterpieces. Some of the renowned works include Edvard Munch's The Scream, Claude Monet's Impression, Sunrise, Vincent Van Gogh's The Sunflowers, and Johannes Vermeer's Girl with a Pearl Earring, amongst others. Series 2 of Raiders Of The Lost Art begins streaming today, 1 July 2016, on Netflix.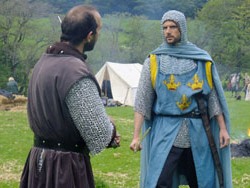 Mystery Files: Season 1
This anthology documentary series aims to shed light on the mysteries surrounding some of history's most famous figures with the help of the latest science, reenactments, and more. Amongst those covered are the assassination of President Abraham Lincoln, the existence of King Arthur, the location of Alexander the Great's tomb, and the life of Joan of Arc. Mystery Files: Series 1 begins streaming Saturday, 9 July 2016, on Netflix.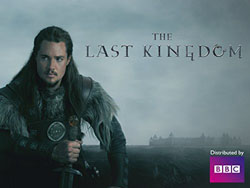 The Last Kingdom: Season 1
One of my favorite Brit TV series of 2015, this period action drama is based on the first two books of Bernard Cornwell's bestselling "Saxon Tales" historical fiction novels. The eight-part series follows Uhtred (Alexander Dreymon, American Horror Story), a Saxon who must choose between the country of his birth and the Danes who raised him while fighting to reclaim his birthright and playing his part in the birth of a new nation. (For further details, read this article.) Renewed for a second season, which is expected to debut in late 2016/early 2017, The Last Kingdom: Series 1 begins streaming Sunday, 10 July 2016, on Netflix.
For updates about July 2016 program offerings, see the British TV Viewing Guide.
__________________

Add your comments on our Facebook and Twitter pages.

Share this post/page.

British TV to Watch in July 2016: British Baking, Jericho, Marcella, Ripper Street, and More