Acorn, the RLJ Entertainment brand that brings some of the best British TV to the US, has acquired the television, digital, and home entertainment rights to the highly-anticipated new espionage drama, The Secret Agent, from Content Television.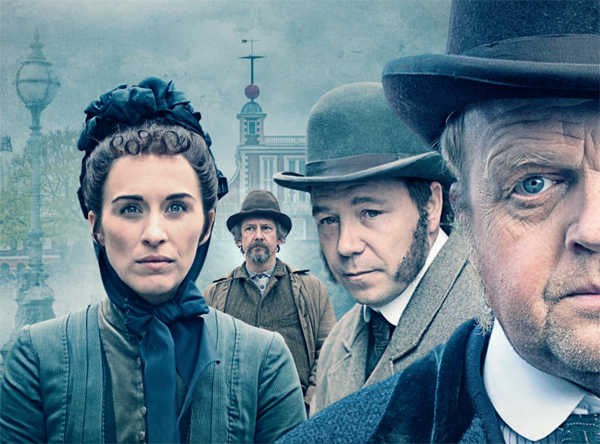 Adapted from Joseph Conrad's classic novel of terrorism, espionage, and betrayal by BAFTA-winning writer Tony Marchant (Great Expectations), The Secret Agent will premiere in the US on Acorn TV.
Not only that, Acorn has rights to the miniseries' domestic DVD and Blu-ray, digital distribution, and broadcast syndication.
The Secret Agent stars Golden Globe, Primetime Emmy®, and BAFTA Award nominee Toby Jones (Detectorists, Marvellous, The Girl), and BAFTA and RTS Television Award winner Vicky McClure (Line of Duty, This is England '86/'88/'90).
The four-part drama also features Ian Hart (My Mad Fat Diary) and Stephen Graham (Boardwalk Empire), as well as Tom Goodman-Hill (Mr Selfridge).
Set in 1886 London, the riveting psychological thriller follows the story of Verloc (Jones), owner of a seedy shop in the heart of Soho. Unbeknownst to his loyal wife Winnie (McClure), Verloc also works for the Russian embassy, spying on a group of London anarchists. The Russians are furious with the English establishment's indifference to the anarchist threat gripping the rest of Europe, so they assign Verloc to a  dangerous mission: blow up the Greenwich Observatory and make it look like a terrorist attack to provoke a crackdown. Should he fail, Verloc's real identity as a spy will be exposed to his vicious comrades.
Verloc is forced to turn to the volatile Professor (Hart) to supply explosives, which in turn attracts the attention of Chief Inspector Heat of Scotland Yard (Graham). Caught between the Russians and the police, Verloc grooms Winnie's younger brother, Stevie (Charlie Hamblett, Babylon), as his unsuspecting accomplice. When the truth outs, Verloc has to face Winnie's wrath…
Produced by World Productions for BBC One, The Secret Agent is directed by Primetime Emmy winner Charles McDougall (Desperate Housewives), produced by Priscilla Parish (Code Of A Killer), and executive produced by Simon Heath (Line Of Duty) for World Productions and Polly Hill for BBC One.
The Secret Agent makes its broadcast premiere in the UK on BBC One later this year.
Acorn TV has not yet announced the US debut date for The Secret Agent, so stay tuned.
__________________

Add your comments on our Facebook and Twitter pages.

Share this post/page.

The Secret Agent: Acorn Secures ALL US TV, Digital, DVD/Blu-ray Rights to New Espionage Drama