Woo hoo! Robert Carlyle's directorial film debut, the award-winning, twisted dark comedy thriller Barney Thomson, is headed to this side of the pond!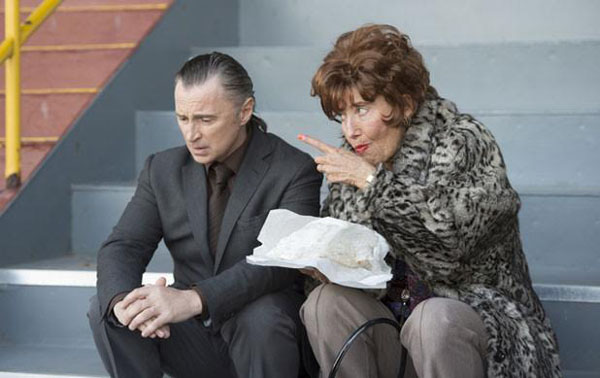 Thanks for this treat go to Gravitas Ventures, which secured the US rights to Barney Thomson and will be bringing the hilarious film stateside in early 2016.
Starring Robert Carlyle (Once Upon a Time, The Full Monty, Trainspotting), Emma Thompson (Saving Mr. Banks, Nanny McPhee, Harry Potter), and Ray Winstone (The Trials of Jimmy Rose, The Sweeney, Hugo), Barney Thomson premiered earlier this year at the opening night of Edinburgh Film Festival and went on to win two BAFTA Scotland Awards, including Best Feature Film and Best Actress in a Film for Thompson. Carlyle was nominated for both Best Actor and Best Directing.
Adapted from the first book in Douglas Lindsay's "The Barbershop Seven" series by Richard Cowan and Colin McLaren, the film follows the macabre misadventures of the eponymous Barney Thomson (Carlyle), a shy, awkward, but always punctual barber in Glasgow whose life is decidedly mediocre and going nowhere, unless you count moving from chair to chair. His chain-smoking, animal-print-wearing, ever-socializing mum, Cemolina (Thompson), is too self-absorbed to offer Barney any encouragement (but quick to demand a ride to bingo).
Little does Barney know, though, that his stale and stagnant life is about to go from 0 to 60 in mere seconds, when he accidentally enters the dark and comically absurd life of a serial killer.
Costarring in Barney Thomson are Tom Courtenay (Unforgotten), Ashley Jensen (Catastrophe), James Cosmo (Game of Thrones), Martin Compston (Line of Duty), Kevin Guthrie (The Field of Blood), and Brian Pettifer (Carlyle's costar in Hamish Macbeth).
A Canada/UK production of Trinity Works Entertainment and Sigma Films, Barney Thomson is produced by Richard Cowan, Holly Brydson, Brian Coffey, Kaleena Kiff, and John G. Lenic, and executive produced by Doug Apatow and Kirk D'Amico. Westerkirk Capital, Creative Scotland, and Telefilm Canada financed  the film, and Myriad Pictures is handling worldwide sales.
The US rights deal was negotiated by Nolan Gallagher from Gravitas Ventures, Jay Cohen from the Gersh Agency, and Kirk D'Amico from Myriad Pictures on behalf of the filmmakers.
Gravitas will release Barney Thomson on demand on 2 February 2016 and in cinemas on 11 March 2016.
__________________
Add your comments on our Facebook, Google+, and Twitter pages.
Share this post/page.

Barney Thomson: Robert Carlyle, Emma Thompson, Ray Winstone Film Gets US Distribution