The first series of Upstart Crow, part of the BBC's Shakespeare Festival 2016 marking the 400th anniversary of Shakespeare's death, has arrived in the US.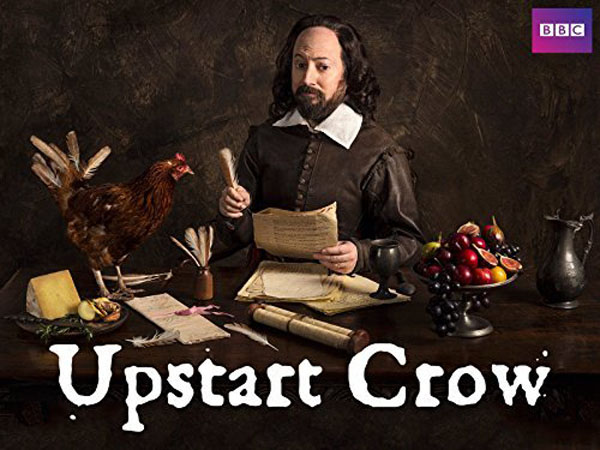 Created and written by Ben Elton (Blackadder Goes Forth, The Thin Blue Line), and starring David Mitchell (Peep Show, That Mitchell and Webb Look) as William Shakespeare (brilliant casting, this), Series 1 of Upstart Crow recently completed its run on BBC Two.
The six-episode series, which I found pretty funny (although some running gags did get a bit tiresome after a while), is like a Black Adder–Horrible Histories mashup. Set in 1592, it centers on Shakespeare's life at a time when his career is starting to take off. And this being a show about the Bard, it also offers up the (made-up) backstories of some of his works. As such, you'll get more of the comedy if you know the plays.
Every episode finds Shakespeare going between his home in Stratford-upon-Avon and his lodgings in London, owing to the interruptions and unhelpful input of his family, including wife Anne Hathaway (Liza Tarbuck, Mount Pleasant), daughter Susanna (Helen Monks, Raised by Wolves), father John Shakespeare (Harry Enfield, The Windsors), and mother Mary Arden (Paula Wilcox, Boomers).
Will Shakes gets most of his work done in London, where he is served by the (fictional) landlord Bottom (neither a Mechanical nor with an ass's head, played by Rob Rouse of Grownups) and the unshrew-like Kate (played by Gemma Whelan, aka Yara Greyjoy in Game of Thrones), Bottom's daughter and a wannabe-actress disallowed from treading the boards because only men (with or without coconuts) can be actors. (Harrumph.)
London is also where he has various encounters with friend Kit Marlowe (Tim Downie, Doctors), here a playwright whose works are all penned by Shakespeare; rival playwright Robert Greene (Mark Heap, Lark Rise to Candleford), the Oxbridge man who first labelled him an upstart crow (see Episode 3); and members of his theatrical troupe, including actors Henry Condell (Dominic Coleman, Trollied), Richard Burbage (Steve Speirs, Stella), and William Kempe (played by Spencer Jones of Big Babies as a parody of Ricky Gervais).
The series opener, "Star-Crossed Lovers," is steeped in (what else) Romeo and Juliet, including an ill-fated romance between Kate and a kidnapped house guest, and the line "wherefore art thou." The latter is one in a series of gags throughout the series about language and words, from the flowery language "Bill" uses in his plays and the not-quite-spot-on titles he has for them, to plays on words and the juxtaposition of modern-day slang. (Another running gag involves contemporary issues, e.g. bad traffic and glass ceilings, set within the Elizabethan era.)
"The Play's the Thing" is a famous line from Hamlet, and like the play, Bill uses a stage(d) performance to out the person he suspects of having committed a crime against him. In the Twelfth Night-inspired "The Apparel Proclaims the Man," there's trickery afoot, involving a pair of tights and cross garters. Shakespeare's sonnets, notably "Sonnet 116," are the stuff of misunderstandings with his wife and his arrest by Greene in "Love Is Not Love." Three witches, a neighbor named MacBuff, and more from Macbeth are the source material for "What Bloody Man Is That?" And in "The Quality of Mercy," words from a famed quote in The Merchant of Venice, Will gets a loan as well as the demand for a pound of (his) flesh if he can't repay the money.
Guest stars include Mina Anwar (House of Anubis), Sarah Finigan (Suffragette), Montserrat Lombard (Ashes to Ashes), Christine Ozanne (The Harry Hill Movie), John Sessions (Mr. Holmes), and Jonathan Watson (Two Doors Down).
Upstart Crow: Series 1 is now available for streaming/download at Amazon Video and iTunes in the US.
A Christmas special and the second series of Upstart Crow, slated to debut on BBC Two in 2017, will draw upon the characters and stories in Shakespeare's Othello, Henry V, The Taming of the Shrew, and Two Gentlemen In Verona, amongst others of his works. Stay tuned for updates.
__________________

Add your comments on our Facebook and Twitter pages.

Share this post/page.

Upstart Crow: Brit Comedy About Will Shakespeare Premieres in the US