Nick Hendricks has joined the cast of Midsomer Murders, playing the new Detective Sergeant to Neil Dudgeon's DCI John Barnaby in Series 19 of the hit Brit mystery.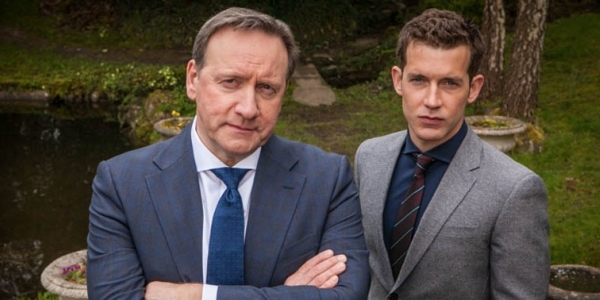 Stepping into the role of Causton CID's newest recruit is Neil Hendricks (Marcella, Foyle's War, George Gently), who joins the cast of Midsomer Murders as DS Jamie Winter.
Said Hendrix:
"I'm genuinely thrilled to join this bastion of British TV. It's a real privilege to be part of a hugely successful and much loved show and I am looking forward to stepping into the wonderful world of Midsomer."
Returning for his sixth full season as DCI John Barnaby is Neil Dudgeon, as does Fiona Dolman as John's wife, Sarah Barnaby. Manjinder Virk also reprises her role as pathologist Dr Kam Karimore.
As longtime fans of the show know, Midsomer is the deadliest (fictional) county in England, so Barnaby and Winter will have their work cut out for them in Series 19. Storylines will include a deserted village full of secrets, an extreme Neighbourhood Watch, a cricket festival, and a rabbit and guinea pig show… all sure to be a part of dastardly deeds and macabre murders in Midsomer's quaint English villages.
Unannounced as of yet is what's sure to be a (make that another) long list of guest stars.
Produced by Bentley Productions, Midsomer Murders is produced by Ella Kelly (Coronation Street, Doctors) and executive produced by Jo Wright, Bentley's Managing Director. Members of the writing team include Lisa Holdsworth (New Tricks), Paul Logue (DCI Banks), and Jeff Povey (Silent Witness). Nick Laughland (Inspector Lewis), Renny Rye (Agatha Christie's Poirot), and Matt Carter (Red Rock) will be among the directors.
Series 19 of Midsomer Murders, which began filming last month, is slated to premiere on ITV in 2017.
Series 18 has yet to screen in the US, so stay tuned for updates about its stateside debut as well as the new series.
__________________

Add your comments on our Facebook and Twitter pages.

Share this post/page.

Midsomer Murders: Nick Hendrix Plays DCI Barnaby's New Sidekick in Series 19