The third series of Shetland, one of the best returning seasons amongst British TV programs in 2016, is set to premiere on KCET, the largest independent public TV station in the US.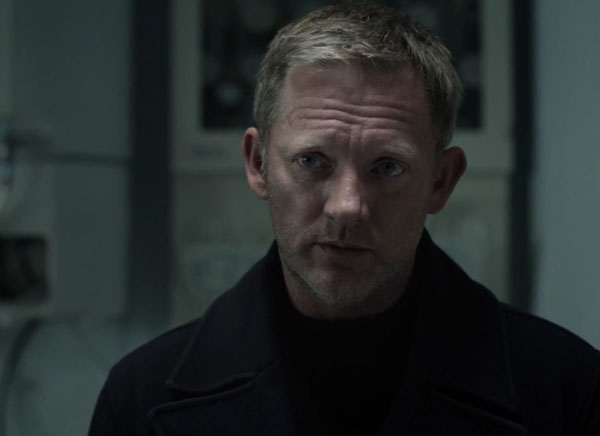 KCET brought the first season of Shetland to its viewers in April of this year and followed it shortly thereafter with Series 2. Now the station is about to premiere the third season.
For fans of this Scottish noir crime drama in KCET's Southern and Central California viewing area, Series 3 comes not a moment too soon. The bonus: guest stars Anna Chancellor (The Hour, Mapp & Lucia), James Cosmo (Game of Thrones, Sons of Anarchy), Ciarán Hinds (Game of Thrones, Above Suspicion), Archie Panjabi (The Good Wife, The Fall), and Saskia Reeves (Wolf Hall, Luther).
If you're a Shetland newbie, the series revolves around police investigations into murders, suspicious deaths, and other crimes on the eponymous Scottish Islands, primarily Shetland, aka Mainland.
Leading the investigations is DI Jimmy Perez, a down-to-earth guy and committed cop played by the dishy Douglas Henshall (Collision, Primeval). A recent widower and native of Fair Isle, Perez returned to Shetland from Scotland's mainland so his teen-aged stepdaughter Cassie (Erin Armstrong, Glasgow Girls) could spend more time with her biological father Duncan Hunter (Mark Bonnar, Line of Duty), a close friend of Jimmy.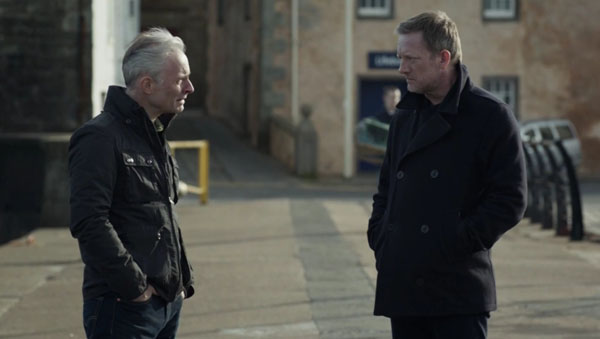 It isn't too long after Perez's return that he realizes his idealism about Shetland might be a wee bit misplaced. It isn't as safe a place as he remembered it to be.
Working alongside Jimmy on the investigations are the transplanted Glaswegian DC (later Detective Sergeant) Alison "Tosh" MacIntosh (Alison O'Donnell, Holby City), and Shetland native PC (later Detective Constable) Sandy Wilson (Steven Robertson, Being Human). For support and guidance, the team has as a boss Procurator Fiscal Rhona Kelly (Julie Graham, The Bletchley Circle).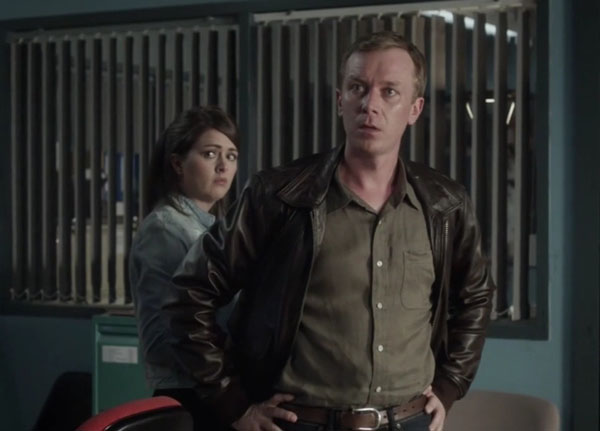 Whereas the stories in Series 1 and 2 are two-part adaptations of Red Bones, Raven Black, Dead Water, and Blue Lightning — titles in the "Shetland Island Mysteries" series of novels by the award-winning and bestselling author Ann Cleeves (read my interview with her here) — Series 3 is an original story scripted by Gaby Chiappe (Vera, Lark Rise to Candleford).
After Robbie Morton seemingly vanishes into thin air on the ferry ride from Aberdeen to Lerwick, a frantic Leanne Randall (Sara Vickers, Endeavour), a fellow passenger with whom he had cozied up, reports his disappearance to DI Perez. Meanwhile, a young boy is hospitalized after ingesting candy-like recreational drugs he picked up on the beach. Could these two incidents be connected? Hmm…
The team's investigation leads Jimmy to local designer Freya Galdie (Saskia Reeves) and Michael Maguire (Ciarán Hinds), a businessman with a criminal past who'd had an altercation with Robbie on the ferry. Maguire's a belligerent bugger, and Perez is convinced he's involved in what happened to Robbie.
The case gets more complicated when a higher-up obstructs the investigation, a suspect is murdered, and Arthur McCall (James Cosmo, Game of Thrones), a seriously nasty  mob boss in Glasgow, threatens Jimmy. McCall makes good on his threat, too, but in a way no one could have anticipated.
And the plot thickens. Senior official Phyllis Brennan (Anna Chancellor) discovers that an action from her past could bite her (and her personal relationship with Rhona) in the present, and Jimmy gets up close and personal (and intimate) with a colleague in Glasgow, the beautiful Asha Israni (Archie Panjabi).
Series 3's departure from episodic television into serialized storytelling is a shift in formatting that makes for a season even more brilliant than the first two.
Having six hour-long installments to tell the story allows for much expansion, including the number of strands, additional locations such as Glasgow, and more guest stars in pivotal roles. It also allows for a depth in the storytelling that cannot be accomplished in one-third the time.
Case in point: While murders are par for the course in crime dramas, increasingly so are depictions of violence against women. In Series 3 of Shetland, there is a rape that occurs off-screen. Let me tell you, you don't have to see it happen to get that this is a life-shattering event for the victim. Her trauma, fear, anger, and guilt are palpable and visceral. AND this strand is not given short shrift, either. The aftermath of the violation and assault do not become an afterthought; rather, it becomes as integral to the story as the action of the murder investigation. It's devastating to watch, and too compelling not to.
Shetland: Series 3 begins airing on KCET on Sunday, 31 July 2016, at 9 PM PT.
__________________

Add your comments on our Facebook and Twitter pages.

Share this post/page.

Shetland: KCET Premieres Series 3 of Scottish Noir Crime Drama