Stateside cable channel SundanceTV has added another UK co-production — the family-centered, autism-focused The A-Word — to its slate of scripted dramas this year.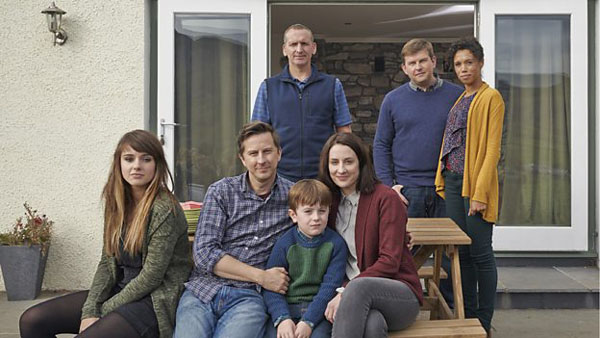 SundanceTV is set to premiere The A-Word to US audiences after the series debuts in the UK on BBC One this spring.
Written by BAFTA winner Peter Bowker (Marvellous, Occupation, Blackpool), the dramatic, thought-provoking, and lighthearted The A-Word centers on the Hughes family, who work and love and fight like every other family. But after their young son is diagnosed with autism, they don't feel like every other family anymore. They realize that, if their son is ever going to communicate, they are going to have to learn how to communicate themselves.
The family portrait follows the lives of 5-year-old Joe (newcomer Max Vento); his parents Paul (Lee Ingleby, Our Zoo, George Gently) and Alison (Morven Christie, Grantchester, Twenty Twelve), who struggle with parenting philosophies; Joe's Aunt Nicola (Vinette Robinson, Sherlock, Black Work) and Uncle Steve (Greg McHugh, Fresh Meat, Gary Tank Commander), who are working through unfaithfulness in their marriage; and his grandfather Maurice (Chris Eccleston, The Leftovers, Fortitude), a recent widower and the owner of the family brewery.
Said Joel Stillerman, president of original programming and development for AMC and SundanceTV:
"The A-Word is exactly the kind of intimate, unique and emotionally impactful story we want to showcase on SundanceTV. It's hopeful, honest and ultimately about the power of family, and the range of issues that families can face together, from autism to aging to adultery."
Added Peter Bowker:
"We have the opportunity here to make something funny, tough, realistic and inventive about contemporary family life and autism. In a society where imperfection increasingly comes with blame attached, it seems timely to look at how autism is regarded both within a family and the wider community – and to give some insight into how that experience might be for the child on the autism spectrum. It's a drama full of ideas – about parenthood, about disability, about communication, about community – and will emphatically engage an audience, whatever their experience of the subject."
The six-part, hour-long drama is based on Yellow Peppers, the Israeli drama series from Keshet (Homeland) and July August Productions (Zero Motivation).
This co-production partnership with Keshet makes SundanceTV the first broadcaster outside the UK to air The A-Word.
The A-Word joins SundanceTV's list of previously-announced new scripted series, including the Aussie/Kiwi drama Cleverman, co-produced with Red Arrow International and starring Iain Glen; British/French action drama The Last Panthers, a co-production with Sky Atlantic and Canal+, starring Samantha Morton and John Hurt; and Rebellion, the historical miniseries about the 1916 Easter Rising in Ireland, co-produced with Zodiak Rights, Touchpaper TV, and RTÉ.
Filming on The A-Word continues on location in the Lake District and at Manchester's Space Project through early 2016.
The A-Word is a co-production of Fifty Fathoms (Fortitude) and Keshet UK for BBC One, in association with SundanceTV. It is directed by Oscar® nominee and BAFTA winner Peter Cattaneo (The Full Monty, Rev), Dominic Leclerc (Shameless), and Susan Tully (Good Cop), and produced by Marcus Wilson (Doctor Who, Life on Mars). The executive producers are Patrick Spence, Peter Bowker, and Jenny Frayn for Fifty Fathoms, Sara Johnson and Avi Nir for Keshet, Lucy Richer for BBC One, and Keren Margalit, the creator and writer of Yellow Peppers.
__________________

Add your comments on our Facebook and Twitter pages.

Share this post/page.

The A-Word: SundanceTV Adds Autism-Focused British Drama Series to 2016 Schedule