The body count will rise even higher in the deadliest (fictional) county in England, when Midsomer Murders returns with its eighteenth (count 'em) series.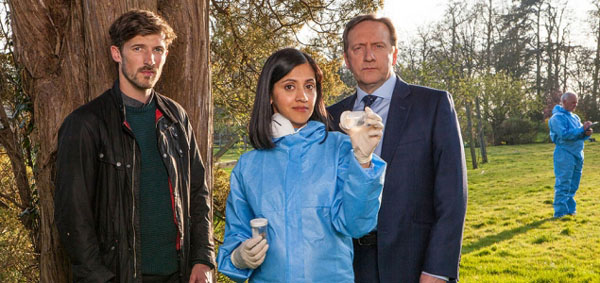 The eerie, theremin-produced theme music of Midsomer Murders has already started playing in your head, am I right?
Whether yea or nay, the distinctive woo-woo tune will feature in Midsomer Murders: Series 18, starring Neil Dudgeon and Gwilym Lee as Causton CID's DCI John Barnaby and DS Charlie Nelson, respectively. Fiona Dolman also returns to the series as Sarah, Barnaby's wife, along with baby Betty Barnaby and Sykes the dog, while Manjinder Virk (Ordinary Lies, Monroe) joins the regular cast as Dr Kam Karimore, the new forensic pathologist.
The new series includes six new feature-length episodes, each with a host of guest stars.
"Habeas Corpus"
DCI Barnaby, DS Nelson and Forensic Pathologist Kam Karimore get drawn into a macabre world of body-snatching after wealthy landowner Gregory Lancaster's dead body goes missing, and a sinister web of secrets and lies is exposed in the village of Little Malton.
Guest stars include Diana Quick (Brideshead Revisited), Alastair Mackenzie (Monarch of the Glen), Helen Baxendale (Cold Feet), Ciarán McMenamin (Primeval), Emma Cunniffe (Inspector Lewis), Navin Chowdhry (Doctor Foster), Clive Merrison (The History Boys), Joseph Mydell (Chancer), Sarah Middleton (Toast), and Elizabeth Ryder (Doctors).
"The Incident at Cooper Hill"
UFO enthusiasts, out gazing at the mysterious lights in the sky over famous UFO hot-spot Cooper Hill, are convinced that aliens are responsible for the strange death of a local forest ranger. However, DCI Barnaby and DS Nelson believe the culprit is an earthling when their investigation unearths suspicions, betrayals, and long-buried secrets.
Guest stars include Belinda McGinley (Law & Order: UK), Pip Torrens (Poldark), Sheena Bhattessa (The Fixer), Sian Webber (EastEnders), Alison Steadman (Gavin & Stacey), Steve Oram (Glue), Steve Evets (Rev.), Lee Armstrong (George Gently), Tanya Fear (Spotless), Steve Toussaint (Scott & Bailey), Michelle Collins (Coronation Street), Alister Austin (Queen and Country), and Jennie Dale (Mid Life Christmas).
"Breaking the Chain"
With the Midsomer village of Burwood Mantle's hosting of an international cycling competition comes the murder of the race leader, and DCI Barnaby and DS Nelson find themselves drawn into a ruthlessly competitive world where winning comes at any cost, including blackmail, bribery, and bloodshed.
Guest stars include Tom York (Olympus), Jack Staddon (Goodbye, Mr Chips), Ben Lamb (The White Queen), Derek Riddell (Happy Valley), Rebecca Grant (Holby City), Edward Akrout (Mr Selfridge), Olivia Vinall (Doctor Who), Sophia Di Martino (Casualty), Richard Graham (Whitechapel), Joe McGann (The Upper Hand), Tessa Peake-Jones (Grantchester), and Hari Dhillon (Holby City).
"A Dying Art"
A murder mars the opening of a new sculpture park in the picturesque Midsomer village of Angel's Rise, and DCI Barnaby and DS Nelson must get creative to crack a case where art imitates death, and everything has a deeper meaning.
Guest stars include Ramon Tikaram (Fortitude), David Gant (Sherlock), Cherie Lunghi (Unforgotten), Cara Horgan (Waking the Dead), Jolyon Coy (Mr Selfridge), Cat Simmons (Ordinary Lies), John Hollingworth (Poldark), David Bamber (Collision), Adrian Scarborough (Blunt Talk), Saskia Reeves (Wolf Hall), Charlotte Beaumont (Broadchurch), Michael Wildman (Family Affairs), and Denis Lill (The Royal).
"Saints and Sinners"
In the village of Midsomer Cicely, a Saint's bones are discovered at an archaeological dig and the leader of the dig is murdered, leading DCI Barnaby and DS Nelson to realize that more than skeletons have been long buried in the hallowed ground.
Guest stars include Kim Vithana (North Square), Jonathan Aris (Sherlock), Stefano Braschi (Waterloo Road), Julia Sawalha (Absolutely Fabulous), Aden Gillet (Inspector Lewis), Malcolm Sinclair (Pie in the Sky), Pippa Nixon (Cuffs), Kingsley Ben-Adir (Vera), Edward Macliam (DCI Banks), Ruth Sheen (Unforgotten), Gabrielle Lloyd (Foyle's War), and Ralf Little (The Café).
"Harvest of Souls"
The Midsomer village of Whitcombe Mallet plays host to the annual harvest fair and the daredevil riders of the Wall of Death, and DCI Barnaby and DS Nelson have to unravel a complex feud from the past after the owner of an equestrian center is trampled by his horse.
Guest stars include Helen Schlesinger (The Way We Live Now), David Yelland (Agatha Christie's Poirot), Andrew Alexander (Downton Abbey), Daisy Whalley (newcomer), Nikhita Essex (newcomer), Michael Higgs (WPC 56), Michelle Holmes (Above Suspicion), Rory Fleck-Byrne (Grantchester), Sean Delaney (newcomer), Michael Thompson (Holby City), Lauren O'Neil (Silent Witness), Meera Syal (Broadchurch), Amber Rose Revah (Indian Summers), Sean Gleeson (Doctors), and Emma Rydal (Stella).
Produced by Bentley Production, Midsomer Murders: Series 18 premieres Wednesday, the 6th of January 2016, at 8 PM BST, on ITV.
Stay tuned for updates about when the new series will screen in the US, most likely on Acorn TV and a bit later on local public TV stations.
__________________
Add your comments on our Facebook, Google+, and Twitter pages.
Share this post/page.

Midsomer Murders: Megahit Brit Mystery Returns with Series 18