Invasion or no invasion, British TV rocks.
As a longtime fan, I'd love for the realm of British TV in America to continue expanding. That's why I blog about Brit TV: to help the expansion along by supporting the viewers (i.e. readers like you), programmers, and distributors that make British TV in the US possible.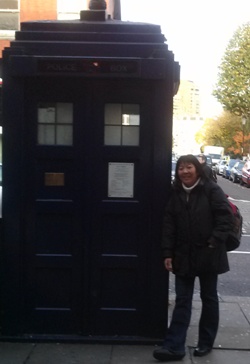 I grew up on British TV, well, at least since my pre-teen years. Thanks to my local PBS station, I learned that no one expects the Spanish Inquisition from Monty Python's Flying Circus, shrieked during scary adventures with Doctor Who (Tom Baker was my first Doctor), and thought Livia in I, Claudius was one of the evilest women who ever lived… I also wanted to be Emma Peel from The Avengers. (Seriously, how cool was she!)
I didn't become John Steed's sidekick or a companion to any of the Doctors, but I continued to watch British TV, despite my failed attempts to silly walk. As I moved to different cities and my local PBS station changed, and as Netflix, Hulu, Acorn TV, and others came on the Brit TV scene, I watched more. And still do.
So here's a shout-out to every programmer and distributor that has brought British TV programs to the US. Because of you, I realized that I wanted a Jeeves and a Jensen Interceptor of my own (still do), fell head over for Sharpe the soldier, Deed the judge, Zen the detective, and certain MI-5 agents, amongst numerous other delicious characters (ahem), and learned quite a bit of Brit slang (crikey!).
And another shout-out goes to every Brit TV fan out there (whether you're an outlander or unofficial member of Doctor Who's L.I.N.D.A. or not). With you, I'm in good company.
Someone in the industry once asked me if The British TV Place is a labor of love. Yes to both the love and the labor, because spreading the love of British TV is what lights me up, gets me out of bed in the morning, and keeps me up til all hours of the night.
I'm chuffed that you've found The British TV Place, and I hope that you visit often and get as big a kick out of British TV as I do.
Cheers.
Linda Jew
Founder, The British TV Place
P.S. In addition to British TV, I also cover programs from Canada and the Republic of Ireland here. Information about shows from Australia and New Zealand is at The Down Under TV Place. And for folks who enjoy original-language, English-subtitled programs from Scandinavia and the rest of Europe, news about these shows are at The Euro TV Place. Ciao!