Halloween is tomorrow, and what better way to get your fright night off to a chilling start than with these thirteen creepy, spooky, scary Brit TV series.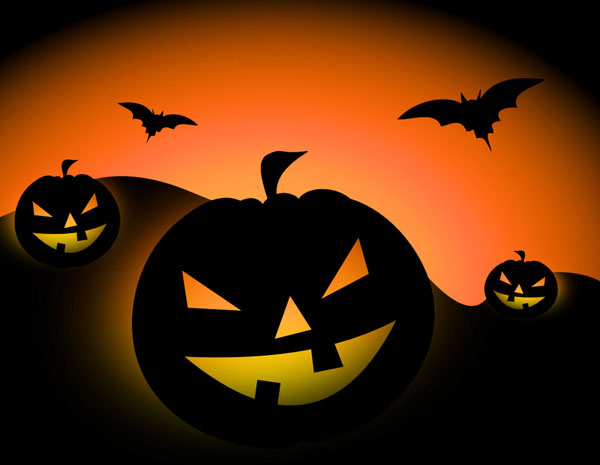 UPDATE: The list is now 14 titles long. (I cannot believe I forgot about Apparitions! Thanks, Karen, for the reminder!)
Alison Mundy (Lesley Sharp, Scott & Bailey) sees dead people. Speaks with them, too. Not because she wants to, but often has to. Spirits haunt her and others in and around Bristol, as they can't move on until they've brought to a close whatever is keeping them among the living. And some of what they do is scare-your-socks-off scary.
College psych professor and skeptic Robert Bridge (Andrew Lincoln, The Walking Dead) is writing a book about Alison, and by turns trusting and dismissive of her skills. What she figures out and he won't admit is there's something haunting him, too.
For a show that will scare the bejeezus out of you, look no further than to the miniseries Apparitions. (It's crazy scary.)
Martin Shaw (George Gently) plays Father Jacob Meyers, a Roman Catholic priest who examines evidence of miracles for the purpose of canonizations. His investigations take a sinister turn, though, when he learns that demons are possessing and otherwise harming people, and must perform exorcisms to help save them.
The freakiest, scariest character of the lot: Michael/Astaruth, played by Rick Warden (Happy Valley). (If you're like me, you, too, will sleep with the light on after watching Apparitions.)
Warren Bettany (Hugo Speer, The Musketeers) owns Bedlam Heights, an upmarket apartment building that used to be a mental asylum where patients were abused and murdered. Now the spirits of the victims are menacing the residents.
One who can see the ghosts and how they died is Jed Harper (Theo James, Downton Abbey), and it's up to him to stop them from exacting revenge on the innocent. In Series 2, Ellie Flint (Lacey Turner, EastEnders) begins seeing the ghosts that still haunt the property.
All Annie (Lenora Crichlow, Black Mirror), George (Russell Tovey, Him & Her), and Mitchell (Aidan Turner, Poldark) want is to live normal lives like everyone else. Problem is, (most) people can't see Annie, the lonely ghost; werewolf George has murderous tendencies when he transforms into his lupine self at the full moon; and vampire Mitchell finds that not feeding on blood is quite difficult.
It gets worse. George unwittingly turns his girlfriend into a werewolf, violent gangsters in the vampire community want Mitchell back in their fold, a supernatural force is after Annie, and all of them are targets of a secret organization.
Years before Charlie Brooker brought Black Mirror to telly, he gave us Dead Set, in which reality show meets zombie apocalypse.
It's eviction night on the set of (a fictionalized version of) Big Brother UK, and the housemates and production crew are unaware that, outside the set and studio, zombies are running amok. Then the walking dead get inside, turning various people, including show host Davina McCall, into reanimated corpses. It's scary and funny in that dark comedy kind of way.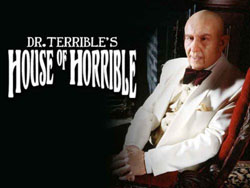 Dr. Terrible's House of Horrible
Narrated by Dr. Terrible (Steve Coogan, Philomena), this six-episode comedy/horror anthology series spoofs various British horror films. It also features familiar Brit TV and film actors, including Ben Miller (Death in Paradise), Mark Gatiss (Sherlock), Simon Pegg (The World's End), Julia Davis (Hunderby), Sarah Alexander (Coupling), and Warwick Davis (Harry Potter films).
If you haven't seen this series, it's worth a watch for the laughs and screams.
In this re-imagining of Bram Stoker's Dracula, Jonathan Rhys Meyers (The Tudors) leads the star-studded cast as the fanged one, under the guise of American entrepreneur Alexander Grayson and out to avenge himself against members of the Order of the Dragon.
Dracula's always had a thing for the ladies and vice versa, and the lust factor is amped up in this version. Not only does Grayson get up close and personal with Lady Jayne Wetherby (Victoria Smurfit, Trial & Retribution), a member of the Order, he also does with Mina (Jessica De Gouw, Arrow), the reincarnation of his/Dracula's wife Ilona. Van Helsing (Thomas Kretschmann, Avengers: Age of Ultron) is around, too, as are a host of other Victorian-era characters played by Oliver Jackson-Cohen (The Great Fire), Katie McGrath (Merlin), and Ben Miles (The Forsyte Saga), amongst others.
Based on a real-life story and adapted from the book This House Is Haunted, The Enfield Haunting is quite frightening.
Set in the late '70s, it concerns the haunting of a family in their North London home by a poltergeist. In attempting to save the Hodgsons — especially middle child Janet, an unwitting target of, and medium for, the malevolent entity — rookie paranormal researcher Maurice Grosse (Timothy Spall, Mr. Turner), himself haunted by something from his past, and been-there-seen-that investigator Guy Lyon Playfair (Matthew Macfadyen, Ripper Street) experience firsthand the violent, supernatural acts wreaked on the family.
It's good versus evil as the Angelics and the Fades battle it out, with the former trying save the human race from destruction by the latter — invisible spirits of the dead who are bitter about, and seeking vengeance for, not being allowed to pass into the afterlife.
Teenager Paul (Iain De Caestecker, Agents of S.H.I.E.L.D.) is an Angelic who has both apocalyptic nightmares and the ability to see the Fades. To prevent humanity from being wiped out, Paul must stop the Fades from regaining the human form they once had.
Not all zombies are alike. Some are merely afflicted with PDS, short for Partially Deceased Syndrome, such as Kieren Walker (Luke Newberry, From Darkness), who reanimated during The Rising. Not that the syndrome, rather than full zombie-hood, makes the, um, lives of PDS sufferers any easier.
The government has been medicating and rehabilitating PDSers for re-entry into society, while members of the HVF, or Human Volunteer Force, have been stalking and killing the "rotters." And in Season 2, Kieren becomes the target of both the Undead Liberation Party and Victus, the Pro-Living Party.
Tom Jackman (James Nesbitt, The Missing) has isolated himself from his family, as he's been transforming into his alter ego — a violent, raging, lecherous man with near-superhuman strength, speed, and senses, and a new identity as Mr. Hyde.
For a while, neither knows what the other is doing. But then Hyde discovers Jackman's family, and Jackman learns he could be a descendant of the real, not fictional, Dr. Jekyll. Matters become dangerous, as Jackman is being stalked by members of the biotech firm where he'd worked, and Hyde is showing up more often. And killing people.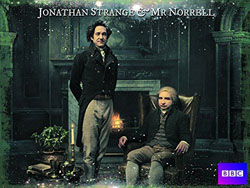 Jonathan Strange & Mr. Norrell
Adapted from the novel of the same name, this series stars Eddie Marsan (River) as Mr. Norrell, a reclusive practical magician who wants to make magic respectable again in 19th-century England, and Bertie Carvel (Doctor Foster) as Jonathan Strange, a novice magician who becomes Norrell's protégé (until they fall out).
Not so respectable is Norrell's bringing the dead Lady Pole back to life with help from the Gentleman (Marc Warren, Hustle), a powerful and seriously creepy fairy. His spells bring the living and undead to his otherworld, including Lady Pole and Strange's very-much-alive wife. Will Strange and Norrell be able to conjure up the Raven King to help save the bewitched from the Gentleman? Watch it and find out.
It's like the "Monster Mash," only on television. And way darker and scarier and filled with creature-feature characters of all sorts.
Initially, Vanessa Ives (Eva Green, Camelot) tries to help Sir Malcolm Murray (Timothy Dalton, James Bond films) find his daughter, and along the way they befriend certain individuals without realizing (at first) they aren't what they appear to be. Namely werewolf Ethan Chandler (Josh Hartnett, The Lovers), Dr. Frankenstein (Harry Treadaway, Fortitude), his creation (Rory Kinnear, The Casual Vacancy), and Dorian Gray (Reeve Carney, The Tempest).
In Season 2 the devil-worshipping Madame Kali (Helen McCrory, Peaky Blinders) and her vampire daughters ratchet up the evil against Vanessa and Malcolm big time. Her voodoo dolls are anything but child's play, and much blood is shed during the showdown. Who survives? We'll find out in Season 3.
Based on the novel of the same name, this miniseries follows two stories in parallel timelines — about the Caleigh family in 2006, and events that occurred at Crickley Hall in 1943, when it housed orphans evacuated from London during the Blitz.
Gabe Caleigh (Tom Ellis, Lucifer), his still-grieving wife Eve (Suranne Jones, Doctor Foster), and their two daughters move to Crickley Hall nearly a year after their son Cameron disappeared. The family (and their dog) soon discovers the place is haunted by ghosts, but Eve won't leave, as she feels and hears Cam here. What she doesn't realize is, one of their daughters is the target of the living and the dead.
Happy Halloween!
__________________
Add your comments on our Facebook, Google+, and Twitter pages.
Share this post/page.

Get Your Halloween Spook On with These 13 British TV Shows [UPDATED]