How's this for a TGIF? More Brit TV streaming exclusives, including longtime fan favorite sitcom Only Fools and Horses, award-winning comedy Hunderby, and more.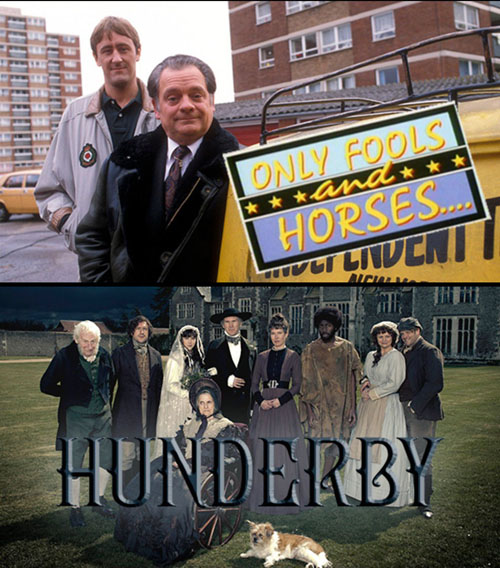 Brit TV fans in the US have got to hand it to the folks at Hulu. Because of them, we already get to watch countless hours of UK telly, and now there's even more. While most of the newly-added programs are available only on Hulu Plus right now, various titles are often rotated from the SVOD platform to the free-to-view Hulu service for limited runs (no guarantees, though), so non-subscribers might be able to get in on the goods, too.
A few of the new offerings include the following: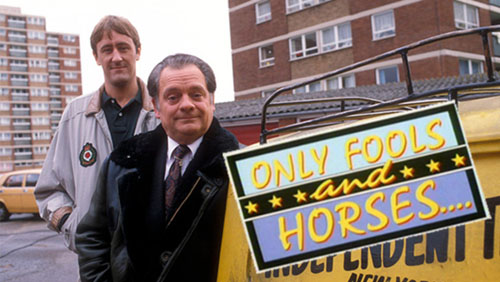 Voted Britain's Best Sitcom in a 2004 BBC viewer poll, Only Fools and Horses
follows the comic misadventures of two South Londoners: Derek "Del Boy" Trotter, an unlicensed market trader with a quick wit, million-dollar dreams, and less-than-lucrative reality, played by David Jason (Open All Hours), and Del's much-younger hapless and put-upon brother, Rodney, played by Nicholas Lyndhurst (New Tricks).
Featuring supporting and guest cast members that include the late Roger Lloyd-Pack (The Vicar of Dibley), Tessa Peake-Jones (Doctors), Paul Barber (The Full Monty), and Jim Broadbent (The Iron Lady), the series and its stars won a combined 25 awards, including six BAFTAs and seven British Comedy Awards.
If you're keen on classic British comedy, then check out Only Fools and Horses. All 45 of its regular series episodes (out of 64 total, including specials) are streaming at Hulu Plus.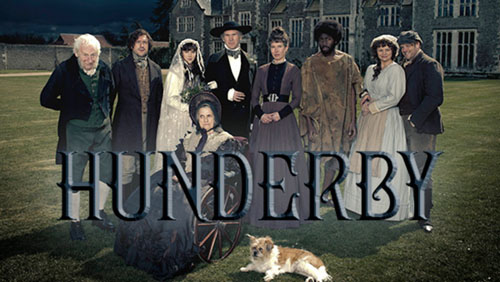 Gothic drama goes black comedy in the British Comedy Awards winner Hunderby,
a sort of Rebecca–Wuthering Heights mashup with lots of dark, funny bits that netted series creator and costar Julia Davis (Nighty Night) a BAFTA for Best Comedy Writing.
Alexandra Roach (Utopia) stars as Helene, a shipwreck survivor who tries to escape her past by marrying widowed pastor Edmund (Alex Macqueen, The Thick of It), master of Hunderby. She soon becomes the object of his critiques and housekeeper Dorothy's schemings (owing to the latter's devotion to Edmund's late wife Annabelle), and subsequently falls into the arms of Dr. Foggerty (Rufus Jones, The Casual Vacancy).
Recurring themes, such as Edmund's bubbly milk and Dr. Foggerty's "hush ho" catchphrase, are just two of the comedic elements that make Hunderby a worthwhile watch. Its eight episodes are now streaming at Hulu Plus.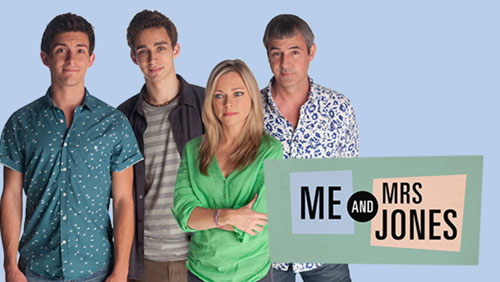 If you haven't seen the romcom sitcom Me and Mrs Jones
on your local PBS station, now you can stream it. The series stars Sarah Alexander (Coupling) as Gemma Jones, a divorced mum of three with little time for herself but two possible love interests.
Costars include Neil Morrissey (Men Behaving Badly) as Gemma's ex-husband Jason, Jonathan Bailey (Broadchurch) as son Alfie, Nathaniel Parker (Inspector Lynley Mysteries) as Bachelor #1, fellow single parent Tom, and Robert Sheehan (Love/Hate) as Bachelor #2, Alfie's mate Billy.
Me and Mrs. Jones starts iffy (imo) but gets better, so give it chance beyond just the first episode. Six episodes were produced and all are available on Hulu Plus.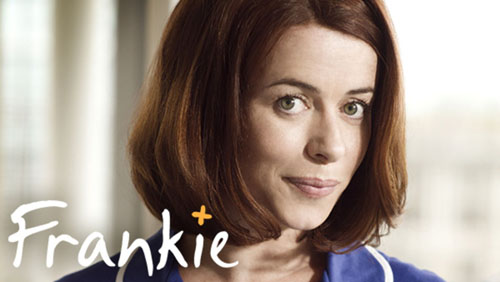 Another Brit TV show that you might have seen (or not) on local public TV stations is the dramedy Frankie.
Eve Myles (Torchwood) plays the titular Frankie Maddox, a district nurse who tends to her patients better than she does her personal life and copper boyfriend Ian Hargrave (Dean Lennox Kelly, Shameless).
There's never a dull moment for Frankie, what with her visiting patients day and night, chatting one-sidedly with Radio 2 DJ Ken Bruce in the car, and singing and dancing with abandon in her flat. Oh yeah, and then there's getting reprimanded daily by her doctor boss, Zoe Evans (Jemma Redgrave, Bramwell), and getting saved in other situations by friend and colleague Andy Peat (Derek Riddell, Five Days).
While it's not full of searing drama or laugh-out-loud moments, I found Frankie to be rather charming, and it quickly became one of my favorite shows of 2014. All six of its episodes are streaming at Hulu Plus.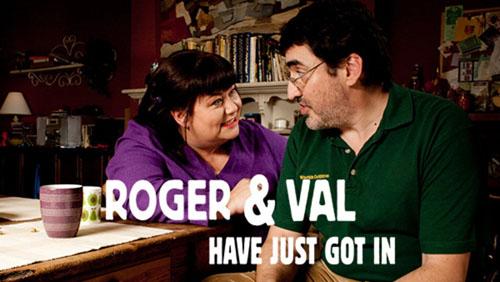 And lastly for today is the unique and brilliant Roger & Val Have Just Got In.
Although billed as a comedy, it's more of a drama that incorporates the humor of everyday life. Created by Dawn French (The Vicar of Dibley), the series focuses on the half-hour after married couple Roger (Alfred Molina, Matador) and Val (French) get home from work.
From discussing what to do about the broken Hoover and having a row about fish fingers, to cooking tea and stressing about a loved one, the dialogue and action are utterly real and at tmes hilarious, and all of it plays out in real time.
Watching Roger & Val Have Just Got In feels like a guilty pleasure, not because of any naughtiness in the show, but because you feel like you're eavesdropping on the couple's private conversations. Check out both seasons (12 episodes) at Hulu Plus.
__________________
Add your comments on our Facebook, Google+, and Twitter pages.
Now Streaming in the US: Only Fools and Horses, Hunderby, and More Brit TV