The Great Fire of London — the catastrophe that nearly destroyed the entire city in 1666 — is re-imagined in the miniseries The Great Fire, which debuts in the US next month.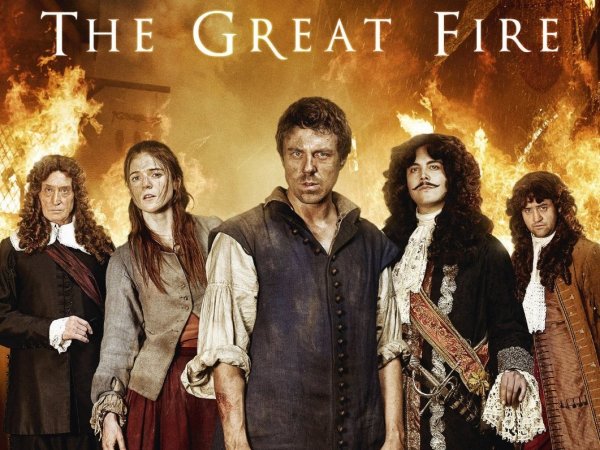 The Great Fire dramatizes the fire that raged for four consecutive days, consumed thousands of homes and other buildings across London, and displaced tens of thousands of the city's residents.
However, the Great Fire of London itself serves more as a backdrop for the four-part miniseries than as its focus. Rather, The Great Fire centers on the stories of certain historical and fictional persons.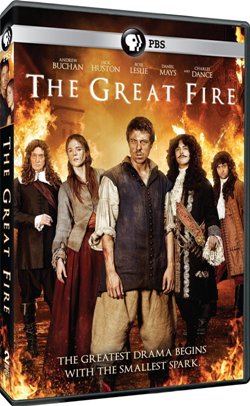 Featuring an all-star cast, The Great Fire stars Andrew Buchan (Broadchurch, The Honourable Woman, The Fixer) as Thomas Farriner, a widowed father of two young daughters and a baker who provides bread for the royal navy.
The navy hasn't paid Thomas for his bread, owing to the profligate ways of King Charles II, played by Jack Huston (Pride and Prejudice and Zombies, Boardwalk Empire, Parade's End), as well as to Charles's war with the Dutch. Not only has the conflict all but depleted the royal treasury, it also seems to have claimed the life of Thomas' brother, presumed lost at sea.
Speaking of, Thomas obviously has the hots for (the fictional) Sara, his brother's wife, now widow and single mum, played by Rose Leslie (Luther, Game of Thrones, Downton Abbey). Although not a political activist, Sara is in the employ of the Duke of Hanford (David Schofield, Da Vinci's Demons), a Catholic sympathizer.
Hanford is a target of the king's (fictional) spy chief Lord Denton, played by Charles Dance (And Then There Were None, Childhood's End, Game of Thrones). To get insider info on conspiracies being plotted against the king, Denton coerces Sara into being a mole for him.
And Daniel Mays (World War One: The People's Story, Mrs. Biggs, Ashes to Ashes) portrays Samuel Pepys, the naval administrator who chronicled the Great Fire through personal observances and eyewitness accounts entered in his private diary. While the ambitious Samuel is loyal to king and country, the same cannot be said for Samuel's personal life.
The lives of Thomas, Sara, Samuel, Denton, and Charles intersect in the lead-up to the night of 2 September 1666, when an ember from an oven ignites a bit of straw on the floor of Thomas' bakery on Pudding Lane, sparking the Great Fire.
Costars in The Great Fire include Oliver Jackson-Cohen (Dracula, Mr. Selfridge) as Charles' brother James, the Duke of York; Perdita Weeks (Lost in Austen, The Tudors) as Samuel's wife Elizabeth; and Sonya Cassidy (Vera, The Paradise) as Charles' wife, Queen Catherine of Braganza.
The Great Fire premieres in the US on select public television stations in November. Contact the station that serves your area for details about program carriage and air dates and times.
__________________
Add your comments on our Facebook, Google+, and Twitter pages.
Share this post/page.

The Great Fire: Historical Miniseries Coming to Public TV Stations