Great news! Suranne Jones and Lesley Sharp are reuniting for Scott & Bailey, as ITV has commissioned a three-part special series of the BAFTA-nominated drama featuring the dynamic detective duo.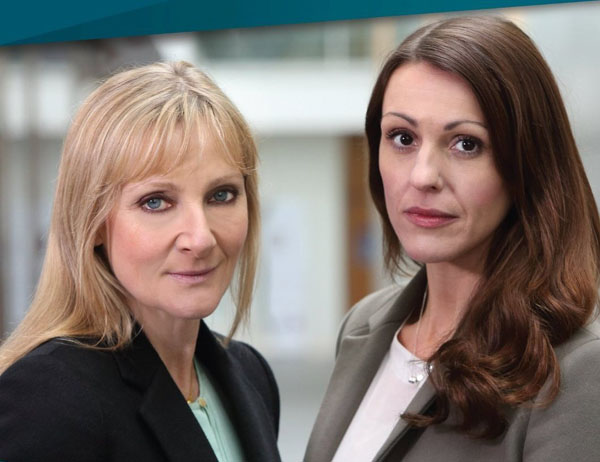 Given the Series 4 finale, it was anyone's guess as to whether Scott & Bailey would return to our screens. Well, guess no more, because the answer is yes!
Suranne Jones and Lesley Sharp will reprise their roles as Rachel Bailey and Janet Scott for the three-part special series, which features a single crime story that has Scott & Bailey tackling one of the biggest and darkest cases they have ever had to face.
With DCI Gill Murray in retirement, Rachel's return to Syndicate 9's Murder Squad, with valuable experience and new ideas gained from her secondment to Vice, is precisely what Janet and the squad need to move forward with a terrifying and sinister Internet crime investigation.
Using her Vice authorization, Rachel accesses a disturbing world where people brag about committing murder and lay down the gauntlet for the next victim. A game of ruthless life-or-death daring develops, as Scott & Bailey investigate multiple killers with horrifying and everlasting consequences.
Both will be changed forever, and the investigation will take a devastating toll on their professional and personal lives.
Produced by the award-winning Red Production Company, the Scott & Bailey special series will be executive produced by Red's founder Nicola Shindler (Happy Valley, Last Tango in Halifax) and produced by Michaela Eccleston, Red's Head of Production.
Said Shindler, "This series is more ambitious and sinister than ever before, and the concept of a three-part story allows us the opportunity to tackle a story of epic scale and ambition."
Jones, who conceived the idea for the drama with fellow actress Sally Lindsay, will also executive produce the special miniseries alongside Shindler. Lindsay will also reprise her role as Rachel's sister Alison.
The characters of Scott & Bailey were created by BAFTA and RTS award-winning writer and playwright Sally Wainwright (Happy Valley, Last Tango in Halifax) and retired detective Diane Taylor, who helped shape the series from her experiences working within the Greater Manchester Police Force.
Lee Warburton, who scripted episodes for the last series of Scott & Bailey, will write the new episodes with Paul Logan.
Two new police advisors, Samantha Manning and Lisa Farrand, join the series as consultants, and a director will be appointed shortly.
The Scott & Bailey special series will be filmed in Oldham, Manchester, and surrounding areas beginning September 2015.
__________________
Add your comments on our Facebook, Google+, and Twitter pages.
Share this post/page.

Scott & Bailey: Suranne Jones, Lesley Sharp to Return for Three-Part Special of Hit Crime Drama