The Peaky Blinders gang will be back on stateside telly soon, as the second series of the smash gangster drama, Peaky Blinders, is set to debut on Netflix US in a couple of days.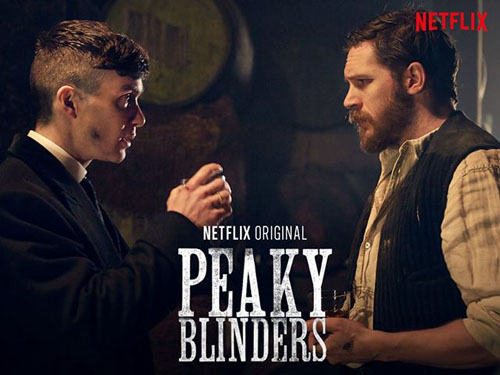 Man oh Manoschewitz. How excited am I?!? Peaky Blinders,
the Brit hit that skyrocketed to the top of my favorites list, is returning to Netflix with its second season. (If I were one of the Shelbys, I'd have a snort to celebrate, but I'm not, so I'll scream "Yay!" instead.)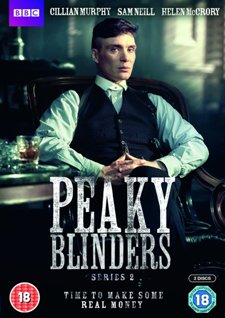 Series 2 opens two years after gang leader Thomas Shelby (Cillian Murphy, Inception) and the Peaky Blinders took over rival Billy Kimber's race track operations following their showdown, and Tommy's paramour, undercover operative Grace (Annabelle Wallis, The Tudors), shot her former boss, Inspector Chester Campbell (Sam Neill, Alcatraz), before leaving for New York sans Tommy.
Thomas has plans for expanding the Peaky Blinders empire beyond Birmingham's borders. Big plans — some legal, some not — starting with London and Epsom Downs. Plans that have Italian mafioso Darby Sabini (Noah Taylor, Game of Thrones) seeing red and seeking retribution, and plans that depend on the cunning and ruthless Jewish gang leader, Alfie Solomons (Tom Hardy, The Dark Knight Rises), being a steadfast and trustworthy ally to the Peaky Blinders.
But the plans go awry. Awfully so. Things go tits up, leaving the Peaky Blinders blindsided, betrayed, and much worse for wear. And Tommy unwittingly becomes the unscrupulous Campbell's puppet.
Complicating matters are the dirty work of Irish gangsters and the increasingly unhinged and coke-addicted behavior of Tommy's brother, Arthur (Paul Anderson, Top Boy). Then there's Tommy's love life, which now includes horse trainer May Carleton (Charlotte Riley, World Without End) as well as the now-married Grace, who's back in Birmingham.
Elsewhere in the world of the Peaky Blinders, Tommy's sister, the widowed Ada Thorne (Sophie Rundle, The Bletchley Circle), wants nothing to do with the Shelby Family, while Aunt Polly (Helen McCrory, Penny Dreadful) does what she can to keep her newly-found son, Michael (newcomer Finn Cole), out of harm's way — difficult, since he's become enamored of the ways of the Peaky Blinders and Campbell ends up using him as bait.
The Series 2 finale is an absolute what-the-frack of a humdinger, and sets up the dramas to come in Series 3, which was recently commissioned.
Peaky Blinders: Series 2
debuts in the US exclusively on Netflix on 14 November 2014.
__________________
Add your comments on our Facebook, Google+, and Twitter pages.
Peaky Blinders: Series 2 Debuting on Netflix US