Black Work, the crime drama/mystery featuring a top-notch cast led by British TV's "It Girl" Sheridan Smith, is about to land on telly in the US. Huzzah!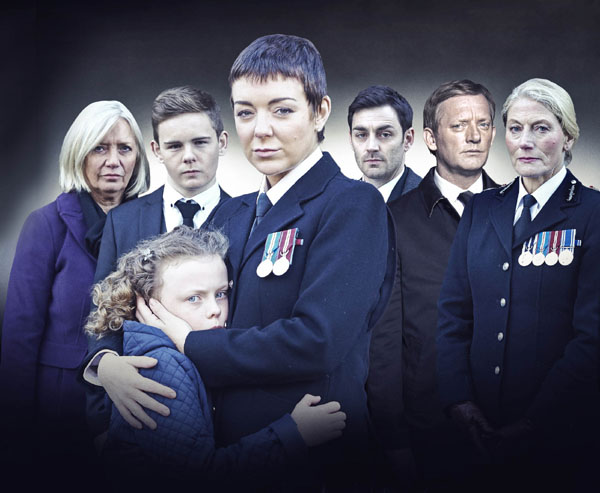 Amongst her numerous TV roles, BAFTA Award winner and International Emmy® Award nominee Sheridan Smith has played the wife of a notorious thief (Mrs. Biggs), the victim of a murderous husband (The Widower), and the superstar British singer and television host Cilla Black (Cilla).
In Black Work, which drew more than 5 million viewers during its run on ITV this past summer, Smith plays Jo Gillespie, a PC married to fellow police officer DS Ryan Gillespie (Kenny Doughty, Vera). Their marriage has been on shaky ground due to the stress of police work, and she's turned to the married DC Jack Clark (Matthew McNulty, Jamaica Inn, The Paradise) for comfort. This isn't an ideal situation, either, so she reaffirms her commitment to making things work with Ryan.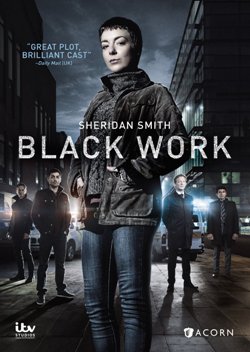 Then her husband, the father to their daughter Melly and her stepson Hal, is killed in the line of duty, and their worlds shatter.
Ryan's death is heartbreaking, and becomes deeply troubling when Jo learns he hadn't been training CID officers in London but instead working undercover for a major sting operation led by DCS Hepburn (Douglas Henshall, Shetland).
Given the secrecy and sensitivity of the case, Jo gets little information from the team Hepburn has assembled to investigate Ryan's murder, including team lead DCI Jahan Kapoor (Ace Bhatti, Jekyll & Hyde), DS Lee Miekel (Andrew Knott, The Driver), and Jack.
No one on seems to know anything about what Ryan was doing in the week or so leading up to his death, and the investigation appears to be going nowhere. Not satisfied with the lack of progress, Jo sets out to find Ryan's killer on her own.
With each step down into the rabbit hole during her solo (and unauthorized) investigation, Jo finds clues and begins to fill in the missing pieces of her husband's final days. Moreover, she uncovers the secrets Ryan had kept hidden from her and the police force, up to and including Chief Constable Carolyn Jarecki (Geraldine James, Sherlock Holmes) and his handler for the undercover operation.
Adding more intrigue to the mystery of Ryan's death are additional victims, Jo's discovery that her (and Jack's) secret is not is her own, and her realization that her husband was not the man she thought he was. And neither was their marriage.
This taut and gripping drama, filled with twists, turns, and red herrings, costars Phil Davis (Poldark), Lisa Dillon (Suffragette), Sharon Duce (Coronation Street), Carla Henry (Frankie), Honor Kneafsey (Our Zoo), Vinette Robinson (Sherlock), and Oliver Woollford (DCI Banks).
The three hour-long episodes of Black Work premiere exclusively on Acorn TV, on successive Mondays, the 2nd, 9th, and 16th of November 2015.
Acorn will release the Black Work DVD in January 2016 (date subject to change), and syndicate the miniseries to public TV stations in early 2016. Stay tuned for the station list.
__________________
Add your comments on our Facebook, Google+, and Twitter pages.
Share this post/page.

Black Work: Sheridan Smith Crime Drama/Mystery Debuts in the US