Swedish film star Stellan Skarsgård rarely works in television, so his saying yes to River means this is no ordinary series. Both he and the show, coming soon to US telly, are brilliant.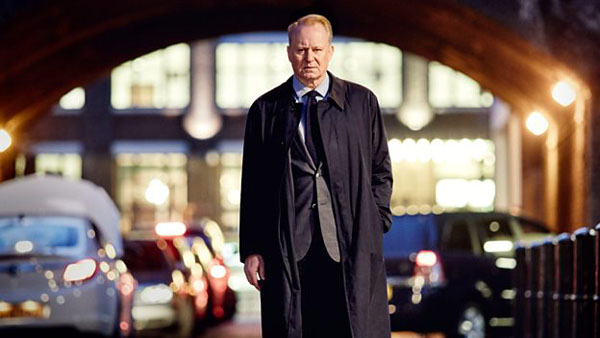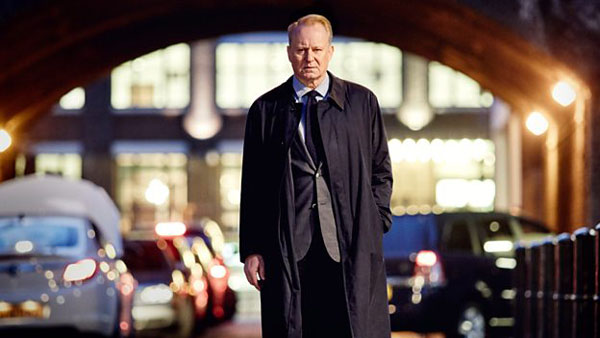 When The Hour was cancelled nearly three years ago, I was gobsmacked. It was one of the best dramas on television at the time. Series writer and creator Abi Morgan (Suffragette, The Iron Lady, Shame) won a Primetime Emmy® for it, and the show received two Golden Globe® nominations for Best Miniseries.
With River, Morgan has created a bold and arresting new series that raises the bar on what great telly can be.
Melding detective drama with psychological drama, River is steeped in the mysteries of the human mind and moved forward by the crime threads. It's a story that could only be brought to life by both a strong lead and supporting cast. And so we have the multiple award-winning Stellan Skarsgård (The Avengers, The Girl with the Dragon Tattoo, Nymphomaniac, Thor) starring as the eponymous John River.
In the fantastic opening sequence, we find DI John River, a flawed, lonely, holiday-hating man and a brilliant, instinctive, compassionate detective with the Greater London Police, in the car with his partner, confidante, and only friend, DS Jackie "Stevie" Stevenson, played by BAFTA nominee Nicola Walker (Unforgotten, Last Tango in Halifax, MI-5, Touching Evil). A disco tune comes on and he won't sing along, so she does (through the title credits)… until River spots a blue Mondeo and pursues the driver to a tragic end.
This is the last thing River or his boss, DCI Chrissie Read (London Critics Circle Film Awards winner Lesley Manville, Another Year, The Go-Between, Fleming), needs, and she chastises him for chasing and contributing to the death of a young man who may or may not be connected to a case that River isn't even working on. We're nine minutes into the hour-long series opener, and it is only now that we learn Stevie is, in fact, dead.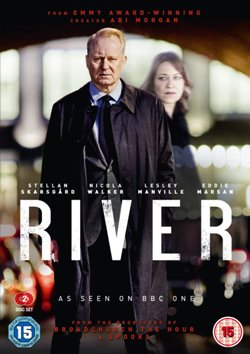 She was murdered, an act witnessed by River. Who was he chatting with in the car, then? Not who, but what. Stevie is a "manifest" — a figure that pops in and out of River's consciousness, invisible to others but real to him. Stevie talks, sings, laughs, sips milkshakes, and eats chocolate with him, until he realizes she isn't there.
And Stevie isn't River's only manifest, either. Others appear, reminding him to feed Stevie's cat, proclaiming their innocence, or leading him to figure out what happened in a case.
Is River mental? Police Superintendent Marcus McDonald (Owen Teale, Game of Thrones, Line of Duty) thinks River is a nutter and not at all fit for duty, and he wants police psychiatrist Rosa Fallows (Georgina Rich, Ripper Street, The Game) to prove him right.
Adding to River's pressure are Stevie's mum Bridie Stevenson (Sorcha Cusack, Father Brown, Coronation Street, Casualty); the need to link the now-dead drug dealer Christopher Riley (Josef Altin, London Spy, Game of Thrones) to Stevie's murder; accusations by Riley's pregnant, unstable girlfriend Tia (Pippa Bennett-Warner, Inspector Lewis) that River killed him; and the manifest of Thomas Neill Cream (Eddie Marsan, Jonathan Strange & Mr. Norrell, Ray Donovan, Southcliffe), the real-life 19th-century killer who plagues River with rants about death, destruction, and the darkness of the human condition.
River's new partner, DC Ira King (Adeel Akhtar, Capital, The Job Lot, Utopia), is a young, married detective and new dad, who ends up helping him with his unofficial investigation of Stevie's murder while the pair work on cases to which they're actually assigned.
As the mystery about why Stevie was targeted and killed deepens, River has run-ins with Bridie and other members of the Stevenson family, begins to uncover his late partner's secrets, and discovers the Stevie he thought he knew wasn't really that person.
Despite this, Stevie, or rather her manifest, continues to help River navigate through the complexities of life as he descends further into her world and struggles to deal with the manifests and the realities that appear in his.
Comparisons between River and other dramas are bound to be made, such as the Nordic noir look, feel, and tone of The Killing; the unrelenting drama of Broadchurch; shades of the partnership and friendship between Saga Norén and Martin Rohde in the first two seasons of the original Swedish/Danish version of The Bridge; River's solitary life and lack of social skills à la Kurt Wallander in Wallander; and his connection to dead people, a bit like Alison Mundy in Afterlife.
Yet, when taken as a whole, River is unlike any of them. Its focus is not the central crime or the solving of it. Rather, it's about the darkness within, the effects of tragedy, and the ways inner conflicts can manifest in outer realities. Our access to all of this is through John River.
Stellan Skarsgård gives a tremendous, compelling performance as River, embodying a man broken in his grief, tormented by his manifests, and determined to find his colleague and friend's killer, in every inch of his 6'3″ frame — from his deep, sad gaze, to his slumped-over posture.
As written by Morgan, River is an enigmatic, empathetic, and sympathetic character, and as played by Skarsgård, a man we feel for and root for, yet still wonder about. Nicola Walker's Stevie is funny, sarcastic, and mysterious in her own right. What more will we learn about her as the series draws to its conclusion?
Three of River's six episodes have aired to date on BBC Four, with the finale airing on the 17th of November.
One day later, River premieres in the US, on Wednesday, 18 November 2015, exclusively on Netflix as a Netflix Original Series.
__________________
Add your comments on our Facebook, Google+, and Twitter pages.
Share this post/page.

River: Stellan Skarsgård Stars in Brilliant Mystery/Crime Drama Premiering in the US