Following up on Part 1 about our favorite 2014 Brit TV debuts, we look today at the programs that returned to this side of the pond with their second, third, etc. seasons.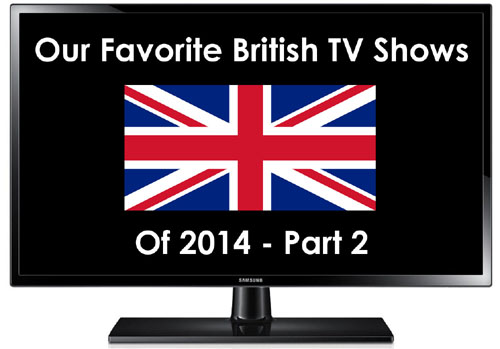 By my count, nearly 50 series returned to stateside telly with new seasons in 2014, and culling the list down to the 15 favorites took some doing (and not without guilt at having to leave certain titles off, mind you). Here they are in alpha order. (Careful, though, if you haven't seen them, as spoiler-ish details are sprinkled throughout.)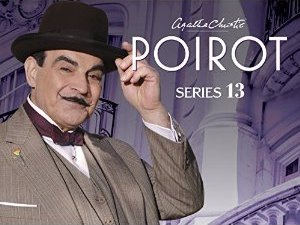 Agatha Christie's Poirot: Season 13
Knowing the end was near didn't help when it actually happened, and if you're like me, you couldn't help but get choked up at the conclusion of "Curtain," the last episode ever of Poirot starring David Suchet. It was dark and depressing, and tough to see Poirot so frail, ill, and in a wheelchair. (He'd had such vitality!) But, his little grey cells were still in tiptop shape, and allowed the Belgian detective to deal with one last culprit in the most surprising of ways.
Seeing Poirot's old amis, including Captain Hastings (Hugh Fraser), Miss Lemon (Pauline Moran), Inspector Japp (Philip Jackson), and even Ariadne Oliver (Zoë Wanamaker, My Family), made saying adieu a tad easier, and bringing them all back made for a fitting send-off for a 70-episode series that has entertained us for 25 years. British TV won't be the same without Poirot, but we don't have to be without him or the final season, which is available at Acorn TV, Amazon Instant Video,
Google Play, and iTunes. Vive Poirot!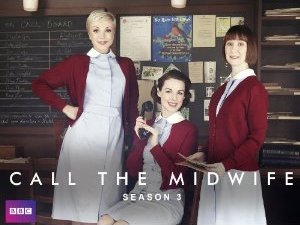 Call the Midwife: Season 3
The third outing of this period drama, based on real-life midwife Jennifer Worth's
 memoir, was wonderful, as touching, poignant, joyous, and humorous (and occasionally nerve-wracking) as the first two. Seldom have a group of characters become like friends we only see at certain times of the year, but that's how it has felt with Call the Midwife. The show has been so welcoming, and it is still one of the best Brit TV programs on telly today.
It was sad saying good-bye to Jenny Lee (Jessica Raine), but she had to move on. For those who remained at Nonnatus House and in Poplar, moving forward will include working with two new nurses, whom we'll meet when Season 4 debuts next year. Until then, we can relive all the Season 3 moments at Amazon Instant Video,
Google Play, iTunes, Netflix, and Vudu,
 and enjoy the 2014 holiday special tomorrow.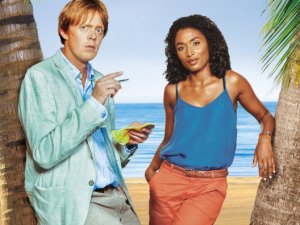 Death in Paradise: Season 3
The finessing of Ben Miller's departure from the series brought his DI Richard Poole full circle in an ironic way, and it was priceless. Kris Marshall (My Family), too, deftly handled the filling of Miller's shoes by making his DI Humphrey Goodman a more accessible but no less humorous character, and put to rest the skepticism about whether the show would be as good without Miller. It was, and the (higher) ratings proved it.
The Season 3 Caribbean murder mysteries that Goodman investigated with (comic foils) DS Camille Bordey (Sara Martins), DS Fidel Best (Gary Carr), and Officer Dwayne Myers (Danny John-Jules) were as entertaining as ever, and the local public TV stations that debuted them are still airing them. Hopefully they will join Seasons 1 and 2 at Amazon Instant Video,
Google Play, iTunes, and Vudu
 soon. Look for Season 4 in 2015.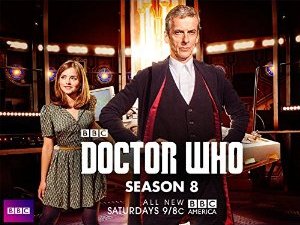 Doctor Who: Season 8
What came to mind for Peter Capaldi's first season as The Doctor was "He came, he saw, he conquered." Suited and booted (and devastatingly handsome), his Time Lord had a thing about his eyebrows, disdain for companion Clara's (Jenna Coleman) beau, Danny Pink (Samuel Anderson, Emmerdale), and a regenerations-old habit of turning up unexpectedly. What he didn't have was any romantic entanglements with Clara or a clue about the return of The Master.
The pair's adventures through time and space were a heckuva romp, complete with Daleks, Robin Hood, and a mummy on the Orient Express. My favorite episode, "Flatline," put The Doctor in a predicament he'd never been in before. It was frightening and funny, and an example of how the series' tone was reset to the darker one of Classic Doctor Who. Catch up on Season 8 quickly at Amazon Instant Video,
Google Play, iTunes, or Vudu,
as we're just one day away from this year's Christmas special!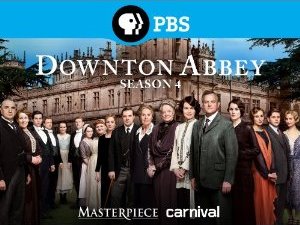 Downton Abbey: Season 4
Of all the storylines in this season, the horrific attack of Anna ranked right up there with the shockers of Lady Sybil's and Matthew's deaths. It was tough to watch, not just because it was unexpected in such a genteel environment, but because no one under the Downton roof had ever been that brutal, not even Thomas. That the assailant was ultimately rendered incapable of harming anyone else was a small mercy, but the damage was done, and a mystery began.
And no matter how much I or anyone else wanted Lady Edith to share her life with a good man, it seemed that her bad luck (or bad decision-making) kept bringing her sorrow, while Lady Mary's being wooed by two fine and handsome suitors felt like a kick in the teeth for her sister. Everyone else had one situation or another to deal with, too (poor Molesley), so if you want/need to catch up on all the drama, step lively over to Amazon Instant Video,
Google Play, iTunes, or Vudu,
 as Season 5
premieres on PBS Masterpiece at 9 PM ET on Sunday, 4 January 2015.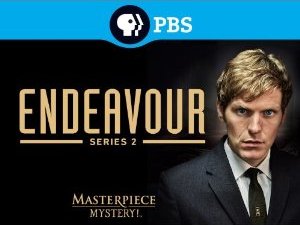 Endeavour: Season 2
Seeing the brilliant detective duo of Morse (Shaun Evans) and Friday (Roger Allam) for another season did a mystery fan good. And good on Endeavour that he and neighbor Monica (Shvorne Marks, Holby City) became an item. (Finally, his life included more than opera, crossword puzzles, murders, and booze.)
Being left in suspense at the Season 2 finale was unexpected, as cliffhangers are rare in weekly whodunits. Thankfully, ITV commissioned a third series, so we will find out how Morse and Friday fared following the big showdown; we just don't know when. In the meantime, there's Season 2 at Amazon Instant Video,
Google Play, iTunes, and Vudu.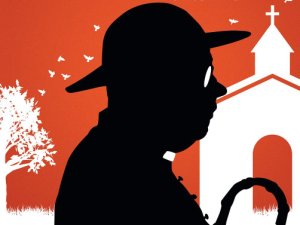 Father Brown: Season 2
This mystery series, the second TV version of Father Brown, based on the novels by G.K. Chesterton
 and starring Mark Williams (Harry Potter) as the titular priest, has been a delight to watch. It's engaging and fun, filled with lots of guest stars, quaint settings, quirky characters, sinister plots, and (da dum) murders. And its second season is better than the first!
There were no cliffhangers, but ten intriguing mysteries solved by Father Brown, the hero to everyone but the new, actual detective, Inspector Sullivan (Tom Chambers, Holby City), who, like his predecessor, didn't welcome the padre's help. There is also a bit of a lag in Season 2 being added to Amazon Instant Video,
Google Play, iTunes, and Vudu,
which all have Season 1. However, many local public TV stations are re-airing both seasons, so check your local listings. And, God willing, we'll be blessed with Season 3 in 2015.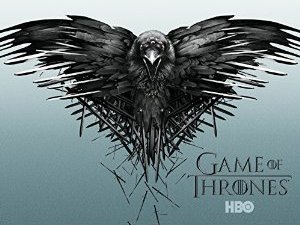 Game of Thrones: Season 4
There are countless reasons why GoT is the most pirated program in the world, and they all boil down to this: It is excellent and unmissable. And I, like millions of others, am addicted to it. I don't idolize the Mother of Dragons or lust for the Kingslayer or either of the Snow men (Ser Jorah and Bronn, yes), but I do wish winter would freaking come already. (I am so behind in the books, I have given up on catching up, and have no idea if winter ever does arrive.)
The brutalities, horrors, and colors continued in the fourth season, with The Red Viper (the trial by combat, omg), The Purple Wedding (meh as comeuppances go), and one scene involving a sausage that turned many a viewer, male and female alike, a whiter shade of pale. The only place to (legally) watch Season 4 in the US right now is at HBO Go, but the DVD is slated for release in February, so the streaming/download options should follow at Amazon Instant Video,
Google Play, iTunes, and Vudu,
 before Season 5 begins.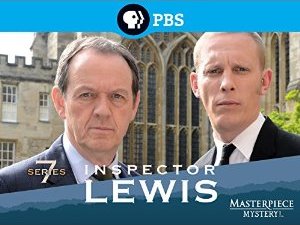 Inspector Lewis: Season 7
It was marvelous seeing this pair back on telly, especially since Kevin Whately and Laurence Fox gutted fans when they stated they wouldn't return for another full series. But return they did, and all was right again in the land of PBS Masterpiece Mystery.
Having the Lewis/Hathaway duo become a trio with the latter's new partner took getting used to, but the addition of a married, black female detective to the team worked (and made Oxford a bit less Anglo-centric). And the cases, including one that got personal for Lewis, were on par with the brain teasers set amongst the erudite of Oxford in previous seasons. Check them out at Amazon Instant Video,
Google Play, iTunes, and Vudu.
 (By the way, I haven't been able to verify this yet, but Whately supposedly said there will be a ninth series/eighth season in US terms, so keep your fingers crossed. And maybe Hathaway will finally get a girlfriend, too.)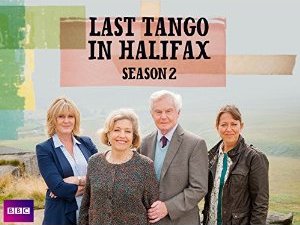 Last Tango in Halifax: Season 2
This ever-so heartwarming show has elicited an "aww" from fans since it debuted. And as the story of senior lovebirds Alan (Derek Jacobi) and Celia (Anne Reid) and their respective families picked up where Season 1 left off, and culminated in the couple's wedding celebration, we were left with the warm fuzzies all over.
But not before a whole lotta stuff went down, including secrets being revealed, feelings getting hurt, a new baby being born, and an old friend dying suddenly. It's the stuff of real life, which is one reason why Last Tango in Halifax has become a Sunday night staple on PBS (for several weeks, anyway). Season 2 is currently available at Amazon Instant Video,
Google Play, iTunes, Netflix, and Vudu,
 and Series 3 begins airing this Sunday on BBC One in the UK. PBS hasn't announced the new season as being on its 2015 schedule, but I can't imagine that one of the network's best-loved and highest-rated dramas wouldn't be.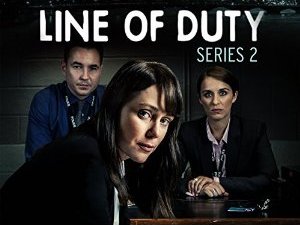 Line of Duty: Season 2
If you haven't seen the second season of Line of Duty yet, go to Amazon Instant Video
 or Hulu right now and watch it, because Keeley Hawes' performance is truly stunning. In make-up that played down her natural beauty, she played DI Lindsay Denton, the prime suspect in the ambush of a police convoy in which officers were killed and the protected witness injured.
Props also go to series writer and creator, Jed Mercurio (Strike Back), who crafted a story so intricate in detail that many a viewer used whiteboards (I used a spreadsheet) to keep track. Still, the question of Denton's guilt or innocence went unanswered until the final minutes of the season finale, when we all let out a collective "holy ****." BBC One has commissioned a third and fourth series, with new stories and guest stars, but production and transmission dates have not yet been announced.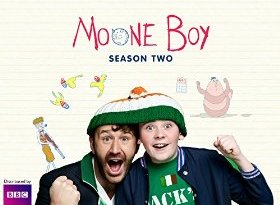 Moone Boy: Season 2
It's Irish, not British, but so what. It's hilarious. And it's been one of my go-to shows for laugh-a-minute craic ever since young Martin Moone (David Rawle) and his wacky family, invisible friend Sean Murphy (Chris O' Dowd), and best mate Padraic (Ian O'Reilly) landed on our shores.
Having graduated to secondary school, Martin and Padraic elevated their hijinks, too. For one thing, they built a raft in "Ghost Raft," and sailed it with Sean and Padraic's invisible friend, Crunchie Haystacks (Johnny Vegas), to Enya's "Orinoco Flow." I laugh so hard, I had a hard time breathing. And the dance scene in "Moone Dance" gave new meaning to Dirty Dancing. Go have a guffaw or six at Amazon Instant Video,
 Google Play, Hulu, Vudu,
 or your local public TV station, and get ready for Season 3, which should debut on Hulu in 2015.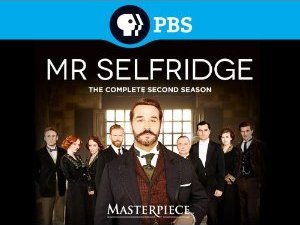 Mr. Selfridge: Season 2
Department stores aren't my thing, but Mr. Selfridge is, and I got caught up in the dramas of its second season even more so than the first. It helped that there were fewer spectacles at the store, an unofficial partner in Delphine Day (Polly Walker), and a vile nemesis in Lord Loxley (Aidan McCardle), all of which focused the Harry (Jeremy Piven) storylines and allowed the subplots involving employees to be played out with added depth.
The World War I theme was understandably pervasive, but not overbearing, and it gave the second season a sense of gravity that made joyous moments more satisfying. Bravo. You have a few months to catch up on Season 2 at Amazon Instant Video,
Google Play, iTunes, or Vudu,
as Season 3 doesn't debut until 29 March 2015 on PBS Masterpiece.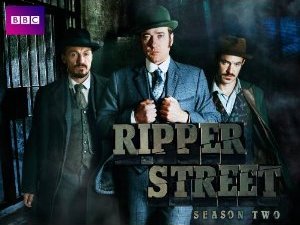 Ripper Street: Season 2
Make no mistake, I love this show, and rallied with countless others to keep it alive when BBC One axed it after Series 2. Enter Amazon.com. The Internet retail giant picked up production for Series 3, which is now finishing up on Amazon Prime Instant Video in the UK.
Why all the fuss? Because Ripper Street is a dark, dirty, and deliciously compelling watch. The second season revealed Reid (Matthew Macfadyen), Drake (Jerome Flynn), Jackson (Adam Rothenberg), and Long Susan (MyAnna Buring) to be more than the coppers, pathologist, and brothel owner we'd met in the first, and gave us riveting arcs involving nemeses for H Division and Long Susan that cemented the show's must-see status. Series 2 is available at Amazon Instant Video,
Google Play, iTunes, Netflix, and Vudu,
 and BBC America is bringing Series 3 to the States in early 2015.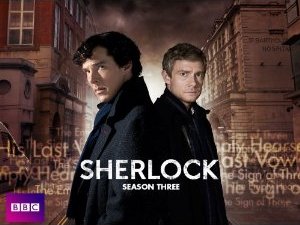 Sherlock: Season 3
I am Sherlocked. (Yes, that was from Season 2, but the meme continued, and I couldn't resist). Anyhoo, what a romp Season 3 was, right? Sherlock survived the fall, Watson and Mary Morstan got married, her secret was found out, Charles Augustus Magnussen creeped us out, and Moriarty wanted to know if we missed him.
From mind palaces and best man speeches, to homeless networks and the undercover name Shezza, you've got to hand it to series co-creators and writers Steven Moffat and Mark Gatiss. They crafted stories that did right by Sir Arthur Conan Doyle, brought Irene Adler and Moriarty back, upped the humor factor across the board, and won Primetime Emmy® Awards for Benedict Cumberbatch, Martin Freeman, and Moffat. Casting Cumberbatch's parents as Sherlock's, and Freeman's real-life love, Amanda Abbington, as Watson's girlfriend/fiancée/wife, were nice family touches. And casting Danish actor Lars Mikkelson as Magnussen, well, that thrilled me and others of his fans around the world.
It will be a while before Season 4 arrives in the US (likely 2016 at the earliest), so fingers crossed that the full-length special episode, which starts filming next month, gets here in 2015. Until then, all three seasons of Sherlock are available for streaming/download at Amazon Instant Video,
Google Play, iTunes, Netflix, and Vudu.
Coming up in the last part of this year-end series are our favorite Brit TV shows that premiered in the UK in 2014. Hopefully several, if not all, of them will screen in the US, because they are really good.
__________________
Add your comments on our Facebook, Google+, and Twitter pages.
Our Favorite British TV Shows of 2014, Part 2: Shows That Returned to the US