The nuns and midwives might no longer reside at Nonnatus House, but they are gracing screens once again on their telly home of BBC One, and will do the same on PBS in the coming weeks.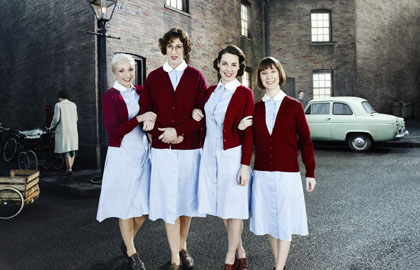 It is 1959 when Series 3
opens. The building that had been Nonnatus House is no more, having been shaken to its foundation and subsequently demolished following the (intended) detonation of the unexploded WWII bomb found nearby during Christmastime.
Now relocated to a larger building that they are also calling Nonnatus House, Jenny (Jessica Raine, An Adventure in Space and Time), Trixie (Helen George, The Three Musketeers), and Cynthia (Bryony Hannah, Above Suspicion: Silent Scream) are as busy as ever seeing to Poplar's mums-to-be and their families while getting settled in their new home.
Chummy (Miranda Hart, Miranda), meanwhile, has more time on her hands than she knows what to do with, despite being a housewife, new mum, and wanna-be domestic goddess. And the former Sister Bernadette (Laura Main, Murder City) has transitioned nicely to being Mrs. Shelagh Turner.
(To hear what Miranda Hart says about Series 3, watch this PBS video. To see what is in store, check out the trailer below.)
With the Swinging Sixties on the horizon, the times will be a-changin'. For Sisters Evangelina (Pam Ferris, Rosemary & Thyme), Julienne (Jenny Agutter, MI-5), and Monica Joan (Judy Parfitt, Little Dorrit), they already are — with the arrival of a new nun.
For them, the midwives, their loved ones, and Poplar residents, there will be more changes, more challenges, and more newborns on the way.
Call the Midwife: Series 3
debuted this past Sunday on BBC One in the UK. It premieres in the US on Sunday, 30 March, at 8 PM ET on PBS. Check your local listings.
—————————
Call the Midwife Returns with Series 3