Filming has started on the fourth series of the hit crime dramedy Death in Paradise, and there are guest stars aplenty. Unfortunately, a regular cast member is a regular no more.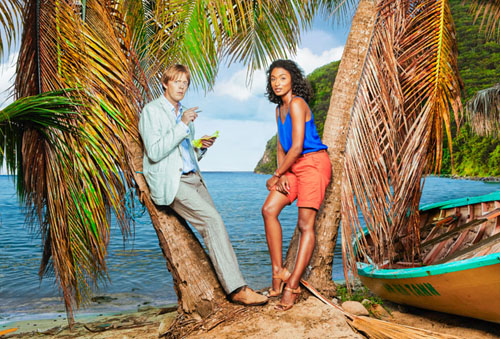 It was a shock to every fan of Death in Paradise
when series lead Ben Miller (Primeval) announced his departure after Series 2 ended, although the writers did give his character, DI Richard Poole, a send-off that was fitting for the Caribbean-based mystery series.
Now we have another "Aw, man! Really?" as Gary Carr (Downton Abbey) has also left the show. However, unlike Miller's Poole, Carr could return for a guest spot in the future (fingers crossed, but no guarantee, so don't quote me) since his character, Detective Fidel Best, has simply hopped over to a neighboring island from Saint-Marie for a new job.
Speaking of guest roles, the fourth series will have plenty of guest stars, including Tyger Drew-Honey (Outnumbered), Amy Nuttall (Downton Abbey), and Natalie Gumede (Coronation Street).
Said Tyger Drew-Honey: "I'm delighted to be a part of such a successful and original show and I can't wait to work with the fantastic cast and crew. Death In Paradise is my first TV drama project since finishing Outnumbered and very different from anything I've done before. Filming on the sunny shores of Guadeloupe will certainly make a change from those leafy London suburbs that I've been used to!"
Other guest stars include: William Ash (Waterloo Road), David Bamber (Collision), Ali Bastian (Hollyoaks), Hetti Bywater (EastEnders), Katarina Cas (The Wolf Of Wall Street), Rosie Cavaliero (A Young Doctor's Notebook), Sharon D Clarke (The Shadow Line), Simon Day (Titanic), Susannah Fielding (Father Brown), Don Gilet (Holby City), Claire Goose (Waking the Dead), Will Mellor (Broadchurch), Amanda Root (The Forsyte Saga), and Leo Staar (Call The Midwife).
At the conclusion of the third series, the clumsy but clever DI Humphrey Goodman (Kris Marshall, My Family) revealed that he fancied his beautiful and brilliant colleague, DS Camille Bordey (Sara Martins, Maigret). When the series returns, we find him struggling to contain his feelings for her while she battles the dating scene, thanks to her well-meaning maman Catherine (Élisabeth Bourgine, My Best Friend).
Officer Dwayne Myers (Danny John-Jules, Red Dwarf) is doing his best to hold down the fort following Fidel's departure, and Commissioner Selwyn Patterson (Don Warrington, New Street Law) is keen on exercising his investigative muscles again, much to Dwayne's frustration. But all welcome the new recruit, Sergeant Florence Cassell (played by popular French actress Josephine Jobert of Sous Le Soleil De Saint-Tropez), to the Saint-Marie police department.
Said Tim Key, Executive Producer of Death In Paradise: "We are thrilled to be back on set in Guadeloupe for the fourth series of Death In Paradise and are excited by the twists and turns in store for viewers this series. We continue to work with a whole host of talented and popular faces as guest stars and I am thrilled with the calibre of talent we have this year. We also welcome the wonderful Josephine Jobert whose character, Florence, will provide fresh and captivating plot lines full of humour, intrigue and excitement."
The premiere date for Death in Paradise: Series 4 has not yet been announced, so stay tuned. In the meantime, you can catch Series 1-3 on local public television stations in the US that are still screening them, or stream Series 1 at Amazon Instant Video.
__________________
Add your comments on our Facebook, Google+, and Twitter pages.
Death in Paradise: Series 4: No Gary Carr but Many Guest Stars