There is rip-roaring fantabulous news in the world of British TV today. Ripper Street IS returning for a third series!
Ripper Street
fans were in a tweet frenzy yesterday after one of the show's production companies, Tiger Aspect Productions, tweeted the image below.
While the text was cryptic, it pointed to what fans were hoping: that Ripper Street would return for a third series, despite the show having been axed by BBC One due to lower-than-expected ratings. And it will!
Amazon announced today that the company is commissioning a third season of the critically-acclaimed and fan-favorite period crime drama from producers Tiger Aspect Productions and Lookout Point — a landmark deal in which the company acquires exclusive UK subscription streaming rights to Ripper Street,
which was voted the best show of 2013 by Radio Times readers in the UK.
This deal represents further investment by Amazon into exclusive and original content for its Amazon Prime Instant Video
subscription video-on-demand streaming service, which launched in the UK today. This content is also available in the US at Amazon Instant Video.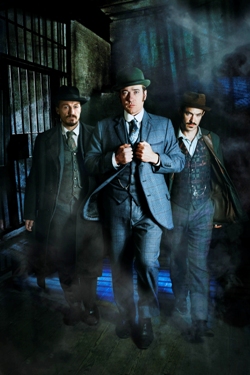 "We're delighted to have secured not only the highly popular first two seasons of Ripper Street for our Prime Instant Video customers, but we can also confirm today that we will be making season three, news that we know will delight the millions of fans of this brilliant British drama," said Jason Ropell, Head of Amazon Instant Video International Content Acquisition.
The brand new episodes of the award-winning and BAFTA-nominated Ripper Street will be exclusively available in the UK on Amazon Prime Instant Video,
followed by broadcast on BBC One a few months after they debut on Amazon. BBC America will continue to co-produce Ripper Street, so stateside fans of the show should rest easy that the third series will screen in the US, too.
Added Ben Stephenson, the BBC's Controller of Drama Commissioning, "This is an exceptional opportunity to bring back Ripper Street for a third series by working with the right partners. This deal gives fans another series of the show they love at excellent value to the licence fee payer, ensuring that the BBC can also commission an entirely new, yet to be announced drama series."
In Amazon's commitment to one of last year's most highly-regarded series, production is being fast-tracked and filming begins in May 2014.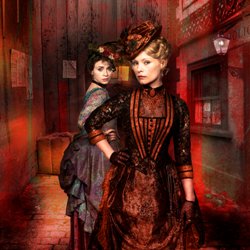 Ripper Street follows the notorious H Division, the police precinct charged with keeping order on the meanest streets imaginable: those of late Victorian Whitechapel. Its one-hour thrillers transport audiences into the dark heart of London as it stumbles toward the Twentieth Century.
Starring Matthew Macfadyen (MI-5), Jerome Flynn (Game of Thrones), Adam Rothenberg (Alcatraz), and MyAnna Buring (Downton Abbey), and created by BAFTA-nominated Richard Warlow, (Waking the Dead), it is a vivid, sensual, and violent drama that explores the lives of those who have seen the worst of humankind, but who nonetheless struggle each day to bring law to the lawless.
The first two seasons of Ripper Street
are currently available for streaming in the UK exclusively on Amazon Prime Instant Video. In the US, the first season
is available on Amazon Instant Video, with second season episodes
being added the day after they screen on BBC America. Season 2, Episode 2 airs this Saturday, 1 March, at 9 PM ET.
—————————
Ripper Street is Returning for Season 3!