Life in the sleepy (fictional) village of Kembleford hasn't exactly been peaceful. Some of its citizens have been up to no good, including murder. What is a parish priest to do? Solve the mysteries, of course.
That is precisely what Roman Catholic priest and amateur sleuth Father Brown (Mark Williams, Harry Potter, Blandings) does, with a bit of help from his friends, including socialite and do-gooder Lady Felicia Montague (Nancy Carroll, Midsomer Murders); Sid Carter (Alex Price, Above Suspicion), her driver and Father Brown's protective sidekick; and the by-the-Good-Book and prone-to-gossip parish secretary Mrs. McCarthy (Sorcha Cusack, Coronation Street).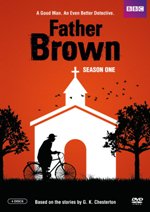 Having discovered the culprits in Series 1's
ten mysteries, Father Brown will continue tending to his flock, eating more sweets, and solving more crimes when ten more stories based on G. K. Chesterton's titular character
come to local PBS and independent public television stations.
People go missing, others get murdered, and suspects abound. Which family members, neighbors, or local business people had motives and opportunities? Who will confess to the crime and atone for his or her sins? Does the return of the smarmy Flambeau (John Light, DCI Banks) mean he has changed his thieving ways?
And what of the newly-arrived Inspector Sullivan (Tom Chambers, Holby City)? Will he be open to Father Brown's help in his investigations, or will he think the priest is meddling in things that shouldn't concern him, as his predecessor did?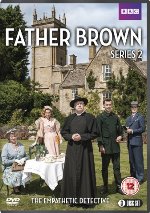 We shall soon find out, because the second series of Father Brown
begins airing in the US starting this Saturday, the 1st of February. The premiere dates and times vary by station, so check your local listings.
For the full list of stations airing Father Brown, check out "Hit BBC Mystery Father Brown Coming to Local PBS Stations."
Guest stars in Series Two include James Fleet (The Vicar of Dibley), Anton Lesser (Endeavour), Katie Leung (Harry Potter), and Marcia Warren (The Café), amongst others.
And the good news gets even better! Father Brown has been such a hit with viewers on both sides of the pond that, last week, the BBC commissioned a third series! Filming begins later this year on not ten but fifteen new episodes. Stay tuned for further details, including its premiere dates in the UK and US.
__________________
Add your comments on our Facebook, Google+, and Twitter pages.
Fan-Favorite Father Brown Returns to Local PBS Stations with Series 2, Plus Series 3 News