Let a new season of amour, ambition, scheming, and shopping begin when the hit drama Mr. Selfridge returns for a second series in both the UK and US.
When Mr. Selfridge
debuted last year, viewers and critics alike applauded it. And why not? There was "something for everyone" (Los Angeles Times), plus it was "addicting… opening a treasure box of tales about love, loss, ambition, and the spirit of a new age" (Wall Street Journal).
Now the series that brought us the man who brought Selfridge's department store and seductive shopping to early twentieth-century London is back. Starring three-time Emmy® winner Jeremy Piven (Entourage) as flamboyant American entrepreneur Harry Selfridge, the second series
opens in Spring 1914 with the fifth anniversary celebration of Selfridge's. That the store is successful is great, but war is looming large, and Harry must prepare his staff for the challenges ahead of them.
On the personal front is Harry's challenge of winning back his estranged wife Rose (Frances O'Connor, Madame Bovary) and reuniting his family. She returns to London from America to support him, and does so as a woman growing in empowerment from her new-found friendship with the self-assured and inspiring Delphine Day (Polly Walker, Prisoners Wives), a Bohemian novelist and nightclub owner.
For Lady Mae Loxley (Katherine Kelly, Coronation Street), the return to London of her absentee husband Lord Loxley (Aidan McArdle, Garrow's Law) is both unexpected and unwelcome. Not only is he back to recoup the fortune he has gambled away, he is threatening her relationship with Harry, amongst others.
Also threatened is the new Head of Fashion, Mr. Thackeray (Cal MacAninch, Wild at Heart), who believes his training in Paris makes him designer goods to everyone else's off-the-rack selves, especially Agnes Towler (Aisling Loftus, Page Eight), whom he sees as competition. Agnes had also been working in Paris, and she too returns to London, with a new, sophisticated style and new job as Selfridge's Head of Display.
Another former employee back in Selfridge's midst is Agnes' former French flame Henri LeClair (Grégory Fitoussi, Spiral), who has returned from America a changed and reticent man. Meanwhile, Victor Colleano (Trystan Gravelle, Anonymous), now Manager of Selfridge's Palm Court Restaurant, has moved on from his relationship with Agnes, or so he thinks until his waiter cousin Franco (Sean Teale, Skins) makes mischief.
And elsewhere in the world of Mr. Selfridge
are Harry's ever-faithful right-hand man Mr. Crabb (Ron Cook, Little Dorrit); Selfridge's Chief of Staff Mr. Grove (Tom Goodman-Hill, Spy), now a father; Grove's former paramour Miss Mardle (Amanda Abbington, Sherlock); ambitious shop girl Kitty Hawkins (Amy Beth Hayes, The Syndicate); Agnes' brother George Towler (Calum Callaghan, To the Ends of the Earth); and journalist Frank Edwards (Samuel West, Any Human Heart).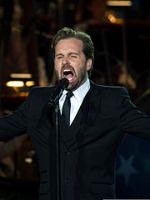 Amidst their celebrations, reunions, and department store business is the Great War, an event that will forever affect the lives of those within and without Selfridge's, including Richard Chapman, played by renowned tenor Alfie Boe later in the series.
A co-production of ITV Studios and Masterpiece, Mr. Selfridge: Series 2
premiered on ITV last night and continues for the next nine Sundays at 9 PM local time in the UK. The drama will air in the US in eight weekly episodes (with a two-hour opener and finale) on PBS Masterpiece Classic beginning Sunday, 30 March, at 9 PM ET. (Check your local listings.)
—————————
Get Ready for Mr. Selfridge: Series 2