The BBC announced quite a list of titles that will be airing on its channels in 2019. The question is: Which ones will be shown on this side of the pond?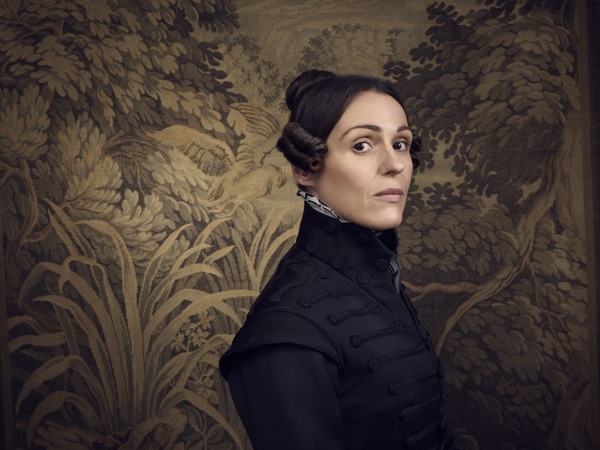 From new series to returning favorites, viewers in the UK have a lot of great dramas to look forward to this year. It's definite that at least some of them will screen in the US.
Baptiste — This follow-up mystery series to The Missing brings Tchéky Karyo (La Femme Nikita) back to telly as French investigator Julien Baptiste, who becomes embroiled in a case in Amsterdam. Read more about it here. Fingers crossed that Starz, which screened both seasons of The Missing, will pick up Baptiste for viewers in the US.
Call the Midwife — PBS premieres the eighth season of this fan-favorite period drama on Sunday, March 31, at 8 PM ET.
Dark Mon£y — In the era of #MeToo and #TimesUp, this topical drama starring Babou Ceesay (Into the Badlands) and Jill Halfpenny (In the Club) sees an ordinary London family decide to accept a substantial pay-off from a renowned filmmaker to keep silent about the abuse of their youngest son. No word yet on a US channel or streaming service picking up this series.
Dublin Murders — Based on the first two titles in Tana French's best-selling "Dublin Murder Squad" crime novel series, this Irish psychological crime drama starring Killian Scott (C.B. Strike) and Sarah Greene (Penny Dreadful) will air in the US on Starz (premiere date tba). Read this article for more details.
Gentleman Jack — Set in 1832 Halifax, this historical drama stars Suranne Jones (Doctor Foster) as Anne Lister, the Regency landowner who aims to change the fate of her faded ancestral home by re-opening the coal mines and setting her sights on marrying wealthy heiress Ann Walker (Sophie Rundle, Jamestown). HBO will air the eight-episode drama in the US (premiere date tba).
Giri/Haji — This bilingual Japanese-English (sub-titled) thriller follows a Tokyo detective who's sent to search for his missing younger brother in London, where the former gets entangled with shady businessmen. Featuring an international cast that includes Charlie Creed-Miles (The Frankenstein Chronicles), Takehiro Hira (Sanadamaru), Yosuke Kubozuka (Tokyo Tribe), Justin Long (F Is for Family), and Kelly Macdonald (The Child in Time), this Netflix Original series will stream in the US exclusively on Netflix (premiere date tba). (You can add it to your queue now.)
Gold Digger — Julia Ormond (Howards End) and Ben Barnes (Westworld) star in this emotional thriller, which tells the story of a wealthy 60-year old woman who falls in love with a man 26 years her junior. No word yet on a US channel or streaming service picking up this series.
Holby City — This medical drama celebrates its 20th anniversary in 2019. Season 21 debuted on BBC One yesterday; it will screen on BritBox in the US.
Keeping Faith — Acorn TV, which launched this Welsh mystery-thriller series in the US, will bring the show's second season to stateside viewers (premiere date tba). Check out this post for more details.
Killing Eve — Season 2 of this amazing thriller, which stars Sandra Oh (Grey's Anatomy) as an unofficial MI6 agent in an obsessive cat-and-mouse game with a psychopathic assassin played by Jodie Comer (Thirteen), cannot arrive soon enough. BBC America will air it in spring 2019 (premiere date tba).
Les Misérables — Unlike the musical, there's no singing in this miniseries, which has already premiered in the UK. But don't let that dissuade you from watching this star-studded adaptation of the classic Victor Hugo novel of the same name when it debuts in the US on PBS (date tba). For more details, read this article.
Line of Duty — The highly-anticipated fifth season of this crazy good crime thriller guest stars Stephen Graham (Boardwalk Empire). Acorn TV will sync its debut of Series 5 in the US with the new season's premiere on BBC One. Read more about it here.
Luther — New Year's Day in the UK saw the return of Idris Elba as DCI John Luther in the long-awaited fifth season of the hit crime drama, which costars Wunmi Mosaku (Dancing on the Edge) as Luther's new partner. This season's big (no longer a) surprise: the appearance of supposedly dead psychopath Alice Morgan (Ruth Wilson, Mrs. Wilson). Luther: Season 5 is slated to premiere on BBC America in early 2019 (date tba).
MotherFatherSon — Hollywood A List-er Richard Gere (Arbitrage) stars alongside Helen McCrory (Peaky Blinders) and Billy Howle (The Witness for the Prosecution) in this BBC Two psychological thriller, which hasn't been picked up (at least not yet) by a US channel or streaming service. More details about the show are in this post.
Noughts & Crosses — Adapted from the first title in Malorie Blackman's "Noughts and Crosses" novel series, this sci-fi drama is set in an alternative history society where white noughts are second-class citizens to black crosses, the ruling class. They aren't supposed to fall in love, but Callum (Jack Rowan, Born to Kill) and Sephy (Masali Baduza, Bhai's Cafe) do. No word yet on a US channel or streaming service picking up this series.
Peaky Blinders — In the new season of this hit gangster drama (which moves to BBC One and stays on Netflix US), the 1929 financial crash has wreaked havoc in Britain and provided Tommy Shelby MP and his clan with more opportunities. Joining the cast in Season 5 are Sam Claflin (The Hunger Games), Brian Gleeson (The Bisexual), Neil Maskell (No Offence), Charlene McKenna (Ripper Street), Emmett J Scanlan (Butterfly), and Anya Taylor-Joy (The Miniaturist), amongst others.
Poldark — Unlike the first four seasons of this hit historical period drama, the fifth and final season is not based on any titles in Winston Graham's "Poldark" novel series. Rather, it will cover developments that occur during the 10-year gap between the narratives of Books 7 and 8, as referenced by the author in the latter, along with historical events, to follow what happens with the Poldarks, George Warleggan, the Enyses, and the Carnes. Poldark: Season 5 will premiere in the US on PBS (date tba).
Silent Witness — As noted in the article about British TV premieres in January, the 22nd season of this popular mystery-crime drama series premieres in the US on Wednesday, January 30, exclusively on BritBox.
Summer of Rockets — This semi-autobiographical period drama thriller set in 1958 stars Toby Stephens (Black Sails) as Samuel, a 40-something Russian Jewish émigré and inventor who is approached by MI5 to obtain information about his new friends, played by Keeley Hawes (Bodyguard) and Linus Roache (Bancroft). No word yet on a US channel or streaming service picking up this series.
The Victim — Set in Edinburgh and Greenock, this Scottish legal thriller stars Kelly Macdonald (Boardwalk Empire) as the mother of a murdered 9-year-old boy who is accused of revealing the killer's new name online. James Harkness (In Plain Sight) plays the victim of a vicious attack after he's branded online as a child murderer living under a new identity. And John Hannah (Agents of S.H.I.E.L.D.) plays the detective investigating the attack while contending with his own demons. No word yet on a US channel or streaming service picking up this series.
The War of the Worlds — Set in Edwardian England, the first British television adaptation of H.G. Wells' classic sci-fi novel stars Rafe Spall (Harry Price: Ghost Hunter) and Eleanor Tomlinson (Poldark) as George and Amy, who want to start a life together but must face an alien invasion and fight for their lives against an enemy beyond their comprehension. No word yet on a US channel or streaming service picking up this series.
World on Fire — This drama follows the first year of World War II, as told through the intertwining stories of ordinary people from Britain, Poland, France, Germany, and the United States who grapple with the effect of the war on their everyday lives. In addition to the actors noted in this article, Emmy® and BAFTA Award winner Sean Bean (Sean Bean! Broken) has joined the cast. No word yet on a US channel or streaming service picking up this series.
Years & Years — Two-time Oscar® winner Emma Thompson (The Children Act) stars in this drama as an outspoken celebrity-turned-political figure whose controversial opinions divide the nation. As Britain is rocked by unstable political, economic, and technological advances, members of the Lyons family — played by Rory Kinnear (Spectre), T'Nia Miller (Marcella), Russell Tovey (Quantico), Jessica Hynes (W1A), Ruth Madeley (Cold Feet), and Anne Reid (Last Tango in Halifax) — converge on one crucial night in 2019. The twists and turns of their everyday lives over the next 15 years are explored as we find out if this ordinary family could change the world. HBO will air this limited series in the US (premiere date tba).
Check out the Beeb's compilation video of all the above titles.
Stay tuned for updates.
__________________

Add your comments on our Facebook and Twitter pages.
Share this post/page.

BBC Drama in 2019: Which Titles Will Be Shown in the US?