Actually, they're not all British. One is Canadian, another is Irish. But still. These are the brand new (to the US) shows that had me binge-watching until stupid o'clock in the morning.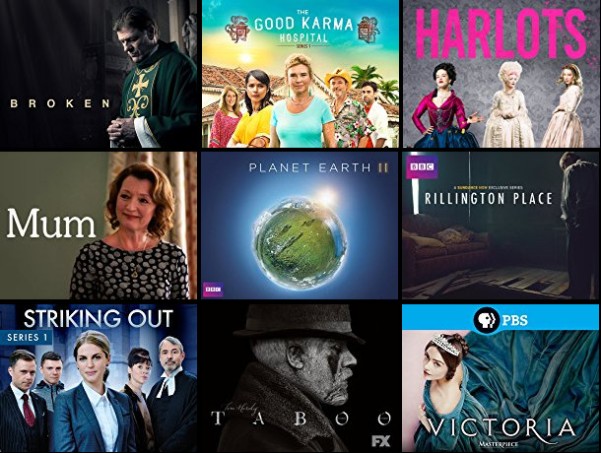 The "brand new" part means this list doesn't include any programs that returned with their second or subsequent seasons, great as they may be (looking at you, Black Mirror). Ditto for shows from Australia and New Zealand, which are now covered at The Down Under TV Place. So without any further ado…
All Aboard! The Canal Trip (UK)
An altogether different sort of television escapism is Slow TV, a global trend in programming started by Norwegian broadcaster NRK. As someone whose TV diet consists mostly of crime dramas, Slow TV has been an acquired taste — one that's allowed me to exhale and decompress while being entertained. Such is the case with The Canal Trip, a two-hour boat journey that happens in real time and lets viewers vicariously experience the sights, sounds, and pleasures of the scenery with none of the hassles of actual travel. It's like the TV show version of the old advertising slogan, "Calgon, take me away!"
Watch: BritBox, BritBox on Amazon
Broken (UK)
Sean Bean (Sean Bean!, Game of Thrones) gives an emotionally-wrenching and award-worthy performance in this drama featuring stories of personal devastation that ultimately can restore one's faith in humanity. Bean plays Father Michael Kerrigan, a Catholic priest haunted by his past and deeply troubled on a day-in, day-out basis by his inability to do more to help his working-class parishioners in the north of England.
Watch: BritBox, BritBox on Amazon | DVD
Cardinal: Season 1 (Canada)
This Canuck noir mystery series, based on the "John Cardinal" crime novels by Giles Blunt, is as good as or better than many Nordic noir shows. Dark and brooding, it stars Billy Campbell (Helix) as the eponymous troubled detective, who returns to the homicide squad to work on a reopened cold case while his new partner investigates him on the sly to see if he's a bent copper. For further details, read this article.
Coalition (UK)
Reminiscent of The Thick of It but based on actual events, this fast-paced and highly-entertaining made-for-TV movie is about how the first coalition government since WWII came about in the UK. It dramatizes what went down between Conservative Party leader David Cameron (Mark Dexter, The Bletchley Circle), Liberal Democrat leader Nick Clegg (Bertie Carvel, Doctor Foster), Labour Prime Minister Gordon Brown (Ian Grieve, Rebus), and members of their respective parties, after the 2010 general election resulted in a hung parliament.
Watch: BritBox, BritBox on Amazon
Code of a Killer (UK)
Police procedural meets historical drama in this absorbing miniseries about how DNA fingerprinting was introduced in the UK as a crime-solving tool. Set in the 1980s, the story revolves around the years-long investigation into the murders of two schoolgirls by Detective Chief Superintendent David Baker (David Threlfall, Midwinter of the Spirit), who became the first detective to use DNA evidence to catch a killer after getting help from Dr. Alec Jeffreys (John Simm, Life on Mars), the Leicester University scientist who first developed DNA profiling techniques.
Watch: Acorn TV, Acorn TV on Amazon, Amazon Video | Digital download: iTunes | DVD
Dickensian (UK)
You've probably read the books and seen filmed adaptations of Charles Dickens' works, but you'll only see characters from different Dickens stories together in this dark and delicious series. Created by Tony Jordan, the award-winning writer who gave us the brilliant Life on Mars and Hustle, this 20-part drama follows several storylines, among them Inspector Bucket's (Stephen Rea, The Honourable Woman) investigation into the murder of Jacob Marley (Peter Firth, MI-5).
Watch: Amazon Video, BritBox, BritBox on Amazon, public TV stations | Digital download: iTunes | DVD
The Good Karma Hospital: Series 1 (UK)
This was the feel-good drama series of the year. Its humor- and heart-filled stories follow junior doctor Ruby Walker (Amrita Acharia, Game of Thrones) as she adjusts to her new life in exotic Southeast Asia while working for her feisty ex-pat boss (Amanda Redman, New Tricks) at the eponymous cottage hospital. The feel-good clincher: the arc about a dying woman (Phyllis Logan, Girlfriends) and her husband (Philip Jackson, Raised by Wolves).
Watch: Acorn TV, Acorn TV on Amazon, Amazon Video | Digital download: iTunes | DVD
Harlots: Season 1 (UK)
There's no catfight quite like the one between rival brothel owners, played by Samantha Morton (Rillington Place) and Lesley Manville (Mum), in this rollicking period drama filled with bawdy and tawdry goings-on. For further details, read this article.
Watch: Amazon Video, Hulu | Digital download: iTunes | DVD
The Moorside (UK)
Seriously, what can't Sheridan Smith (Cilla) do, acting-wise? In this riveting two-part drama based on real events, the multiple-award winner gives a searing performance (sans a stitch of makeup) as Julie Bushby, a fiery single mum who rallies her West Yorkshire community in the search for the missing nine-year-old daughter of her friend Karen Matthews (Gemma Whelan, Game of Thrones).
Watch: BritBox, BritBox on Amazon | DVD
Mum: Series 1 (UK)
Lesley Manville (River) stars in this delightful slice-of-life comedy series as Cathy, a widow with a heart of gold and the patience of a saint — both on display when she's with her brother's snarky and pretentious partner and her son's well-meaning but clueless and clumsy girlfriend. But Cathy's also got blinders on, at least when it comes to her dear, always-helpful, and eternally-besotted friend Michael (Peter Mullan, Top of the Lake). (Fingers crossed they get together in Series 2.)
Watch: BritBox, BritBox on Amazon
National Treasure (UK)
Inspired by a real-life UK police investigation that occurred before #MeToo, this gripping, ripped-from-the-headlines miniseries follows the story of Paul Finchley (Robbie Coltrane, Harry Potter), an aging, beloved comedian who is arrested on suspicion of a decades-old rape and subsequently accused by more women for sexual assault. For further details, read this article.
Watch: Hulu | Digital download: iTunes | DVD
Penelope Keith's Hidden Villages: Series 1 (UK)
This utterly charming series presented by Dame Penelope Keith (To the Manor Born) is the next best thing to actually being in the places she visits across Britain. These off-the-beaten-track spots are full of history and local color, all brought to life by the delightful Keith, whose humor and good-natured participation in various activities might inspire you to book a trip and follow her itinerary!
Watch: Acorn TV, Acorn TV on Amazon, public TV stations | DVD
Planet Earth II (UK)
Any nature series presented by Sir David Attenborough is one to dive into, and this magnificent sequel to Planet Earth is arguably the best of the bunch to date. Produced in Ultra Hi-Def, it offers smile-inducing, jaw-dropping, and heart-pounding scenes of amphibians, arthropods, birds, lizards, and mammals in mating, hunting, and survival mode on islands and mountains and in jungles, deserts, grasslands, and cities across the globe.
Watch: Amazon Video, Netflix | Digital download: iTunes, Vudu | DVD
Quirke (UK/Ireland)
Adapted from the "Quirke" novels by Benjamin Black (pen name of novelist John Banville), this intricately-plotted crime drama stars Gabriel Byrne (In Treatment) as the eponymous mystery-solving pathologist in 1950s Dublin. It's noir, yes, and dark literally, too, with most scenes taking place at night on wet, dimly-lit streets and in gloomy domiciles.
Watch: BritBox, BritBox on Amazon | DVD
Rillington Place (UK)
Crikey, the evil that men do. Specifically the manipulations and murders committed by serial killer John "Reg" Christie, played with skeevy, skin-crawling effectiveness by Oscar® nominee Tim Roth (Rob Roy). Set in 1940s and '50s London, this very dark biopic costars Samantha Morton (The Last Panthers) as Ethel, Christie's long-suffering and victimized wife. It's gripping stuff, this.

Watch: Sundance Now, Sundance Now on Amazon | DVD
The Story of China with Michael Wood (UK)
Historian and documentarian Michael Wood does it again with this brilliant six-part series that tells the essential bits of the thousands-year history of the Middle Kingdom. From its people to its dynasties to its revolutions, Wood, whose genuine curiosity and wonder are infectious, offers insights into how China grew to become the country it is today and himself marvels at what he discovers.
Watch: Amazon Video, PBS Passport | Digital download: iTunes, Vudu | DVD
Striking Out: Series 1 (Ireland)
One of the most refreshing series of the year is this drama starring Amy Huberman (The Clinic) as Dublin-based solicitor Tara Rafferty. While storylines involve legal cases, the appeal of the show lies in its characters, especially Tara — an accessible, relatable everywoman with qualities she doesn't realize she possesses until a betrayal shatters her world. That's when she becomes the poster gal for the adage "when the going gets tough, the tough get going." For further details about this fabulous show, read this article.
Watch: Acorn TV, Acorn TV on Amazon, Amazon Video | Digital download: iTunes | DVD
Taboo (UK)
Similar to his Alfie Solomons in Peaky Blinders, Tom Hardy is seriously intense and menacing and downright magnetic as James Keziah Delaney in this dark, intricate, and slow-burning period drama. Set in 1814, the story follows Delaney after his return to London from Africa to claim his inheritance — something the nefarious chairman of the East India Company (Jonathan Pryce, Game of Thrones) wants to get his greedy mitts on at any cost, including murder.
Watch: Amazon Video, Hulu | Digital download: iTunes, Vudu | DVD
Victoria: Season 1 (UK)
Arguably the binge-worthiest series on this list, this period drama about the life of Queen Victoria (Jenna Coleman, Doctor Who) rightfully received the coveted Downton Abbey time slot on PBS, with its opulent sets, gorgeous costumes, and titillating tales of royal court intrigues. Featuring Tom Hughes (The Game) as the queen's beloved Prince Albert and Rufus Sewell (Zen) as her unrequited love Lord Melbourne, it helped PBS maintain its status at the place to be for appointment-viewing British TV on Sunday evenings. Bring on Season 2! (Which, by the way, premieres in the US this Sunday.)
Watch: Amazon Prime & Instant Video, Masterpiece on Amazon, PBS Passport | Digital download: iTunes, Vudu | DVD
What Remains (UK)
This miniseries revolves around retired detective Len Harper's (David Threlfall, Shameless) unofficial investigation into the mysterious death of a single woman in a multifamily house. While the ending is unsettling, the entire drama is disturbing when you look at the big pictures of life within the building and today's society.
Watch: BritBox, BritBox on Amazon | DVD
__________________
Add your comments on our Facebook and Twitter pages.
Share this post/page.

Favorite British TV Shows of 2017