All seven episodes of the new mystery-crime drama series C.B. Strike are now available in the US, and there's no time like the present to binge-watch them.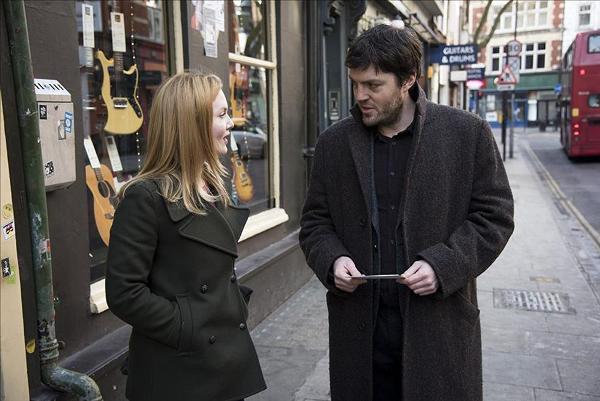 Adapted from the best-selling crime novels by Robert Galbraith, the pen name of J. K. Rowling (Harry Potter), C.B. Strike is a fabulous private detective drama that stars Tom Burke (The Musketeers, War & Peace) as Cormoran Strike, a disabled war veteran who uses the skills he gained while serving with the Royal Military Police as a gumshoe for hire.
The series consists of three multi-part stories that costar Holliday Grainger (The Borgias, Patrick Melrose) as Robin Ellacott, Strike's temp-turned assistant-turned partner, and feature Kerr Logan (My Mother and Other Strangers) as Robin's fiancé, Matthew Cunliffe, and Killian Scott (Jack Taylor) as DI Eric Wardle.
The first story, based on the novel The Cuckoo's Calling, opens with the death of top model Lula Landry. She was a troubled soul, so the declaration of death by suicide isn't a stretch; however, John Bristow (Leo Bill, Taboo), an acquaintance of Cormoran from years ago, believes his adopted sister was murdered and hires the tec to find Lula's killer.
The timing couldn't be more perfect, because Cormoran, the now-ex-boyfriend of a young socialite and the estranged son of a famous rock star and his late fashion model wife, is skint. So with Bristow's advance, he can pay his overdue bills and the fee for Robin's temp work.
With Robin helping him with her organizational and research skills (but without much assistance from DI Wardle), Cormoran delves into Lula's history, and it isn't long before his investigation is complicated by another dead body.
Guest stars in "The Cuckoo's Calling" include Siân Phillips (I, Claudius), Martin Shaw (George Gently), and Tara Fitzgerald (Game of Thrones).
The Silkworm, the second novel in the "Cormoran Strike" series, is the source material for the next story, in which Leonora Quine (Monica Dolan, A Very English Scandal) asks Cormoran to find her husband Owen Quine, a well-known author despised by many in his literary circle.
Once again, Robin proves invaluable to Cormoran in his inquiries. It turns out she is quite good at sleuthing, but what neither she nor Strike see coming is his discovery of Owen's dead and disemboweled body.
What little evidence exists is circumstantial, but it points to Leonora as the prime suspect in Owen's brutal murder; however, Strike believes it to be the work of someone who holds a bigger grudge than a wife with a philandering husband.
Guest stars in "The Silkworm" include Lia Williams (National Treasure: Kiri), Tim McInnerny (Notting Hill), Peter Sullivan (The Borgias), and Dorothy Atkinson (Mum).
And in the third story, based on the novel Career of Evil, Robin receives a package at the office and finds a severed leg in the box, a fact that is leaked to the press in very short order. Whoever the sender is, s/he is succeeding in their smear campaign against Strike — clients quickly abandon him — while someone, maybe the sender, maybe not, is stalking Robin and Cormoran.
This leaves Strike trying to figure out who from his past would want to destroy him. Meanwhile, Robin discovers something from Matthew's past that leaves her reeling.
It gets worse: Cormoran is fitted up for the murder of a young woman and brought in under caution for questioning by the police, and both he and Robin are attacked and nearly killed in separate incidents when they get too close to the truth.
Guest stars in "Career of Evil" include Ben Crompton (Game of Thrones), Neil Maskell (Humans), and Matt King (In the Dark).
C.B. Strike is a new series, quite a refreshing one at that. Yet it also feels familiar and, for lack of a better word, comfortable, like a favorite sweater.
For one, the eponymous character reminds me of Jim Rockford, the flawed but lovable private investigator in the popular American TV series The Rockford Files. Cormoran is down-to-earth, helpful, and understanding — a regular Joe with painful memories, a habit of drowning his sorrows, and unique insights who, unlike, say, Sherlock Holmes or Hercule Poirot, is accessible and relatable. The same can be said of Robin.
The murder mysteries are intricate and intriguing, without red herrings but with multiple threads that reveal a variety of human foibles that cause characters to do what they do, even commit murder. And the character development aspects of the narrative are well balanced and well placed within the stories, allowing viewers to get what Cormoran and Robin — played with great chemistry by Burke and Grainger — are about without losing sight of why we're getting their backstories to begin with.
The show is already on my list of favorites for the year.
A Cinemax Original series, C.B. Strike is currently available in the US on Cinemax and the Cinemax channel on Amazon.
(FYI: Galbraith's fourth "Cormoran Strike" novel, Lethal White, will be published in the US on September 18 and is available for pre-order now. Stay tuned for updates about when this title will be adapted for the small screen.)
__________________

Add your comments on our Facebook and Twitter pages.
Share this post/page.

Binge-Watch of the Week: Mystery-Crime Drama C.B. Strike