The weekend is nearly over (sigh), but if you have three hours between now and bedtime, consider binge-watching the psychological thriller limited series Born to Kill.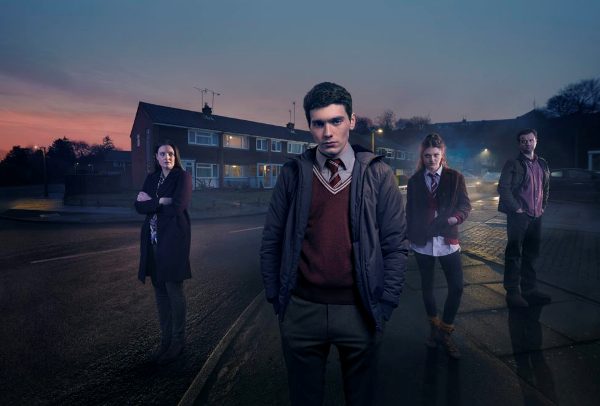 Unsettling from the off, Born to Kill is a suspenseful drama that centers on Sam (Jack Rowan, Beowulf: Return to the Shieldlands, Peaky Blinders), a seemingly ordinary 16-year-old boy.
Sam has a close relationship with his single mum Jenny (Romola Garai, The Miniaturist, The Hour), gets good grades and is on the diving and swimming teams at school, and befriends a quiet, sensitive classmate. He even volunteers at the hospital where Jenny works to read to a couple of elderly patients.
What no one knows, though, is that Sam has psychopathic tendencies. And what Sam doesn't know is that his father, about whom Sam makes up heroic stories to explain his death, isn't actually dead.
Sam's behavior and attitude begin to change soon after meeting Chrissy (Lara Peake, How to Talk to Girls at Parties, Tracey Ullman's Show), the anti-social, anti-authority new girl at school. Her widowed father Bill (Daniel Mays, Line of Duty, Mrs. Biggs) has moved them from Nottingham so they can help care for his elderly mum, amongst other reasons.
While the two teens begin a rather unhealthy friendship and their parents get to know each other better, Jenny is harboring a secret: Peter (Richard Coyle, Hard Sun), her ex-husband and Sam's father, is up for parole. And she is freaking out.
She isn't the only one, owing to an incident at the hospital and another at Sam's school.
And when Sam learns the truth about his father and demands to see him, it sets off a chain of events that neither Sam nor either of his parents could have anticipated.
Comparisons between Born to Kill and the dramedy The End of the F***ing World are understandable, given the lead character, his psychopathy, and his girlfriend. And while each limited series has suspenseful moments, the similarities end there.
There is nothing humorous in or about Born to Kill. It's a straight-up psychological thriller that has you waiting for Sam — with his penetrating yet empty gaze and numerous lies — to commit a malicious act whenever he's on screen.
Featuring in the series are Earl Cave (The End of the F***ing World), Sharon Small (Trust Me), Simon Bubb (Father Brown), Jeany Spark (Wallander), Elizabeth Counsell (Unfinished Song), Pal Aron (Stella), and Lolita Chakrabarti (The Bill).
Born to Kill, which premiered in the US on April 12th, is currently streaming exclusively on Shudder and the Shudder channel on Amazon.
Viewers in the UK can stream the series on All 4 and Amazon Video.
__________________

Add your comments on our Facebook and Twitter pages.
Share this post/page.

Born to Kill: Disturbing Psychological Thriller Now Streaming in the US