Mark your calendars, mes amis. Amazon Prime Video is launching The ABC Murders at the start of next month.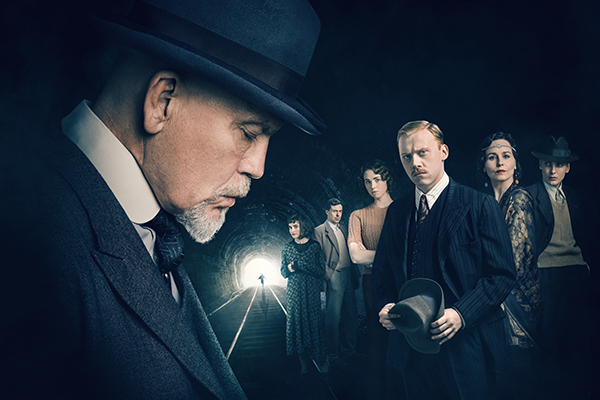 In this new adaptation of Agatha Christie's novel of the same name, The ABC Murders stars two-time Oscar nominee John Malkovich (In the Line of Fire, Places in the Heart) as Belgian detective Hercule Poirot (albeit sans the iconic mustache but with a goatee).
Set in the 1930s, the story finds Poirot facing a serial killer known only as A.B.C., who strikes first in Andover, then in Bexhill. But Inspector Crome (Rupert Grint, Harry Potter) doesn't trust Poirot and refuses his help, despite two murders having been committed and another one planned, wherein the names of the location and the victim will start with the letter C.
As the murder count rises, the only clue is the copy of The ABC Railway Guide at each crime scene. However, Poirot's investigations are thwarted at every turn by an enemy determined to outsmart him. If Poirot is to match his nemesis, then everything about him will be called into question — his authority, his integrity, his past, and his identity.
Costars include Andrew Buchan (The Fixer) as Franklin Clarke, Eamon Farren (Twin Peaks) as Cust, Tara Fitzgerald (Game Of Thrones) as Lady Hermione Clarke, Bronwyn James (Harlots) as Megan, and Freya Mavor (The White Queen) as Thora Grey.
The three-part drama, adapted by BAFTA nominee Sarah Phelps (The Witness for the Prosecution, And Then There Were None), continues the production deal between BBC One and Agatha Christie Limited, which includes six more Christie adaptations. (The first of eight was Ordeal by Innocence.)
A Mammoth Screen and Agatha Christie Limited drama for BBC One, Agatha Christie's The ABC Murders , an Amazon Prime Original series, premieres in the US on Friday, February 1, exclusively on Prime Video.
__________________

Add your comments on our Facebook and Twitter pages.
Share this post/page.

The ABC Murders: Date Set for US Premiere of New Agatha Christie Adaptation