With just over two months to go before we ring in the new year, here's a look at 20 brand-new shows from the UK, Australia, Canada, Ireland, and New Zealand to look forward to.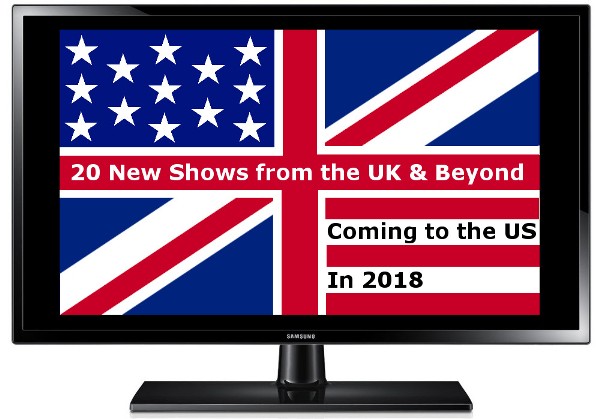 Without any further ado, here they are.
C.B. Strike (aka Strike) (UK)
Based on the "Cormoran Strike" novels by Robert Galbraith (pen name of J.K. Rowling), this crime drama-mystery series stars Tom Burke (The Musketeers, War & Peace) as Cormoran Strike, a war veteran-turned-private detective who uses his experience and insight as a Special Branch investigator to solve cases. Costars include Holliday Grainger (The Borgias, Any Human Heart) as Strike's temp-turned-assistant Robin Ellacott, Kerr Logan (My Mother and Other Strangers, London Irish) as Robin's fiancé Matthew Cunliffe, and Killian Scott (Ripper Street, Love/Hate) as DI Eric Wardle.
The adaptation of the first book, The Cuckoo's Calling, features Tara Fitzgerald (Game of Thrones), Elarica Johnson (Top Boy), Kadiff Kirwan (Chewing Gum), and Martin Shaw (George Gently).
The adaptation of The Silkworm features Monica Dolan (W1A), Dominic Mafham (The Clinic), Tim McInnerny (National Treasure), and Lia Williams (Doc Martin).
The third installment, adapted from Career of Evil, was commissioned last month. C.B. Strike will premiere in the US on Cinemax.
Crawford (Canada/US)
Jill Hennessy (Crossing Jordan, Madam Secretary) leads the cast of this comedy about a dysfunctional family whose home is invaded by raccoons. She plays matriarch Cynthia, an award-winning cereal executive struggling to deal with the stress of juggling work with the needs of her husband, Owen, and her lover. John Carroll Lynch (Body of Proof) costars as Owen, a former police chief, who is unable to use his voice due to a medical condition and communicates via his smartphone.
Also in the cast are Kyle Mac (Between) as Don, who crashes at his parents' after being dropped by his music label and discovers his calling as a raccoon whisperer; Alice Moran (Sunnyside) as older sister Wendy; and Daniel Davis Yang (Riverdale) as younger brother Brian. Crawford will premiere in the US on Comedy Central.
Elizabeth and Her Enemies (aka Elizabeth I) (UK)
In this docudrama, historians, authors, and program presenters Dr. Suzannah Lipscomb (Hidden Killers of the Victorian Home) and Dan Jones (Britain's Bloodiest Dynasty: The Plantagenets) take us through the life Elizabeth I (Lily Cole, Doctor Who), from her days as a young princess to a mature queen, and give viewers the lowdown on tales of jealousy, treachery, ambition, and tragedy, as well as key events that shaped Elizabeth and England.
Elizabeth and Her Enemies will premiere in the US on Ovation TV.
Girlfriends (UK)
This contemporary drama — about friends, family, responsibilities, and the inevitable changes that age brings — stars BAFTA Film nominee Zoë Wanamaker (Agatha Christie's Poirot, My Family), two-time Oscar® nominee Miranda Richardson (Mapp & Lucia, And Then There Were None), and BAFTA Film winner Phyllis Logan (The Good Karma Hospital, Downton Abbey).
After the sudden death of Linda's husband, childhood friends Linda (Logan), Sue (Richardson), and Gail (Wanamaker) find themselves back together again. Each has her own problems — from a looming divorce from the husband she still loves and the loss of a high-powered job through age discrimination, to juggling the endless responsibilities of their grandchildren and aging mothers — yet Linda's being a widow after 30 years of marriage could be the least of her worries: As questions over the circumstances of Micky's death arise, accusations reveal secrets, deceptions, and doubts that tear at the trio's friendship.
And we're off! Filming for Block 1 of brand-new @ITV drama Girlfriends begins today with #kaymellor directing ? pic.twitter.com/NgpdinXnAG

— Rollem Productions (@RollemProdCo) July 3, 2017
Written by Kay Mellor (In the Club), directed by Mellor and Dominic Leclerc (Coronation Street), and produced by Josh Dynevor (DCI Banks), Girlfriends will premiere in the US exclusively on Acorn TV.
Good Omens (UK)
This is the first-ever television adaptation of the fantabulous fantasy novel of the same name by the late, great Terry Pratchett and Neil Gaiman, and it stars David Tennant (Doctor Who, Broadchurch) and Michael Sheen (Masters of Sex, The Queen), pictured below.
They are amazing. This is them in the opening scenes, 11 years ago, in St James's Park. David and Michael, demon & angel. #GoodOmens pic.twitter.com/ceK4XYY881

— Neil Gaiman (@neilhimself) September 18, 2017
Since Gaiman tweeted the above, Jon Hamm (Black Mirror, Mad Men) has joined the cast as Archangel Gabriel. For additional details, read this article. Good Omens will premiere in the US exclusively on Amazon Prime Video.
Hard Sun (UK)
Written by two-time Primetime Emmy nominee Neil Cross (Luther, MI-5), this pre-apocalyptic crime drama stars Jim Sturgess (Close to the Enemy, Feed to Beast) and Agyness Deyn (Clash of the Titans, Pusher) as detectives Robert Hicks and Elaine Renko — partners and enemies who try to enforce the law and protect their loved ones as the world slips ever closer to certain destruction every day.
Hicks, a family man and committed copper, is utterly corrupt, while Renko is difficult and damaged and utterly incorruptible. The polar opposites distrust each other to the core, but they must learn to work together if they're going to survive until the end of the world. Which is in five years — a fact that governments try to keep secret but is discovered by the detectives during their investigation into the death of a computer hacker.
The cast and crew gather for the script read through, cue *cheers* of #hardsun with Writer/Executive Producer Neil Cross… pic.twitter.com/RnZut2sven

— Hard Sun (@hardsuntv) April 24, 2017
Hard Sun, which features Derek Riddell (The Missing), Varada Sethu (Doctor Foster), and Aisling Bea (Trollied), will premiere in the US exclusively on Hulu.
Howards End (UK/US)
Based on the novel by E.M. Forster (considered by many to be his masterpiece), this miniseries looks at the social and class divisions in early 20th-century England through the intersection of three families: the wealthy Wilcoxes, the gentle and idealistic Schlegels, and the lower-middle class Basts.
The story centers on two independent and unconventional sisters — Margaret (Hayley Atwell, Agent Carter, Life of Crime) and Helen Schlegel (Philippa Coulthard, Secrets & Lies, Lightning Point) — and the men in their lives, as they seek love and meaning while navigating an ever-changing world.
Margaret is an intelligent, idealistic young woman who is courted by the older Henry Wilcox (Matthew Macfadyen, Ripper Street), a self-made conservative businessman, after his wife Ruth Wilcox (Julia Ormond, Witches of East End) dies unexpectedly. Meanwhile Margaret's passionate and capricious younger sister Helen takes up the cause of Leonard Bast (Joseph Quinn, Dickensian), a young bank clerk who falls on hard times at work and at home with his partner Jacky (Rosalind Eleazar, Harlots). In the absence of their late parents, the sisters' loving but interfering Aunt Juley (Tracey Ullman, Tracey Ullman's Show) tries to keep the young ladies and their brother Tibby (Alex Lawther, The End Of The F***ing World) on the straight and narrow.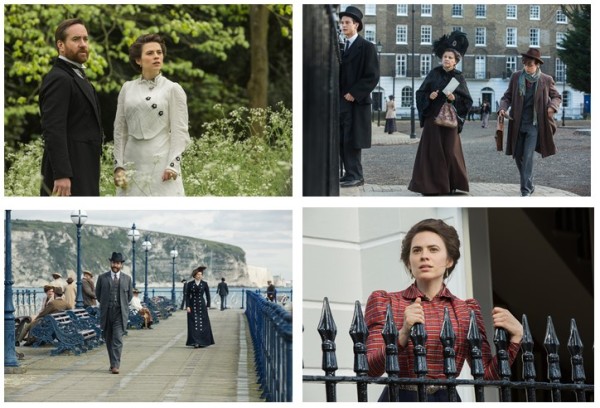 Written by Academy Award winner Kenneth Lonergan (Manchester by the Sea) and directed by BAFTA winner Hettie Macdonald (White Girl), Howard's End will premiere in the US on Starz.
Keeping Faith (UK)
Eve Myles (Torchwood, Broadchurch) stars in this eight-part thriller as Faith Howells — a lawyer, wife, and mother who fights to find the truth behind the sudden disappearance of her husband, a man who'd been leading a double life.
Thrilled to announce our series #KeepingFaith for @S4C and @BBCWales, written by @MRHall_books / starring @TeamEveMyles, filming next week! pic.twitter.com/tWp85IlwFJ

— Vox Pictures (@vox_pictures) April 13, 2017
For details about the cast and more, read this article. Keeping Faith will premiere in the US exclusively on Acorn TV.
Little Women (UK)
The latest adaptation of Louisa May Alcott's classic coming-of-age story stars icons of TV and film, including three-time Oscar® nominee Angela Lansbury (The Manchurian Candidate, Murder, She Wrote) as the wealthy and cantankerous Aunt March, four-time BAFTA winner Michael Gambon (Fearless, Churchill's Secret) as benevolent neighbor Mr. Laurence, and three-time Oscar® nominee Emily Watson (Appropriate Adult, The Politician's Husband) as Marmee, the iconic matriarch of the March family.
Playing the four March sisters are Willa Fitzgerald (Royal Pains) as eldest daughter Meg, newcomer Maya Hawke as the willful and adventurous Jo, Annes Elwy (Philip K. Dick's Electric Dreams) as Beth, and Kathryn Newton (Halt and Catch Fire) as youngest sister Amy.
We are thrilled to release a first look of our #LittleWomen @willafitz @annesel @KathrynLNewton #MayaHawke for @BBCOne and @masterpiecepbs pic.twitter.com/3TixQL5aBz

— Playground (@PlaygroundEnt) October 10, 2017
Additional cast members include three-time Emmy® nominee Dylan Baker (The Good Wife) as Mr. March, the girls' father and an army chaplain called away to war; Jonah Hauer-King (Howards End) as Mr. Laurence's boy-next-door grandson Laurie Laurence; Julian Morris (Pretty Little Liars) as Laurie's tutor John Brooke; and Mark Stanley (Dickensian) as Professor Bhaer, a sensitive literary man caring for his two orphaned nephews.
Adapted by two-time Emmy® nominee Heidi Thomas (Call the Midwife), directed by Vanessa Caswill (My Mad Fat Diary), and produced by Golden Globe® and BAFTA Award-winning Playground Entertainment (Wolf Hall), Little Women will premiere in the US on MASTERPIECE on PBS.
Man in an Orange Shirt (UK)
With his first screen drama, best-selling British novelist Patrick Gale tells two gay love stories, 60 years apart, linked by family and a painting with a secret that echoes down the generations. Charting the challenges and huge changes to gay lives from World War II to the present, the telefilm explores a forbidden relationship made impossible by illegality and societal pressure, and contrasts it with present-day romance which, while the external constraints have fallen away, is a minefield of internalized issues and temptations.
Garnering rave reviews upon its airing in the UK, the drama stars Oscar® winner Vanessa Redgrave (Julia) and features Oliver Jackson-Cohen (Mr. Selfridge), James McArdle (Worricker), Joanna Vanderham (The Paradise), Laura Carmichael (Downton Abbey), Julian Morris (Hand of God), Julian Sands (Will), and David Gyasi (White Heat). Man in an Orange Shirt will premiere in the US on MASTERPIECE on PBS in June, 2018, as part of Gay Pride Month.
McMafia (UK/US)
Inspired by former BBC World correspondent Misha Glenny's best-selling book of the same name, this crime thriller tells the story of Alex Godman (James Norton, Grantchester, Happy Valley), the English-raised son of Russian exiles with a mafia history, who's spent his life trying to escape the shadow of that criminal past. He's building his own legitimate business and forging a life with his girlfriend Rebecca (Juliet Rylance, The Knick), but when his family's past murderously returns to threaten them, Alex is forced to confront his values to protect those he loves.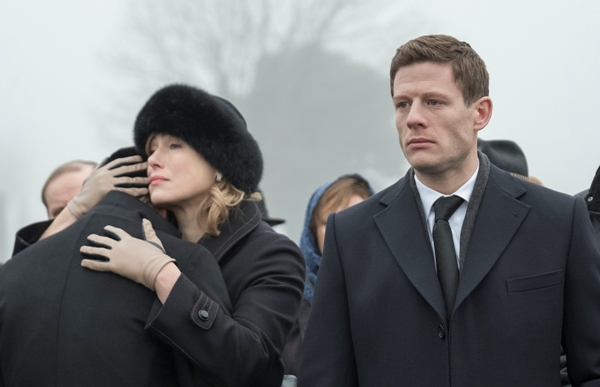 The eight-part miniseries features Faye Marsay (Game of Thrones) as Alex's sister Katya; Aleksey Serebryakov (The Method) as Dimitri, Alex's father and the exiled head of a Russian crime syndicate; and Mariya Shukshina (Svoya chuzhaya) as Oksana, Alex's socialite mother. McMafia will premiere in the US on AMC.
Ordeal by Innocence (UK)
Adapted from the Agatha Christie novel of the same name, this miniseries features a star-studded ensemble cast led by two-time BAFTA winner and Golden Globes Award winner Bill Nighy (Love, Actually, State of Play, Gideon's Daughter).
It's a wrap on #OrdealByInnocence, coming soon. #AgathaChristie pic.twitter.com/Sk8bsMLk5f

— Agatha Christie (@agathachristie) September 6, 2017
For details, read this article. Ordeal by Innocence will premiere in the US exclusively on Amazon Prime Video as an Amazon Original Series.
Pine Gap (Australia)
Set in the secretive world of intelligence, this mystery-thriller exposes the stress inflicted on nations and individuals when loyalty is under threat and motives endanger the American-Australian joint military alliance through conflicting interests, personal ideals, and one tragic mistake. For additional info, read this article. Pine Gap will premiere in the US exclusively on Netflix.
Press (UK) 2018
Created by Mike Bartlett (Doctor Foster) and set in the world of competing London newspapers, this drama explores the turbulent media landscape and the ethical dilemmas that journalists and editors face each day. With a past riven by hacking scandals, their present is at the mercy of the digital age and the 24-hour news cycle.
Charlotte Riley (Jonathan Strange & Mr. Norrell, Peaky Blinders) plays the News Editor of fictional broadsheet The Herald, and Ben Chaplin (Apple Tree Yard, The Thin Red Line) plays the Editor of rival tabloid The Post. David Suchet (Agatha Christie's Poirot) takes on the role of the Chairman & CEO of Worldwide News, owner of The Post.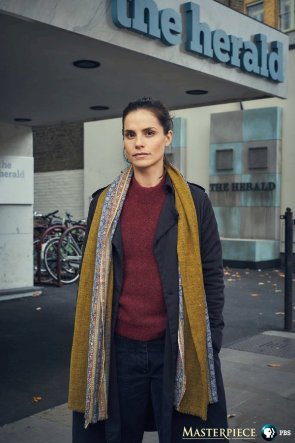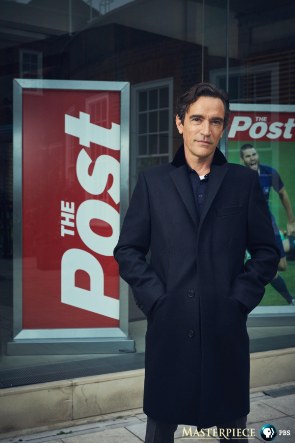 (Photos of Charlotte Riley and Ben Chaplin courtesy of Robert Viglasky/BBC Studios 2017 for MASTERPIECE and BBC One)
Additional cast members include Priyanga Burford (Fearless) as The Herald's Editor, Paapa Essiedu (Utopia) as The Post's newest reporter, Shane Zaza (Happy Valley) as its News Editor, Ellie Kendrick (Game Of Thrones) as a junior reporter, Al Weaver (Grantchester) as an investigative journalist, and Brendan Cowell (The Borgias) as the Deputy Editor at The Herald. Press will be directed by Tom Vaughan (Victoria) and premiere in the US on MASTERPIECE on PBS.
Private Eyes (Canada)
This Toronto-set crime dramedy stars Jason Priestley (Call Me Fitz, Beverly Hills, 90210) as ex-pro hockey player Matt Shade, who irrevocably changes his life when he teams up with private investigator Angie Everett (Cindy Sampson, The Art of More, Rogue) to form an unlikely investigative powerhouse. Through their new partnership, Shade is forced to examine who he has become and who he wants to be while investigating high-stakes crimes.
Featuring in the series are Jordyn Negri (Dino Dan: Trek's Adventures) as Matt's daughter Jules, Barry Flatman (Hell on Wheels) as Matt's father Don, and Ennis Esmer (Red Oaks) as Detective Kurtis Mazhar. Private Eyes will premiere in the US on Ion Television.
Rellik (UK)
Created by Harry and Jack Williams (The Missing, Liar), this crime drama (whose title is "killer" spelled backwards) takes the novel approach of telling the story in reverse: The perpetrator is caught before the drama moves backwards in time to the very beginning — to the crime itself and ultimately the killer.
At the center of the story is DCI Gabriel Markham (Richard Dormer, Game of Thrones, Fortitude), an enigmatic, unrelenting, and charismatic Met detective propelled into an obsessive hunt for a serial killer who left him disfigured. Markham's partner is the bright, intense, and eager-to-please DI Elaine Shepard (Jodi Balfour, Bomb Girls, Quarry).
Also in the cast are Paterson Joseph (Law & Order: UK), Lærke Winther (Dicte), Shannon Tarbet (Genius), Ray Stevenson (Rome), and Kieran Bew (Beowulf: Return to the Shieldlands). Rellik will premiere in the US on Cinemax.
Safe (UK)
Created by best-selling novelist Harlan Coben (Tell No One) and written by BAFTA Award winner Danny Brocklehurst (Shameless), this drama stars Golden Globes® winner Michael C Hall (Dexter, Six Feet Under) as Tom, a pediatric surgeon and single father of two teenage daughters who is struggling to deal with the death of his wife more than two years ago. Living and raising his children in a beautiful gated community surrounded by close friends, Tom finds himself on a journey that transforms everyone he knows, as he begins living the answer to the question of "How far will you go to protect your family?"
For details about the cast and more, read this article. Safe will premiere in the US exclusively on Netflix.
Straight Forward (New Zealand/Denmark)
This international drama follows a Danish woman as she tries to leave her criminal past behind her by moving to a small New Zealand town to start her life anew. For details, read this article. Straight Forward will premiere in the US as an Acorn TV Original Series, exclusively on Acorn TV.
Unspeakable (Canada)
Based on first-hand experiences and the nonfiction books Bad Blood by Vic Parsons and The Gift of Death by Andre Picard, this drama series centers on Canada's tainted blood scandal of the 1980s, during which thousands of Canadians were infected with HIV and Hepatitis C. Written by showrunner Robert C. Cooper (Dirk Gently's Holistic Detective Agency), Unspeakable will premiere in the US on SundanceTV.
Whiskey Business (Ireland)
This documentary series follows Jack and Stephen Teeling, brothers who follow their dream of continuing a 130-year-old family tradition of distilling quality Irish whiskey by opening Ireland's first new distillery in 125 years — a €10 million project. Filmed over the course of a year, the four episodes trace the brothers' journey — from breaking ground at their new site in Dublin's city centre and opening their doors to the public on St. Patrick's Day, to all of their successes and setbacks along the way.
Whiskey Business will premiere in the US on Ovation TV.
(Note that premiere schedules are subject to change and certain shows may launch in 2017 or be pushed back to 2019.)
__________________
Add your comments on our Facebook, Google+, and Twitter pages.
Share this post/page.

20 New Shows from the UK & Beyond Coming to the US in 2018