Women working in the world's oldest profession are front and center in Harlots, the new British costume drama starring Samantha Morton, Lesley Manville, and Jessica Brown Findlay, and premiering in the US on Hulu.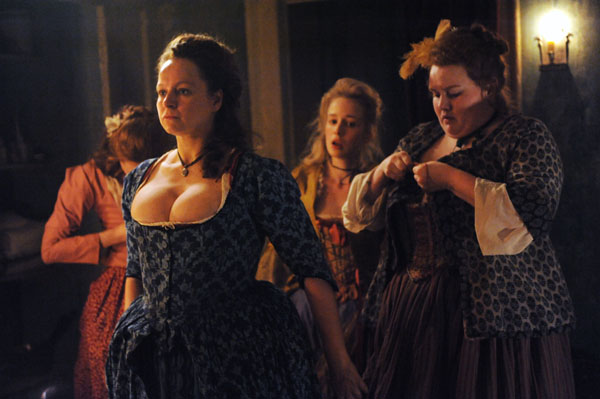 Sex and prostitution are nothing new in television series, British or otherwise. Depictions range from the intelligent prostitute in The Crimson Petal and the White and the high-class hooker in Secret Diary of a Call Girl, to the brothels run by Petyr Balish in Game of Thrones and Long Susan in Ripper Street.
So how does Harlots bring something new to such tropes?
By having an all-female writing, directing, and executive producing team, and telling the story from the perspective of women, specifically Georgian-era sex workers.
Harlots is inspired in part by the descriptions of actual prostitutes who plied their trade in 18th-century London, as published in Harris's List of Covent Garden Ladies (a reproduction of which appears in the show, see below). Information included the women's ages, looks, and talents, as well as how they came to be in the sex trade, amongst other details. With this and other material from their research, series creators and writers Moira Buffini (Jane Eyre) and Alison Newman (EastEnders) developed their story around two rival brothel owners.
Margaret Wells (two-time Oscar® nominee Samantha Morton, In America, Sweet and Lowdown) is a no-nonsense madam in 1763 London, when "one in five women makes a living selling sex." Her "boarding house for young ladies" is in Covent Garden, London's red light district.
A mother of three whose own mum made her a prostitute at the age of ten "for a pair of shoes," Margaret had put elder daughter Charlotte (Jessica Brown Findlay, Downton Abbey, Jamaica Inn) to work as a whore when the girl was just twelve. However, she's keeping her still-virgin younger daughter, Lucy (Eloise Smyth, Fortitude, The Frankenstein Chronicles), out of the clutches of culls until the time is right to sell her deflowering to the highest bidder.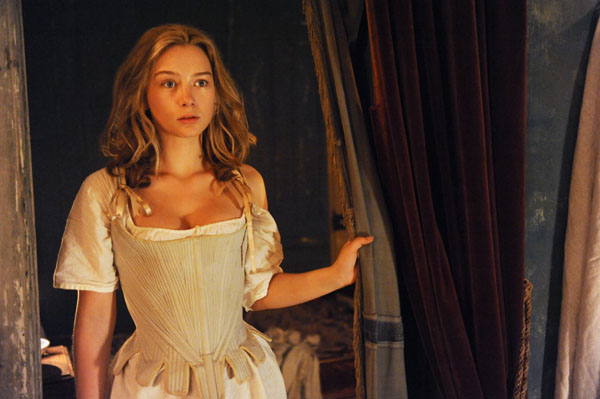 Over in Golden Square, Soho, is the upscale brothel run by the ruthless Lydia Quigley (two-time BAFTA nominee Lesley Manville, River, Another Year). She is a shrewd businesswoman, with an immaculate house and well-turned out, educated girls to attract a higher-class of clientele who are also better-paying. Her only son, Charles (Douggie McMeekin, The Call Up), is a spoiled, namby-pamby sort who gets the lowdown on customers from the girls for Lydia to use when it suits her purpose.
So, prostitution is a family business for both the Wellses and Quigleys, and the matriarchs of each do what they must to protect their livelihoods, reputations, and families, and to gain power in a society where women have none. As Margaret tells Charlotte early on,
"The only safety is in money… Money is a woman's only power in this world. You make it your solace and your dream, and one day wealth — real lasting wealth — will make you free."
(Not much different in thinking two and a half centuries later, huh?)
And for the women of both brothels, money can be gotten from the selling of sex, since career changes for the sake of upward mobility aren't really viable for anyone branded a harlot. Short of that, the only way out the work (as it were) and into (one hopes) reliable money is if a particularly desirable harlot gains substantial favor with a nobleman. Such is the situation for Charlotte, but she is loathe to be owned by and the property of anyone. (Where's the freedom in that?!?)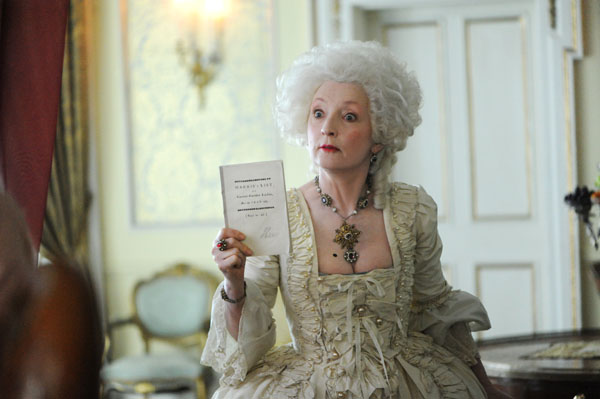 For Lydia, maintaining, if not elevating, her station in life means destroying her rival in whichever way she can, whether it's tipping off the coppers to Margaret's house of ill repute or using the fervor of a religious zealot to attack Margaret's character.
For Margaret, it means moving from her hovel in Covent Garden to a nice house on Greek Street in Soho. But when she learns that Lydia is behind the campaign to ruin her, she gives as good as she gets through her own brand of cunning.
But this is only the beginning…
The eight-part series features Danny Sapani (Penny Dreadful), Kate Fleetwood (The Widower), Holli Dempsey (Derek), Alexa Davies (Raised by Wolves), Rosalind Eleazar (National Treasure), Hugh Skinner (Poldark), Edward Hogg (Taboo), Dorothy Atkinson (Call the Midwife), Richard McCabe (Doctor Thorne), Con O'Neill (Happy Valley), and Pippa Bennett-Warner (The Trials of Jimmy Rose).
Harlots, a Hulu Original Series, premieres in the US tomorrow, Wednesday, 29 March 2017, exclusively on Hulu.
__________________

Add your comments on our Facebook and Twitter pages.

Share this post/page.

Harlots: British Period Drama about Family, Power, Money & Sex Premieres on Hulu