Hot diggity! Filming has started on Good Omens, the six-part adaptation of one of the best fantasy books ever!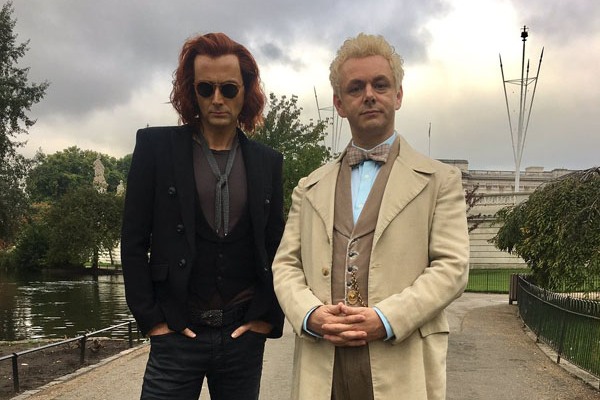 Neil Gaiman announced the start of filming on Good Omens and shared this photo of the series' stars — David Tennant (Doctor Who, Broadchurch) and Michael Sheen (Masters of Sex, The Queen) — yesterday on Twitter.
They are amazing. This is them in the opening scenes, 11 years ago, in St James's Park. David and Michael, demon & angel. #GoodOmens pic.twitter.com/ceK4XYY881

— Neil Gaiman (@neilhimself) September 18, 2017
I don't know about you, but I am over-the-moon excited about Good Omens coming to telly. (Even more than I was about the TV adaptation of Gaiman's American Gods, so that's saying something.)
Penned by two of my favorite authors — the late, great Sir Terry Pratchett (The Colour of Magic, from the Discworld series) and Neil Gaiman (The Ocean at the End of the Lane) — Good Omens: The Nice and Accurate Prophecies of Agnes Nutter, Witch is a fabulous and hilarious story about a lead-footed, Bentley-driving demon and a fussy book-selling angel trying to prevent the End of Days from happening, because they've grown quite fond of their earthly lifestyles and, generally speaking, of humans and England, as well.
In order to maintain the status quo, these representatives of Hell and Heaven on Earth, i.e. demon Crowley (Tennant) and angel Aziraphale (Sheen) must stop the Four (motorcycling) Riders of the Apocalypse in their tracks and kill the young Antichrist. Problem is, they've got the wrong lad.
Meanwhile, the gang leader of Them, a quartet of 11-year-old kids (think along the lines of the ones in Stranger Things) living in the idyllic Oxfordshire town of Lower Tadfield, is unintentionally wreaking havoc in the world.
And Newton Pulsifer (Jack Whitehall, Fresh Meat), the new (and only) Private in Sergeant Shadwell's (Michael McKean, Better Call Saul) Witchfinder Army, meets the descendant of Agnes Nutter, Witch, namely the Practical Occultist Anathema Device (Adria Arjona, True Detective), and learns that the End of Days will arrive on a Saturday. Next Saturday, actually; right after tea.
Clearly, this overview doesn't do the book justice, so you'll need to read Good Omens to get every bit of its brilliance. I cannot recommend it enough.
Good Omens the series — which features Nina Sosanya (Last Tango in Halifax), Miranda Richardson (Mapp & Lucia), Ned Dennehy (Glitch), and Ariyon Bakare (Jonathan Strange & Mr Norrell) — will premiere globally on Amazon Prime Video in 2019. The program will also air in the UK on BBC Two after its online debut. Stay tuned for updates.
__________________
On a related note, you can download the excellent BBC Radio 4 dramatization of Good Omens, which I wrote about here, with the free offer from Audible. It stars Peter Serafinowicz of Mr. Sloane as Crowley and Mark Heap of Lark Rise to Candleford as Aziraphale. (Simply cancel Audible before the 30-day trial period is over if you don't want to keep it; the audiobook of Good Omens and another title of your choice are yours regardless.)
__________________
Add your comments on our Facebook, Google+, and Twitter pages.
Share this post/page.

Good Omens: David Tennant & Michael Sheen Begin Filming TV Adaptation of Bestselling Novel by Terry Pratchett & Neil Gaiman