Hulu scored the exclusive US SVoD rights to the awesome, award-nominated drama-comedy, My Mad fat Diary, and is streaming the complete series as of today.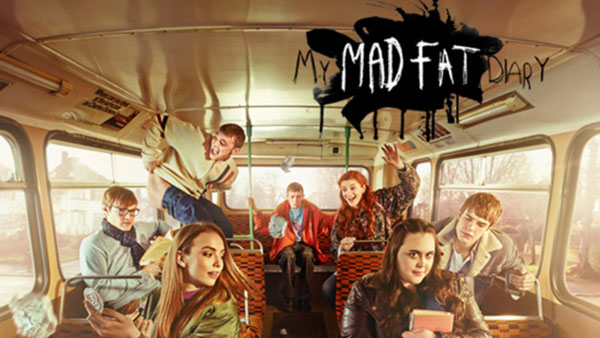 A Best Drama Series nominee at the 2014 BAFTA TV Awards and 2015 International Emmy® Awards, My Mad Fat Diary completed its run on Channel 4's E4 in the UK in July of last year and has finally made its way across the pond.
This teen-centric dramedy deserves a watch, regardless of your age (unless you're pre-teen or younger, or take offense at naughty bits). It's real. It's honest, sometimes painfully so. And it's funny.
Adapted from the diary-based book by Rae Earl, My Mad Fat Diary stars Sharon Rooney (Sherlock, Brief Encounters, Mountain Goats), who won the 2015 BAFTA Scotland Best Actress award for portraying the lead character, Rachel "Rae" Earl.
It's 1996, and the music-loving, dying-for-a-shag Rae is 16 years old and weighs 16 stone (224 pounds). She's also leaving the psychiatric hospital after a four-month stint for body image and mental health issues, including self-harm. It's freedom, but going home isn't all it's cracked up to be, either.
First, it's a frightening prospect. Second, there are no cool people in Lincolnshire. Third, there's her mum, Linda Earl (BAFTA Awards nominee Claire Rushbrook, Home Fires, Whitechapel). Linda is on the alphabet diet ("Wafers start with W"), has a larder filled with £35 worth of junk food, and is in a torrid, secret relationship with Karim, a non-English-speaking illegal immigrant from Tunisia.
Things start looking up for Rae, though, after she reconnects with her childhood friend, Chloe (Jodie Comer, Doctor Foster, Thirteen), and is invited to hang out with Chloe and her friends Finn (Nico Mirallegro, Upstairs Downstairs), Archie (Dan Cohen, The Last Weekend), Izzy (Ciara Baxendale, DCI Banks), and "Chop" (Jordan Murphy, Marvellous).
So there are cool people in Lincolnshire. But life can be a bitch, as can friends, parents, and bullies, not to mention embarrassing and humiliating situations and mental health issues, so Rae's days of recounting diary entries and having sessions with her therapist, Kester (Ian Hart, The Last Kingdom), aren't over just yet.
As the show progresses, Rae's days of happiness and not-so-much continue. She gets the boyfriend she's dreamed of, plus a baby sister she hadn't expected, and experiences a tragic loss. Rae also comes to realize that, despite suffering from mental health issues, she is stronger than she'd given herself credit for and can be okay on her own as long as she has support when she needs it.
By turns hilarious, heartbreaking, and inspiring, My Mad Fat Diary is also peppered with revealing animations and fantasy and flashback sequences, and features '90s-tunes-filled soundtracks (Series 1 here and Series 2 here) with artists ranging from The Cure to Bjork.
I adore this series, and you might, too. Check it out.
A production of Tiger Aspect (Fortitude, Ripper Street), all three seasons of My Mad Fat Diary are now streaming in the US, exclusively on Hulu Plus.
__________________

Add your comments on our Facebook and Twitter pages.

Share this post/page.

My Mad Fat Diary: Hulu Premieres Awesome Dramedy Today in the US