National Treasure, a drama based not on fake news but inspired by a very real police investigation and celebrity arrests for sex crimes in the UK, is soon to make its US debut.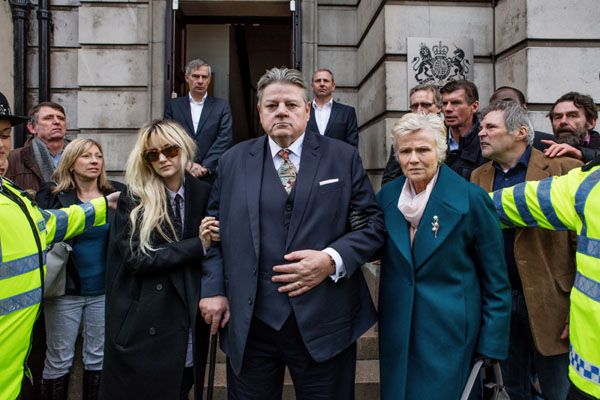 The real-life investigation was the Metropolitan Police's Operation Yewtree, in which a number of British celebrities were found guilty and imprisoned for recent and historic sex crimes, many against children, while others were arrested but not prosecuted. The most notable was Jimmy Savile, the main focus of the massive investigation. He died before it began and before his victims could get justice, and his name is now infamous and near-synonymous in the UK with being a serial sexual predator.
This is not lost on Paul Finchley (Robbie Coltrane, Harry Potter films, Cracker), the aging and beloved comedian at the center of National Treasure, after he is arrested because an allegation of rape – an attack the accuser says happened in the '90s – was made against him.
The story opens innocently enough, with Paul on his way to present an award to his long-time comedy partner Karl Jenkins (Tim McInnerny, Notting Hill, MI-5). But his walk down the long, green corridor with metal-barred doors indicates what's to come: a knock on the door of the Finchley family home by the police, who arrive with a search warrant and to haul Paul off to jail.
"They think I'm Jimmy f***ing Savile," Paul says to his solicitor, before being interrogated by the arresting officer.
Marie (Julie Walters, Harry Potter films, Indian Summers), Paul's wife of 41 years, is shaken to the core by the accusation against her husband, as is their already-troubled daughter Dee (Andrea Riseborough, Birdman, The Witness for the Prosecution), who risks becoming totally unhinged.
Things get worse when the police "fishing expedition" makes Paul front-page tabloid news, loses him his quiz show gig, and nets more women accusing him of similar crimes, including one whom the family knew when she was a teen.
As Paul continues to assert his innocence to his family, his solicitor, and the public during the "witch hunt," Marie, a devout Catholic, remains steadfast in proclaiming her belief in him, despite his decades of infidelity. "It's a love thing," she tells the interrogator when explaining her consistent forgiveness of him. But cracks start to show as she recollects the past from a different perspective. For Dee, the charges against her father cause her to have flashbacks, as well, and to wonder if her troubles with drug addiction and suicide attempts could have arisen from sex abuse-related trauma – if it ever happened.
The closer they get to the trial date, the more tense things become in the Finchley family.
The four-part drama is deeply engaging and thoughtful, and worth a binge (it clocks in at a roughly three and a half hours total) for the story and acting alone. Add to that the script, in which parts of the dialogue are clues that point to truth of the matter.
And then there are the cinematography (by Ole Bratt Birkeland, The Missing), production design (by Beck Rainford, Good Night), art direction (by Philip Barber, Doctor Thorne), and music (by Cristobal Tapia de Veer, Humans). These make the miniseries even more riveting. When you watch (and I recommend that you do), note the sizes of the rooms and spaces and the feelings they elicit, the green tones and what they are a reminder of, and the artwork and the symbolism in them. The incidental music, too, is evocative.
Written by Jack Thorne (The Last Panthers), directed by Marc Munden (The Crimson Petal and the White), and produced by John Chapman (Clean Break), National Treasure features Babou Ceesay (Inspector Lewis), Mark Lewis Jones (Stella), Nadine Marshall (Criminal Justice), Trystan Gravelle (Mr. Selfridge), Lucy Speed (Cradle to Grave), Kate Hardie (Murdered by My Boyfriend), and Susan Lynch (Monroe).
National Treasure, a Hulu Original series, premieres in the US on Wednesday, 1 March 2017, exclusively on Hulu.
__________________

Add your comments on our Facebook and Twitter pages.

Share this post/page.

National Treasure: Ripped-from-the-UK-Headlines Miniseries Premiering in the US