Snobberies and pretensions and rivalries, oh my! That's upper-middle-class life in a small English town, as presented in the bitingly funny miniseries, Mapp & Lucia.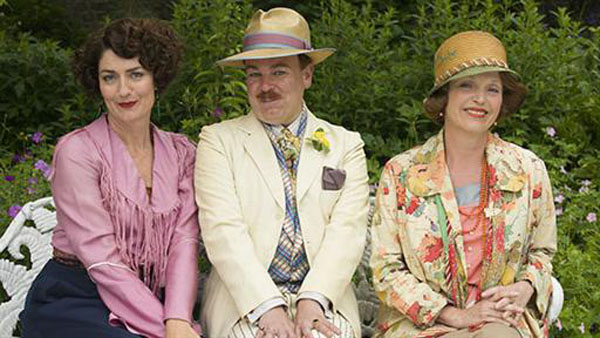 Thirty years ago this year, PBS aired the original Mapp & Lucia series, which starred Geraldine McEwen and Prunella Scales. (For those of you who are too young to have watched it then, you can stream the entire series here.)
Fast forward to the present day, when select public television stations across the US begin adding the Mapp & Lucia reboot miniseries to their schedules.
Based on the popular "Make Way for Lucia" series of novels by E.F. Benson, Mapp & Lucia follows the social rivalries between the smarmy, uppity, eponymous characters in the charming, historic town of Tilling over the course of one summer in 1930s England.
The series stars Miranda Richardson (And Then There Were None, An Inspector Calls, World Without End) as the self-important, sly, and scheming Miss Elizabeth Mapp, and Anna Chancellor (Pramface, Fleming, The Hour) as the recently-widowed but still gloriously haughty, pretentious, and vain Mrs Emmeline "Lucia" Lucas. Series writer Steve Pemberton (Inside No. 9, Happy Valley, Whitechapel) costars as Lucia's devoted best friend, the effete and skittish Georgie Pillson.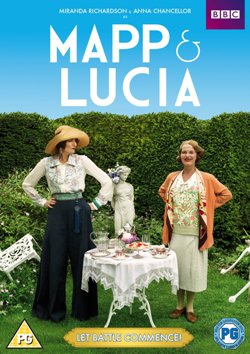 The two women meet upon Lucia and Georgie's arrival in Tilling, where Lucia is leasing Mallards, Elizabeth's beautiful Queen Anne home, for the summer, while Georgie takes Mallards Cottage next door. For Lucia (not Lulu), the resident Queen of her hometown in Riseholme, holidaying in Tilling is the perfect opportunity to move on from mourning her recently-deceased husband and to reintegrate herself into society.
Elizabeth, on the other hand, is staying in Tilling, rather than spending the summer abroad. With her home being occupied by Lucia for these months, Elizabeth takes up residence at Wasters, her best friend's much smaller cottage just down the road, from which she has a beeline view of Mallards.
In very short order, Lucia realizes that Elizabeth fashions herself as social royalty in Tilling, and Elizabeth learns that Lucia is an imperious snob of equal measure to herself. Both are cunning, and use their skills to plot and jockey their way into gaining social supremacy over the other, all while remaining impeccably polite, of course.
As Lucia ingratiates herself into the community, Elizabeth seems to be losing her position within Tilling's social circle. The pair face off against each other in an ever-spiraling war of one-upmanship, which draws their inner circles of quirky and eccentric Tillingites into the fray — involving them in everything from competitive charity events and rival musical soirées, to damage control during an art exhibition and the hosting of an Indian guru.
As one local remarks, "Let battle commence!"
The star-studded cast also includes Mark Gatiss (Sherlock, Wolf Hall) as Major Benjamin "Benjy" Flint; Felicity Montagu (Doc Martin, Brief Encounters) as Godiva "Diva" Plaistow; Gemma Whelan (Game of Thrones, Uncle) as Quaint Irene Coles; Nicholas Woodeson (The Honourable Woman, The Escape Artist) and Pippa Haywood (Scott & Bailey, Prisoners Wives) as Mr and Mrs Algernon and Susan Wyse; and Paul Ritter (No Offence, Vera) and Poppy Miller (Red Cap, House of Anubis) as Reverend Kenneth Bartlett and his wife Evie.
Featuring in guest roles are Frances Barber (Silk), Joanna Scanlan (The Thick of It), Katy Brand (Nanny McPhee Returns), and Harish Patel (The Driver).
Directed by Diarmuid Lawrence (Quirke, The Mystery of Edwin Drood), produced by Susie Liggat (The Café, Doctor Who), and executive produced by Lisa Osborne (South Riding, Little Dorrit), this comedy-of-manners dramedy is hilarious in its lampooning of upper middle class English snobs and their pretensions, and the quaint coastal setting of Tilling (in actuality, Rye) and period costumes make Mapp & Lucia delightful to look at.
The acting by the entire cast is scrumptious. In addition to the (re)fine(d) performances by Richardson and Chancellor, my other favorites are Mark Gatiss as the whiskey-gulping Benjy and Pippa Haywood as the oh so uppity Mrs Wyse, Tilling's newly-minted MBE.
Mapp & Lucia begins airing on various public TV stations in February 2016. Check your local listings or contact the station that serves your area to find out about broadcast carriage and premiere dates and times.
__________________

Add your comments on our Facebook and Twitter pages.

Share this post/page.

Mapp & Lucia: Deliciously Wicked Comic Drama Miniseries Airing on Public TV Stations