What better reason to stay indoors during the rainy month of April than to watch the US premieres of the highly-anticipated returns of Game of Thrones, Outlander, and Ripper Street, and the critically-acclaimed Wolf Hall. And there's more besides…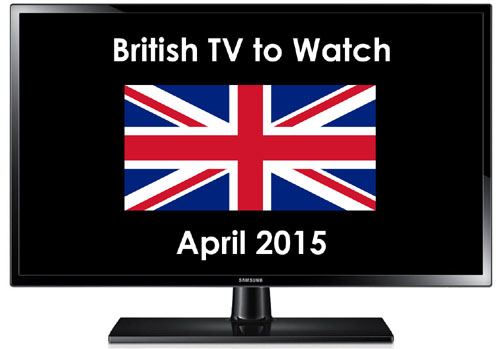 Forget the pranks of April Fools Day and the stress of tax day, and instead watch the British TV goodies making their stateside debuts this month.
Starting 1 April 2015, public TV stations across the country are bringing fascinating documentaries and much-loved detective dramas to viewers. For fans of British royalty and the Tudor period, you have Henry and Anne: The Lovers That Changed History (see also Inside the Court of Henry VIII below) and Hidden Killers of the Tudor Home.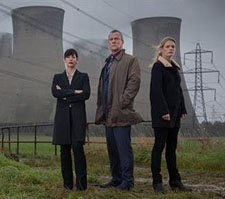 If police procedurals are more your style, the crime-fighting duo of Scott & Bailey is back with its fourth season, as is the trio in DCI Banks: Season 4. As usual, check your local listings or contact the public TV station that serves your area for air dates and times. Also note the other Brit TV programs that many stations start or continue screening in April, including Season 7 of the popular detective drama, Dalziel & Pascoe, starring the late Warren Clarke, and Season 3 of the hit mystery, Death in Paradise.
Now onto programs that are premiering nationally in April…
UPDATE: How on earth did I forget that the special final episode of Ricky Gervais' hit comedy-drama, Derek, premieres on Netflix this Friday, 3 April 2015??? Read more about it here.
Outlander: Season 1, Part 2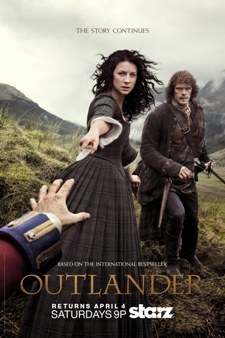 "Sing me a song of a lass that is gone. Say, could that lass be I?"
Rejoice, Sassenachs, Droughtlander ends soon! Claire and Jamie's story continues when Outlander, the award-winning romance/adventure/fantasy drama adapted from the bestselling novels by Diana Gabaldon
 (and one of my favorite new British TV series of 2014), returns to telly.
Part 1 left us hanging in September with that nail-biter of a finale, and it's felt like an eternity since we last saw inadvertent English time-traveler Claire Randall/Fraser (Caitriona Balfe), her 18th-century Scottish husband Jamie Fraser (Sam Heughan), and the Redcoat Captain "Blackjack" Randall (Tobias Menzies), ancestor and doppelgänger of Claire's 20th-century husband, Frank Randall.
What's in store for the Highlands couple in Part 2? Lots. Including tests in their marriage, conflicts with members of Clan Fraser, and dangers at the hands of their sadistic nemesis.
Outlander:
Season 1, Part 2 premieres Saturday, 4 April 2015, at 9 PM ET, on Starz.
Wolf Hall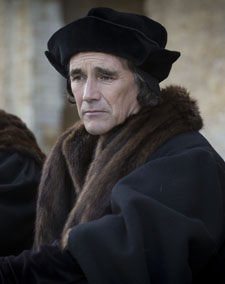 Oh, what a way to get your Tudor on than with the critically-acclaimed and star-studded Wolf Hall,
the historical drama adapted from Hilary Mantel's
Man Booker Prize-winning novels, Wolf Hall and Bring Up the Bodies.
Starring BAFTA, Olivier, and Tony Awards winner Mark Rylance (The Other Boleyn Girl, The Tempest) as Thomas Cromwell, and Golden Globe® winner Damian Lewis (Homeland, The Forsyte Saga) as Henry VIII, Wolf Hall centers on the meteoric rise of Cromwell in the Tudor court — from blacksmith's son to Henry VIII's closest advisor — and is one reason why appointment viewing is alive and well.
Lewis is positively regal as Henry VIII, manifesting all the power of the throne in the nuances of his stance, stare, and soft-spoken asides. But the King takes a back seat to Cromwell in this story, and Rylance, a lord of the stage and screen, is brilliant. His exceptional performance as a sympathetic Cromwell is marked by somber tones and those sad, sad eyes that alone speak volumes.
Wolf Hall is dark, figuratively and literally (at times), but also witty, as Cromwell delivers a number of caustic zingers to those who would be rid of him were it not for his well-honed skills and Henry's trust in them. Period costumes, great castles, and candlelit sets lend Tudor-era authenticity, and the slow-paced action reflects Cromwell's methodical nature as he moves from the level of "nobody" and "dog" while in Cardinal Wolsey's employ, to a member of the King's Privy Council.
"Masterpiece: Classic" premieres Wolf Hall
 on Sunday, 5 April 2015, at 10 PM ET, on PBS.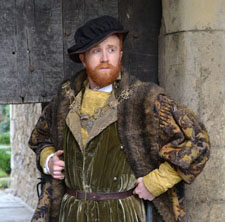 Inside the Court of Henry VIII
PBS is also bringing to telly its Wolf Hall companion documentary, Inside the Court of Henry VIII, to provide factual context to the historical drama. The hour-long documentary gives insight into the intrigue and politics within the Tudor court, and examines the backdrop to Henry VIII's famous and tyrannical reign, as well as his continued legacy.
Filmed on location at Hever Castle, Hampton Court, Lambeth Palace, The Tower of London, and other places of historical significance, Inside the Court of Henry VIII features five historians' commentary on Henry VIII's life and the reality of life under his rule, interspersed with reconstructions of key events that shaped the period.
PBS premieres Inside the Court of Henry VIII on Tuesday, 7 April 2015, at 9 PM ET. (Check your local listings.)
Game of Thrones: Season 5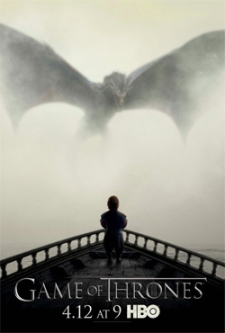 Which characters will die this season? Will Tyrion get away with the murders he actually committed? Will Lady Stoneheart make an appearance? If you've read George R.R. Martin's
 A Feast for Crows and A Dance with Dragons, then you might know. But with storylines starting to deviate more from the source material, the answers are anyone's guess.
What is certain: 1. One main character makes it through the entire season (not necessarily unscathed). 2. We won't see Bran Stark and Hodor at all. 3. New cast members include Jonathan Pryce (Wolf Hall) as the High Sparrow, Alexander Siddig (Star Trek: DS9) as Doran Martell, and Keisha Castle-Hughes (The Almighty Johnsons) as Obara Sand of the Sand Snakes, amongst others.
(For Euro TV fans, Birgitte Hjort Sørensen of Borgen fame joins fellow Dane Nikolaj Coster-Waldau, a.k.a. Jaime Lannister, and the rest of the cast as a Wildling chieftainess.)
Let the battles royales for the Iron Throne continue. Game of Thrones:
Season 5 premieres Sunday, 12 April 2015, at 9 PM ET, on HBO.
The Driver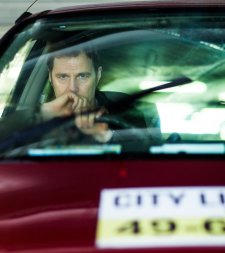 Fans of action-packed thrillers should get a kick out of this miniseries, which made my list of favorite 2014 UK premieres. It stars David Morrissey (The Walking Dead, The Field of Blood) as Vince McKee, a taxi driver longing for a life that's more fulfilling and exciting than the pedestrian one he's living.
When old friend and ex-con Colin (Ian Hart, The Virgin Queen) offers Vince the chance to drive for mob boss The Horse (Colm Meaney, Hell on Wheels), frustrations with his job and his distant wife, Rosalind (Claudie Blakley, Lark Rise to Candleford), make the decision to say yes a relatively easy one. And a regrettable one.
The three episodes of The Driver
begin streaming on Mondays, the 13th, 20th, and 27th of April, on Acorn TV.
The Casual Vacancy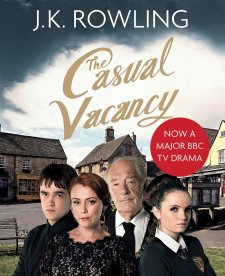 Adapted from JK Rowling's
novel, this miniseries revolves around the titular casual vacancy, a seat on the parish council made vacant by the death of the local solicitor in the seemingly idyllic Cotswolds village of Pagford. The winner of the election for the seat has the deciding vote in a hotly-contested debate: whether the community center remains one, open to residents on both sides of the track, as it were, or gets converted into an amenities-filled spa for the well-to-do.
Enter the anonymous villager, who reveals the ugliness behind the façades of the town's pretty homes, quaint shops, and familiar faces of the candidates.
The Casual Vacancy,
 which stars BAFTA winner Michael Gambon (Fortitude), Julia McKenzie (Agatha Christie's Marple), Rufus Jones (Hunderby), and Keeley Hawes (Line of Duty), premieres Wednesday, 29 April 2015, at 8 PM ET, on HBO.
Ripper Street: Season 3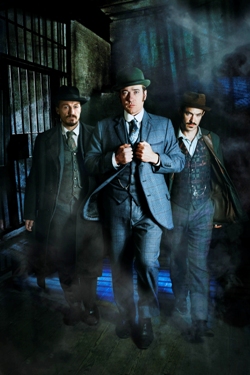 Perhaps you were one of the tens of thousands of Ripper Street fans who petitioned the BBC to renew instead of cancel this multiple award-winning period crime drama starring Matthew Macfadyen, Jerome Flynn, and Adam Rothenberg. Whether yea or nay, Amazon Instant Video came to the rescue, and gave Ripper Street (one of my favorite returning series in 2014) a third season. It does not disappoint.
Dozens die when two trains collide in Whitechapel, an event in this cesspool of crime and corruption that reunites the estranged Reid (Macfadyen), Drake (Flynn), and Jackson (Rothenberg), as well as Long Susan (MyAnna Buring), now a real estate developer and health clinic financier, and Rose (Charlene McKenna), who's becomes a music hall performer.
As the investigation progresses, a copper is wounded and lies near death, suspicions of foul play and hidden agendas are proved heartbreakingly accurate, and secrets tied to certain of their pasts are revealed and forever alter the lives of Reid et al.
BBC America debuts Ripper Street: Season 3
 on Wednesday, 29 April 2015, at 10 PM ET.
Lastly, Acorn TV also begins streaming in April the crime drama, McCallum,
starring Scotsman John Hannah as the eponymous forensic pathologist, and the second season of the popular Australian romantic drama, A Place to Call Home,
amongst others.
__________________
Add your comments on our Facebook, Google+, and Twitter pages.
British TV to Watch in April 2015: Game of Thrones, Outlander, Ripper Street, Wolf Hall, and More [UPDATED]