Vera, the hit crime drama starring Brenda Blethyn, returns to UK telly with its fifth series in a few days, and before you know it, it'll be screening in the US. Oh, and there's news about Series 6, too.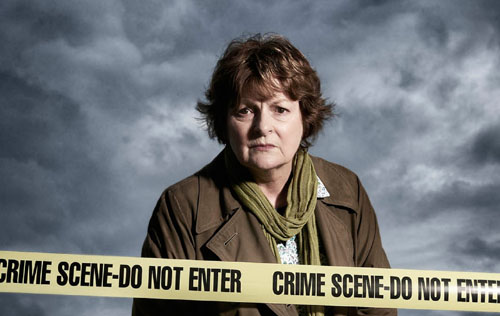 Yes, pet. Oscar® and Emmy® nominee and Golden Globe® and BAFTA winner Brenda Blethyn reprises her role as the perceptive, caustic, and demanding DCI Vera Stanhope in the fifth series of Vera.
(Yay!)
But Vera's right-hand man, DS Joe Ashworth (David Leon), won't be fighting crime alongside her anymore, as he's been promoted and moved with his family to another constabulary. Her new partner is DS Aiden Healy, played by Kenny Doughty (Stella, Coronation Street), who said this of his character:
"He has been transferred from the firearms in Yorkshire over to Newcastle. There's a bit of a back-story that will come through in the first episode. He's the new kid in town and he's a little bit over confident to begin with. He's trying to assert his authority and obviously Vera puts him in his place quite quickly."
Speaking of episodes, Series 5 has four original stories — "Changing Tides," "Old Wounds," "Muddy Waters," and "Shadows in the Sky" — based on the characters created by Ann Cleeves
in her "Vera Stanhope Mystery" novels. Storylines include a mysterious death at a caravan park, the discovery of a half-buried body in the Northumberland wood, the case of a body dredged up from a slurry pit, and a suspicious death at a car park.
Also returning to Vera are Jon Morrison as DC Kenny Lockhart, Cush Jumbo as DC Bethany Whelan, Kingsley Ben-Adir as pathologist Dr. Marcus Summer, and Riley Jones as DC Mark Edwards.
ITV premieres Vera: Series 5 this Sunday, 5 April 2015, at 8 PM GMT.
Stay tuned for details about its stateside debut.
But wait, there's more!
As with previous series, ITV has already commissioned Series 6 of Vera,
and Blethyn enthused, "Yep, we start filming Series 6 in June. Bring it on!!"
__________________
Add your comments on our Facebook, Google+, and Twitter pages.
Vera: Series 5 Debuting, Series 6 Commissioned