If William Shakespeare were alive today, I think he would be chuffed that Shakespeare's Globe has embraced streaming technology and is now bringing many of the theatre's productions to audiences in the States via video on demand.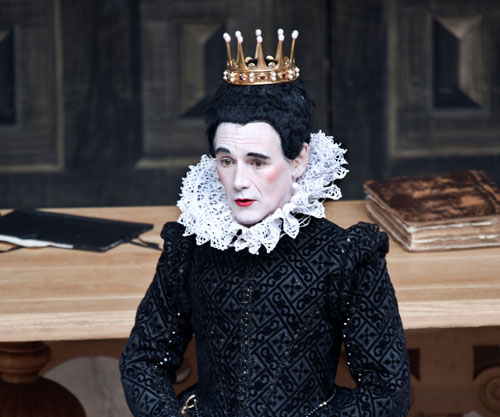 Call it much ado about something.
First performed at Shakespeare's Globe in London, then shown as part of the Globe on Screen series in cinemas around the world (more about this here), a number of The Bard's unforgettable works are now yours for the streaming and gifting at Globe Player in the US.
That means stateside Shakespeare buffs who missed any of the live or filmed productions from Shakespeare's Globe can now watch them in the comforts of home and see what critics and audiences raved about. (Bravo!)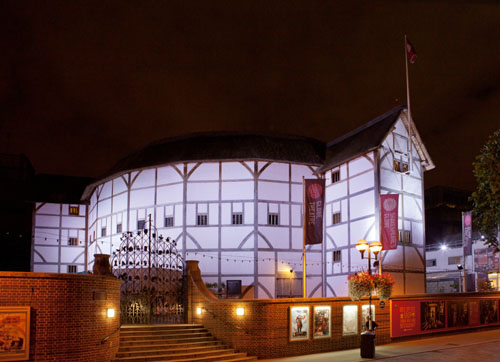 Highlighted below are just a few of the 50 selections currently available on Globe Player.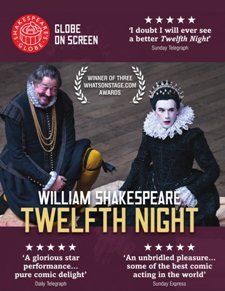 Twelfth Night
This Shakespearean comedy about love, loss, and mistaken identities centers on the zany goings-on in the love triangle between Viola (a shipwreck survivor disguised as the man Cesario), Duke Orsino, and Countess Olivia. Adding to the hilarity is a plot against Olivia's pompous steward, Malvolio, and the arrival of Sebastian, the twin brother that Viola thought dead.
The 2012 all-male production of Twelfth Night brought the house down in both London and New York. On Broadway, two-time Olivier Award winner, Mark Rylance (Wolf Hall), won his third Tony Award for his portrayal of Olivia, and Stephen Fry (QI) was nominated for a Tony for playing the yellow-stockinged Malvolio, a role that marked his return to the stage after a 17-year absence. And for fans of Roger Lloyd-Pack, the late actor featured as the rich Sir Andrew Aguecheek.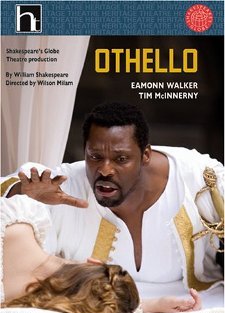 Othello
In this of Shakespeare's tragedies, Othello, a general in the Venetian army, is plagued by racial prejudices and surrounded by envious rivals. Unbeknownst to "the Moor of Venice," he is also the target of a plot that unfurls after he, his lieutenant Cassio, and junior officer Iago, accompanied by Othello's wife Desdemona and her attendant/Iago's wife Emilia, are sent to Cyprus to defend Venice's interests against the Turks.
Tense and intense, exciting and heartbreaking — from the moment of the play's opening scene on a street in Venice, to its close with "This heavy act with heave heart relate." — the Globe's 2007 production of Othello stars Eamonn Walker (Oz) as Othello, Zoë Tapper (Mr. Selfridge) as Desdemona, Nick Barber (Midsomer Murders) as Cassio, Tim McInnerny (New Tricks) as Iago, and Lorraine Burroughs (DCI Banks) as Emilia.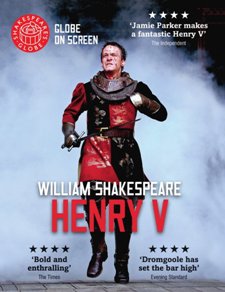 Henry V
"Once more unto the breach, dear friends, once more…" In this fourth and final play of Shakespeare's tetralogy known as the Henriad, the former Prince Hal now rules as King Henry V, going to battle to recapture English territories in France, getting his romance on by wooing the French princess, and delivering one of the most rousing and memorable monologues in literature.
With action that is set on ships and battlefields and in pubs and courts, Shakespeare employed the Chorus (and the imaginations of playgoers, and in this case video streamers) to deal with the physical limitations of the stage. On the one within Shakespeare's Globe in 2012, Jamie Parker (The History Boys) reigned supreme as Henry V. (By the way, Parker also played Prince Hal in the Globe's 2010 productions of Henry IV Part 1
and Henry IV Part 2,
both of which are streaming on Globe Player, too.)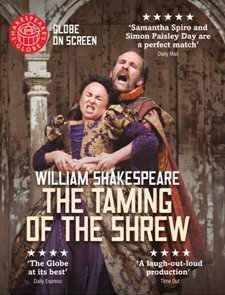 The Taming of the Shrew
Of Shakespeare's comedic couples, none are as loud, sarcastic, and hellbent on outwitting each other as the wild and ungovernable shrew, Katherina, and the strong-willed and perverse gold digger, Petruchio. He wants a wife; she doesn't want a husband, or at least not him. But with a bit of reverse psychology and a lot of bullying on his part, he gets (the begrudging) her to the altar. And that is just the beginning of their story…
The Globe's 2012 production of Shakespeare's "most outrageous" (and quite controversial) comedy stars Samantha Spiro (Murder Investigation Team) as Katherina and Simon Paisley Day (Titanic) as Petruchio.
Also on Globe Player are these of Shakespeare's plays: All's Well That Ends Well, Henry VI Part 1 ("Harry the Sixth"), Henry VI Part 2 ("The Houses of York and Lancaster"), Henry VI Part 3 ("The True Tragedy of the Duke of York"), Henry VIII, Love's Labours Lost, Much Ado About Nothing, Romeo & Juliet, and The Merry Wives of Windsor.
And if you'd like to experience several of Shakespeare's works in French, Italian, British Sign Language, and other languages, as well as Christopher Marlowe's Doctor Faustus and Samuel Adamson's Gabriel (both performed in English), Globe Player has them, too.
All selections are available for online rental (for seven days) or purchase (downloadable within a seven-day period from your account, registration required), as well as gifting (gift code is sent to the recipient or the person doing the gifting). Prices are marked in British pounds, but will be converted (by your credit card's bank) into US dollars.
__________________
Add your comments on our Facebook, Google+, and Twitter pages.
Now Streaming on Globe Player in the US: Shakespeare's The Tempest with Mark Rylance, Othello with Eamonn Walker