It's time to go to back the (fictional) island of Saint-Marie, where fun in the sun mixes with dark secrets and murders. Near-perfect murders until DI Humphrey Goodman has his aha moments. Yes, it's time for the fourth season of Death in Paradise.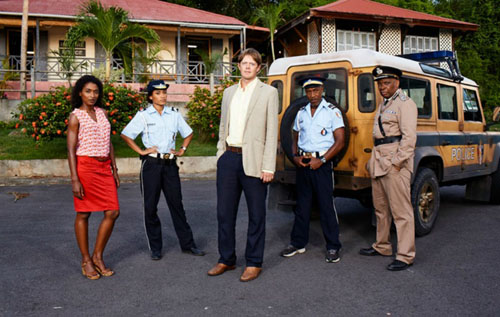 That's the good news. The not-so-good news: One of my favorite Brit TV shows of 2014 is losing another cast member. Yup, just like Ben Miller and Gary Carr, someone else is leaving Death in Paradise.
 Similar to Miller's departure, this one happens as part of a storyline instead of off-screen, as with Carr's.
But there's better news. The exit is handled in a way that makes a guest appearance in an upcoming series possible, and there will be one. With the show's ratings and audience share continuing to rise, the BBC has commissioned a fifth series, which arrives in 2016.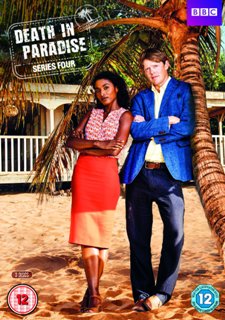 As for Series 4, DI Goodman (Kris Marshall) has settled in nicely on Saint-Marie after his divorce. He and lizard Harry get along famously, and he's now a regular at Catherine's (Élisabeth Bourgine) bar. If there were a downer, it's his unrequited love for his brilliant colleague, DS Camille Bordey (Sara Martins). When he finally does muster up the courage to tell her his feelings, the conversation is pure Humphrey.
On the job, he gets two new police officers. The first of Commissioner Selwyn Patterson's (Don Warrington) recruits is the beautiful and diligent Sergeant Florence Cassell (Josephine Jobert, Sous Le Soleil De Saint-Tropez), who replaces Fidel Best. Later the rookie, JP Hooper (Tobi Bakare, The Tunnel), arrives, eager to learn and, well, in awe of Officer Dwayne Myers (Danny John-Jules), himself going all out to impress Florence.
And despite his shambolic ways, Goodman remains the go-to guy to solve even the most puzzling of murder cases, occasionally with the (ahem) help of the Commissioner…
Such as the murder of a man that seems to have been committed by a ghost. Or the one of another man that happens in a room locked from the inside. One victim suspects that someone is out to kill him, and he's right, while a woman who is none the wiser gets offed in her locked hotel room. The reunion of a four-man rock-and-roll band ends in a tragedy that at first blush looks to be an accident, while the deaths that occur during the Inter-Island Volleyball Championship and a corporate team-building retreat are definitely the results of murder most foul. And while Humphrey's father is visiting and needling him about returning home to England, a prisoner gets killed behind bars.
As with the previous seasons,
the fourth series of Death in Paradise is chock-full of guest stars, including Joe Absolom (Doc Martin), Charlie Creed-Miles (Injustice), Shaun Dingwall (Breathless), Tyger Drew-Honey (Outnumbered), Steve Evets (Rev.), James Fox (W.E.), Claire Goose (Waking the Dead), Dean Lennox Kelly (Shameless), Sylvestra Le Touzel (Secret State), Gary Lewis (Outlander), Matthew Lewis (Harry Potter films), Colin McFarlane (Reggie Perrin), Will Mellor (Broadchurch), Neil Morrissey (Men Behaving Badly), Amy Nuttall (Downton Abbey), Sally Phillips (Miranda), Amanda Root (The Forsyte Saga), Leo Starr (Call the Midwife), Honeysuckle Weeks (Foyle's War), and James Wilby (Island at War), amongst many, many others.
While Death in Paradise: Series 4
was released on 15 March 2015, most public TV stations begin airing it in April. Check your local listings or contact the station that serves your area for air dates and times.
__________________
Add your comments on our Facebook, Google+, and Twitter pages.
Death in Paradise: Hit Mystery Dramedy Returns to the US with Series 4