Stateside viewers will be able to bid farewell to Derek Noakes soon, when Netflix begins streaming the final one-off episode of Derek, the NTA-nominated series for Best Comedy.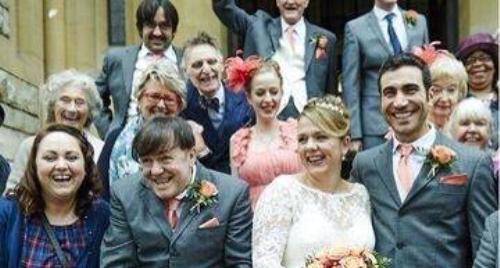 What an "aww" way to bring Derek to a close. In the nearly hour-long series finale…
Hannah (Kerry Godliman) and Tom (Brett Goldstein) have a bouncing baby boy, and as you can tell from the photo, their relationship has blossomed. (They have more news, too!)
Vicky (Holli Dempsey) has found her true calling and been studying hard to make her career in the care industry.
Derek (Gervais) and Tracey (Vicky Hall) have a very special date.
And Kev (David Earl) finally gets thrown out of the Broad Hill Retirement Home, which upsets Derek greatly. (We also get to meet more of Kev's family.)
It's bittersweet. It's humorous. It's the last-ever episode of Derek.
And it begins streaming exclusively at Netflix US on Friday, 3 April 2015.
__________________
Add your comments on our Facebook, Google+, and Twitter pages.
Derek: Special Final Episode Coming to Netflix