Henry VIII and Anne Boleyn. There are more gaps in their story than many of us realize. And filling in the spaces where presumptions have prevailed is Henry and Anne: The Lovers Who Changed History, which debuts on public TV stations starting next month.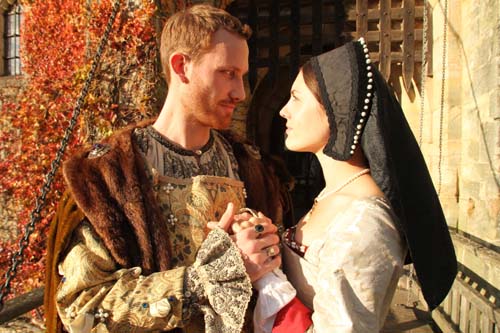 Dr. Suzannah Lipscomb, author of A Journey Through Tudor England
and 1536: The Year That Changed Henry VIII,
hosts the two-part Henry and Anne: The Lovers Who Changed History, in which the historian argues against many of the established theories and notions about Henry and Anne, and tells a very different story of their tragic marriage.
By piecing together the few surviving fragments of historical first-hand accounts, using dramatic reenactments, and taking viewers to some of the places where Henry and Anne had lived and stayed, Lipscomb offers evidence and insights into what initially brought the royal couple together, and what ultimately tore the pair apart.
Lipscomb begins by giving us a sense of what Anne and Henry were like prior to their relationship — one that included history-making and -changing events, such as the King's "great matter," the severing of ties between the Church of England and the Roman Catholic Church, and the execution of the queen known as "Anne of a Thousand Days."
For Boleyn, Lipscomb takes us on brief tours of Hever Castle in Kent, England, the future queen's childhood home, and Château de Blois in France, where Anne came of age as a lady-in-waiting to Queen Claude, the wife of King Francis I. From Anne's symbol and the myths about her formative years, to a religious text with an inscription in her hand, Lipscomb offers a picture of Boleyn that is more complex than has been often portrayed.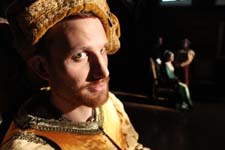 And while Henry VIII is usually perceived as an obese, cruel, and brutal ruler, Lipscomb quotes several sources that indicate these descriptions are less appropriate for the first decades or so of his 38-year reign than for the latter. (According to an ambassador to the King's court in its early days, Henry was "a man who harmed no one.")
And with Dr. Suzy Lishman of the Royal College of Pathologists, Lipscomb also delves into the brain injuries Henry might have sustained in a serious jousting fall in 1536, which could have accounted for his marked change in personality.
When Anne arrived at Henry's court in 1522, she was again a lady-in-waiting, this time to Queen Katharine of Aragon. Lipscomb, now at Hampton Court, states it is unknown when the King first noticed the other Boleyn girl, but it is certain that their stories converged in early 1526. This she bases on Henry's love letters and gifts to Anne, including one with a very clear message that Lipscomb shows us at the Victoria & Albert Museum in London.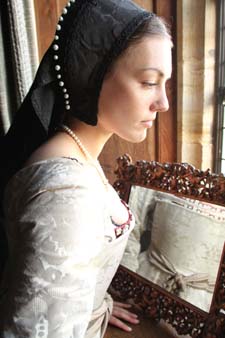 Did Anne play hard to get, as many allege? Or did she share a deeper bond with Henry? Given the contents of his letters (the originals of which are housed in the Vatican Library), and the messages they wrote to each other in a 500-year-old book of hours, Lipscomb suggests there was more to their courtship than just the lust and manipulation we've been led to believe happened.
Following the progression of the royal relationship, from its early stages and the birth of their only child, a daughter, to Anne's miscarriage of a son and her swift and sudden downfall, Lipscomb retraces the few facts, the rumors, speculation, and innuendo, and the steps Henry took to get what he wanted and to maintain his reputation as a king in control.
Further evidence the historian puts forth includes excerpts from The Play of the Weather and William Tyndale's The Obedience of a Christian Man, the symbolism in a massive drawn portrait of Henry VIII by German artist Hans Holbein, and surviving documents that reveal the salacious accusations leveled at, and the charges brought against, Anne Boleyn.
The need for a legitimate male heir to continue the Tudor dynasty, the difficulty in ending a two-decades-long marriage, love, scandal — all played a role in the tragic relationship of Henry VIII and Anne Boleyn. And each is reviewed as Lipscomb travels in the couple's and others' footsteps to Charterhouse Monastery, Thornbury Castle, Peterborough Cathedral (burial place of Katharine of Aragon), Whitehall, the Tower of London, and the chapel at the Church of St. Peter ad Vincula, where the headless body of Anne Boleyn was buried.
The following stations are confirmed for broadcasting Henry and Anne: The Lovers Who Changed History starting 1 April 2015. Schedules vary by market, so check you local listings or contact the station that serves your area for air dates and times.
| STATE | CITY | STATION |
| --- | --- | --- |
| COLORADO | Colorado Springs, Denver, Durango, Grand Junction, Pueblo, Steamboat Springs | |
| CONNECTICUT | Fairfield, Hartford, New Haven, Norwich | |
| FLORIDA | Miami-Ft. Lauderdale-West Palm Beach | |
| GEORGIA | Albany, Athens, Augusta, Chatsworth, Cochran, Columbus, Dawson, Macon, Pelham, Savannah, Waycross, Wrens | |
| IDAHO | Boise, Coeur d'Alene, Moscow, Pocatello, Twin Falls | |
| ILLINOIS | Peoria-Bloomington | |
| IOWA | Council Bluffs, Davenport (Quad Cities), Des Moines, Fort Dodge, Iowa City, Mason City, Red Oak, Sioux City, Waterloo | |
| LOUISIANA | Alexandria, Baton Rouge, Lafayette, Lake Charles, Monroe, Shreveport | |
| MINNESOTA | Minneapolis, St. Paul | |
| MONTANA | Billings, Bozeman, Great Falls, Kalispell, Missoula | |
| NEVADA | Las Vegas | |
| NEW YORK | Albany, Schenectady, Troy | |
| NEW YORK | Buffalo | |
| NEW YORK | Rochester | |
| NORTH CAROLINA | Asheville, Chapel Hill, Charlotte, Concord, Edenton, Greensboro, Greenville, Jacksonville, Linville, Lumberton, Raleigh-Durham, Roanoke Rapids, Wilmington, Winston-Salem | |
| NORTH DAKOTA | Bismarck, Devil's Lake, Dickinson, Ellendale, Fargo, Minot, Valley City, Williston; Crookston MN | |
| OHIO | Akron, Alliance, Youngstown | |
| OKLAHOMA | Cheyenne, Eufaula, Oklahoma City, Tulsa | |
| TEXAS | Austin | |
| WISCONSIN | Milwaukee | |
| WYOMING | Casper-Riverton, Lander | |
__________________
Add your comments on our Facebook, Google+, and Twitter pages.
Henry and Anne: The Lovers Who Changed History, Coming to Public TV Stations