There's never a dull moment in the realm of British TV. Here are some recent news bits.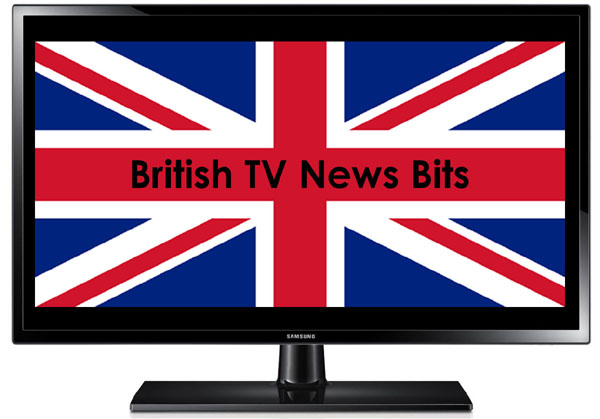 Baptiste
With the first season of Baptiste set to debut in the US on PBS this spring, the second season of this crime thriller — a spin-off of the mystery series The Missing — begins filming this month in Budapest.
Tchéky Karyo (La Femme Nikita) reprises his role as retired French investigator Julien Baptiste, who, after enduring a horrific personal tragedy, is looking for a distraction, any distraction — be it the bottom of a bottle or a new mystery case — to consume him.
When the entire family of British Ambassador Emma Chambers (Fiona Shaw, Killing Eve) disappears while on a skiing holiday in the Hungarian mountains, Baptiste immerses himself in Emma's world, committed to finding her husband and two sons. However, when the case turns into something far more brutal and desperate, Julien must navigate a Hungarian police force that he doesn't trust, and the unrelenting interest of media that are hungry for information on such a high-profile international case.
Before these events, in Season 1 of Baptiste, Julien and his family are on holiday in Amsterdam when an ex-girlfriend, now the city's chief of police, asks him to help find a missing sex worker. The case plunges Baptiste into the criminal underworld of the Netherlands's official capital and compels him to send his family into hiding. (Stay tuned for updates about the premiere date on PBS.)
Keeping Faith
The hit Welsh mystery-thriller series Keeping Faith (Un Bore Mercher) will return for a third and final season. Eve Myles (Torchwood) will reprise her role of Faith Howells, as will Bradley Freegard (Hinterland) as Evan Howells and Mark Lewis Jones (The Accident) as Steve Baldini. Joining the cast is Celia Imrie (The Best Exotic Marrigold Hotel).
Filming on Series 3 of this BBC Cymru Wales and S4C drama will begin in 2020. It is expected to air on S4C in October 2020 and on BBC One Wales in February 2021.
There's no confirmation yet on whether the final season will screen in the US, so stay tuned for updates. Series 1 and 2 are available for streaming on Acorn TV and its digital channels, including Acorn TV on Amazon.
Sex Education
The hit Netflix Original comedy-drama series that follows teen Otis Milburn (Asa Butterfield, Hugo), his high school mates, and his sex therapist mum (Gillian Anderson, The X-Files), is coming back for a third season.
Silent Witness
The long-running mystery-crime drama Silent Witness is going to run even longer, as the BBC has recommissioned it for two more seasons, taking the series through to its 25th anniversary. (Spoiler ahead if you haven't watched Season 23 yet.) However, two of the regular characters — Clarissa Mullery (Liz Carr) and Dr. Thomas Chamberlain (Richard Lintern) — left the Lyell Centre in the Season 23 finale, so won't be in the upcoming seasons.
It hasn't been confirmed if BritBox will screen Seasons 24 and 25 in the US, but the SVOD service is the exclusive stateside home of Seasons 22 and 23. (Seasons 1-21 are available on Prime Video, and the show airs on many public TV stations across the country.)
The Syndicate
It's been five years since the last season of the hit drama The Syndicate, so it's fab news that Kay Mellor (Girlfriends, In the Club) has written a new standalone season of six episodes.
In the new season of this cat-and-mouse thriller, the show's fourth, the owners of Woodvale Kennels announce they are selling the business to a larger company, and the staff are devastated in realizing they may be out of a job. As the team's future is thrown into question, the weekly lottery looks like their only lifeline. So when the friends check the ticket and the machine goes off, they are ecstatic. But everything might not be as it seems and this syndicate may or may not get what's rightfully theirs. Set between Leeds and Las Vegas, the kennel workers spend every last penny they own to see justice done.
Following the UK premiere of Series 4 of The Syndicate on BBC One, the show will debut in the US and Canada as a BritBox exclusive. Stay tuned for updates.
(Season 1 is no longer available in the US. Season 2 is available for streaming on Prime Video, and Season 3 is on both Acorn TV and Amazon Prime.)
Unforgotten
Filming has started on the fourth and final season of Unforgotten, the award-winning mystery-crime drama series starring Nicola Walker (Last Tango In Halifax, The Split) and Sanjeev Bhaskar (Yesterday, Goodness Gracious Me) as London detectives DCI Cassie Stuart and DI Sunny Khan.
Season 4 opens with the discovery of a dismembered body in a scrap metal yard, which the team believes has been stored in a domestic freezer for thirty years. A unique Millwall Football Club tattoo leads to the victim being identified as Matthew Walsh, a young man in his mid-twenties who went missing in March 1990.
The team tracks the purchase of the freezer to Robert Fogerty, but are disappointed to learn he recently died. In looking further into Fogerty's past, they discover a drunk driving conviction on the same night that Walsh went missing — and there were four passengers in the car with him at the time.
As the investigation progresses, viewers are introduced to Ram Sidhu and his wife Anna, Londoners expecting their first baby; Liz Baildon and her fiancée Janet, who live in Cambridge; Peak District residents Fiona Grayson, her partner Geoff, and their children; and Dean Barton and his wife Marnie, who live in Rochester with their disabled son, Jack, and his younger sibling, Casper. All in their late forties, they appear to be in a good place, but the investigation has the potential to shatter their reputations, family relationships, and the lives they've built over the last 30 years.
Meanwhile, after making the decision to retire from the police force for her own sanity and well-being, Cassie faces a dilemma when she learns she isn't entitled to her full pension payment unless she completes her thirty years of service. Disappointed and angry with her superiors and the system, Cassie has to make the tough decision to return to work. Although her relationship with John (Alastair Mackenzie, Deep Water) is going strong, she faces difficult times with both her son, who has moved back home, and her father, Martin (Peter Egan, Downton Abbey), who is struggling with early dementia.
Produced by Mainstreet Pictures (Age Before Beauty) in partnership with Masterpiece, and created and written by Chris Lang (Dark Heart), the final six-part season features Sheila Hancock (Delicious), Susan Lynch (Apple Tree Yard), Phaldut Sharma (EastEnders), Liz White (Life On Mars), Andy Nyman (Wanderlust), Clare Calbraith (Vera), and Lucy Speed (National Treasure), along with returning actors Carolina Main (Blood), Lewis Reeves (Crazyhead) and Jordan Long (Prime Suspect: Tennison).
Stay tuned for updates about the Season 4 premiere on PBS later this year.
The War of the Worlds
ITV announced today that The War of the Worlds, the sci-fi miniseries adapted from H. G. Wells's classic novel, has been picked up by AMC's upgrade subscription service, AMC Premiere, in the US.
Set in Edwardian era London, the three-part drama follows George (Rafe Spall, Harry Price: Ghost Hunter) and Amy (Eleanor Tomlinson, Poldark), partners whose lives and life together are threatened by a Martian invasion of Earth. (Not to be confused with War of the Worlds starring Gabriel Byrne and Elizabeth McGovern, which debuts in the US this Saturday.)
Costars in The War of the Worlds include Robert Carlyle (Hamish Macbeth), Rupert Graves (Sherlock), Woody Norman (Poldark), and Jonathan Aris (Sherlock). Stay tuned for updates about the US premiere date.
__________________

Add your comments on our Facebook and Twitter pages.
Share this post/page.

Outbound links on this page include non-affiliate links and affiliate links; the latter allows us to earn income for qualifying purchases and actions made through the links.
Brit TV News Bits: Keeping Faith, Silent Witness, Unforgotten & More