In advance of the premiere of Dark Heart on this side of the pond, I had the chance to chat with Tom Riley about his dark and gritty new series.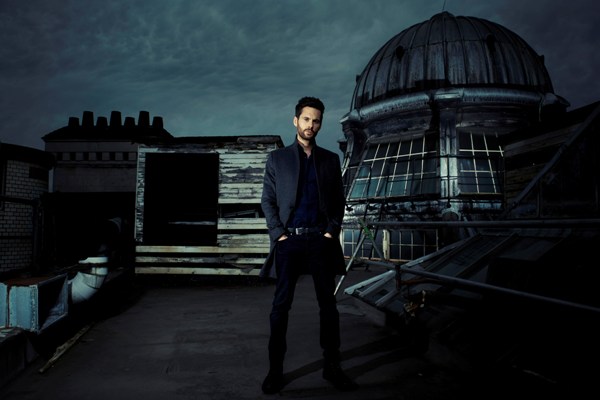 Amongst his roles in front of the camera, actor-producer-director Tom Riley has played Jane Austen's infamous Mr. Wickam (Lost in Austen), the legendary Robin Hood (Doctor Who), and Renaissance polymath Leonardo da Vinci (Da Vinci's Demons).
Soon Riley returns to stateside telly in the mystery-crime drama Dark Heart, in which he plays DI Will 'Staffe' Wagstaffe, a determined, tenacious, and exceptionally good police officer at Leadengate police station in London. Will is also a man haunted by the unresolved murders of his parents. In our chat, Tom offered this about his character's backstory and how Will developed after the tragedy:
"The thing that he struggles with the most is the fact that he hasn't developed. I think that is his biggest character flaw, and the thing that I would say drives him throughout the series. He's in a state of arrested development from the moment the trauma happens. So that's why he has the angst and anger-ridden moods and can sometimes behave like a unpredictable teenager — because he can't quite funnel his emotions in the way that someone who's a bit more evolved could.

"So he's channeling this kind of anger to see his past righted in a way that it never was for him, because the matter remained unsolved with his parents, and he channels that into his police work. And what it's doing is enabling him to avoid the fact that he's unable to move on personally and emotionally as a grown-up. And instead he's sort of still avoiding that unpleasant time in his life."
Battling this personal demon affects Will's relationships, including with his colleagues and his on-off girlfriend, Sylvie (Miranda Raison, Spotless, MI-5). Although his closest relationships are with his sister Juliette (Charlotte Riley, Press, Jonathan Strange & Mr. Norrell) and young nephew Harry (newcomer Joseph Teague), there seems to be a space, a gap if you will, between Will and 'Jules.' Said Tom:
"That's absolutely right. As far as the space between him and his sister is concerned, it's because the thing they share is the trauma that they both experienced. They are both in a state of not really having moved on from it, and they both reacted to that trauma in a different way, as people do.

"Both of them kind of refuse to accept the validity of the other one's reaction, and both of them think the way the other one is behaving is ridiculous. He thinks the fact that she's going through various men and can't settle down and can't get into a relationship properly is wrong, and she thinks that his obsession over the past and being fixated over the date and time in his life where he's lived without [his parents] longer than he's lived with them is ridiculous. Neither of them is actually accepting that the way the other one is feeling is valid, and that pushes them apart.

"At the same time, the fact that Will lost his parents so young and so suddenly has put him in a position where he struggles to attach as an adult. He can't completely connect with people in a way he wants to, he can't hold up relationships in a way he wants to. And whenever he is around emotion, he gets uncomfortable and he avoids it; he palms it off on some other member of the team if it's a victim of a crime he's at the scene of.

"Whereas with his sister and his nephew — that's unconditional love. He knows they're not going anywhere, so he's able to open himself up to them in a way that he wouldn't to the other people who he thinks could vanish in a moment's notice the way his parents did."
Viewers get to see how this all plays out in Dark Heart's first two-part story, which is based on Suffer the Children, the first title in the "DI Staffe" series of crime novels by Adam Creed. Here's a bit of backstory that Riley shared:
"The first story aired [roughly two years ago] on a now-defunct channel [ITV Encore], which was sort of very underwatched, and it was a kind of a backdoor pilot to see if it would turn into a series for the main channel [ITV1}… What we've done on that first film is, we've gone in and re-edited and re-shot it and re-graded it and recorded a new score, so it's the same but it's new."
It opens with the gruesome discovery of a man in his mid-thirties tied to his own bed, choked, and severely mutilated. Soon afterward, another man is attacked in a similar manner. As Staffe, DC Josie Chancellor (Anjli Mohindra, Bancroft, Bodyguard), DS Dave Pulford (Kobna Holdbrook-Smith, The Split, Capital), and DS Rick Johnson (Tom Brooke, Preacher) investigate, they learn the victims have more in common, leading Staffe to fear these two incidents could be the start of a crime wave.
In the second story, an original one written by Chris Lang (Unforgotten) and Ben Harris (Marcella), Staffe and his team investigate the mysterious death of a young nurse on the London Underground. Forensics find a DNA link to a teenage boy who's been missing and presumed dead for seven years, and the trail leads the detectives to the dark underbelly of London life.
Having watched the screeners for the first two stories (which are terrific), I asked Tom about the theme of justice, which plays out in both Will's professional and personal life.
"There's justice and also the morality of justice. In the first story, it's very much a question of how should justice be served to people who potentially don't deserve the full parameters of the law going in their favor.

"And likewise when it comes to [Juliette's boyfriend] Paolo [played by Edward Akrout, Killing Eve] and Juliette, what Will does — he thinks he's doing the right thing. He's serving juctice, but it's not his place to step in behind her back and do what he does. And it will, as you'll see in the third story, have a devastating impact on both their relationship and her personally."
In the third story, also an original from Chris Lang, an online porn star is found murdered in an East London church, posed in morbid worship at the feet of the Virgin Mary. Staffe must determine if this is the work of the victim's stalker or if the answer lies in her complicated and tumultuous personal life. As Staffe digs for the truth, his own life spins dangerously out of control. Riley shared a few more tidbits about it.
"The third story is about the porn industry, the sex industry in London, and the morality of pornography and the agency of the people involved in it and whether they have as much as they believe they have or otherwise.

"The [actor who plays] the main antagonist in the third story, the linchpin of the final two episodes, is Paul Kaye [Game of Thrones]. He's fantastic in it, he's really, really good. He plays an owner of a strip club in London, and he chews the scenery with relish. And it's an absolute blast working with him, he's brilliant."
Jason Maza (Bulletproof), Alex Carter (Emmerdale), and Gregg Chillin (A Discovery of Witches) feature in the series. Guest stars include Claire Goose (The Coroner) and Christopher Fulford (Whitechapel).
Dark Heart, a BritBox Original series, premieres in North America this Wednesday, November 7 — simulcast with ITV's UK transmission — exclusively on BritBox and the BritBox channel on Amazon.
My thanks to Tom Riley for our chat and to BritBox for arranging it.
__________________

Add your comments on our Facebook and Twitter pages.
Share this post/page.

Interview: Tom Riley Talks 'Dark Heart,' His Gritty New Crime Drama