England's beautiful Lake District is the setting for Deep Water, a tense British drama that makes its stateside debut tomorrow.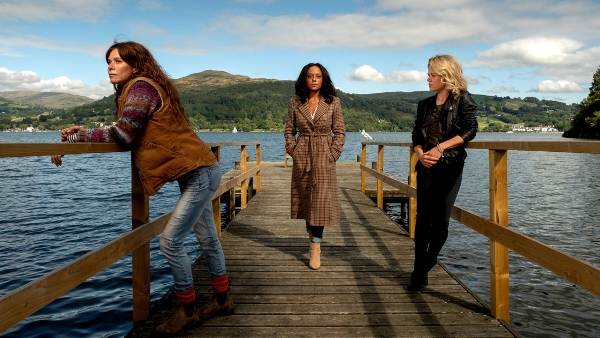 Ah, the Lake District. A favorite holiday destination for many and the location of Windermere, the largest natural lake in England.
Windermere, the town, is home to the three main characters in Deep Water, the miniseries based on the novels Just What Kind Of Mother Are You? and The Mistake I Made, from the "Windermere" book series by Paula Daly.
Lisa Kallisto (Anna Friel, Marcella, Broken) is an overworked and underappreciated wife and mother, frazzled by and flailing from all the running around she does for her business and family without much (if any) help from her husband. Kate Riverty (Rosalind Eleazar, Harlots, Howards End) is a has-it-together alpha and tiger mum who seems to have it all, from the handsome husband and two kids (one each, boy and girl), to the lakefront house and sailboat. And Roz Hill (Sinead Keenan, Little Boy Blue, Being Human) is a physiotherapist and married mum whose life is on the verge of collapse.
Roz's husband has a gambling addiction, and the financial losses have cost Roz her business, their daughter a school trip, and more besides. Now the bailiffs have come, as has the eviction notice. For all intents and purposes, Roz is the family's sole breadwinner, and her earnings aren't nearly enough to cover the arrears and keep their home. With no more loans from her brother, Roz has a tough decision to make: Will she or won't she accept the help offered to her from an unexpected source?
Meanwhile, Lisa and Kate and their husbands, whose children go to the same schools, are meant to get better acquainted at a dinner at the Riverty home, where the guests also include Kate's wealthy sister and brother-in-law. While off to the loo, Lisa noses about a bit before making a spontaneous decision that ends up haunting her. It gets worse: Keeping her new secret, on top of everything else, is taking a toll on Lisa, and she forgets to pick up Kate's daughter from school. Now the girl has gone missing.
With that cliffhanger ending to the show's opener, I am anxious to see what happens next.
The six-part drama costars Alastair Mackenzie (Monarch of the Glen), Faye Marsay (Bancroft), Steven Cree (Outlander), Charlie Carrick (Reign), Gerald Kyd (Unforgotten), Camilla Beeput (Save Me), Carl Rice (Trollied), and Steve Toussaint (Pine Gap).
Deep Water premieres in the US tomorrow, Friday, December 6, exclusively on the PBS Masterpiece channel on Amazon.
__________________

Add your comments on our Facebook and Twitter pages.
Share this post/page.




Outbound links on this page include non-affiliate links and affiliate links; the latter allows us to earn income for qualifying purchases and actions made through the links.
Deep Water: Lake District-Set Drama Set to Premiere in the US