Oh, how fabulous! More new series and fan favorite programs from Britain, Ireland, Canada, Australia, and New Zealand are premiering exclusively on Acorn TV this year!

Viewers in the US have so many places to watch UK TV shows, from broadcast and cable channels, to video-on-demand services and subscription streaming platforms. Some of them offer programs from other territories; the rest don't.
Of those that do, Acorn TV is the only one that consistently premieres new series and new seasons of hit shows from the other side of the pond, the other side of the world, and north of the border — including the British Commonwealth territories of Australia, Canada, New Zealand, and the United Kingdom, as well as the Republic of Ireland.
The first few months of 2017 have seen a dozen international titles make their exclusive US debuts on Acorn TV, including…
More Birds of a Feather (UK) and the premieres of mystery miniseries Code of a Killer (UK) and legal drama Crownies (AU) in February
The return of hit Brit mystery Midsomer Murders (UK) and the premieres of comedy Asylum (UK), documentary Martin Clunes: Islands of Australia (AU/UK), and legal drama Striking Out (IE) in March
The new season of Irish western Dominion Creek and the premiere of Britcom Parents in April
From this month through the end of the year, Acorn TV will bring to its still-growing subscriber base (getting close to the half-million mark!) even more exclusives. Fourteen more, to be precise. (Probably fifteen, but the details aren't finalized for one show yet, so stay tuned.)
May titles include the first-ever television adaptation of Decline and Fall and foodie dramedy Delicious, both from Britain, and the second half of the Australia/New Zealand co-production 800 Words: Series 2. Details about them are in "British TV to Watch in May 2017" and their trailers/previews are below.
Coming in Spring/Summer 2017 are…
The Heart Guy: Series 1 (aka Doctor Doctor) (Australia)
Rodger Corser (Glitch) stars in this Doc Martin-esque Australian medical dramedy as Dr. Hugh Knight, a high-flying heart surgeon who screws up big time and gets banned from surgical practice for a year. In order to salvage his career, he must work as a country GP in none other than his hometown of Whyhope — the place he's been running away from his whole life. The Heart Guy: Series 1 premieres in the US on 5 June 2017.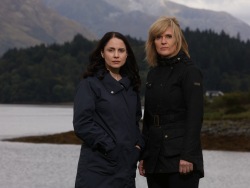 Loch Ness (aka The Loch) (UK)
The world's most iconic loch is the backdrop for this new Scottish noir crime thriller, in which detective Annie Redford (Laura Fraser, The Missing) tries to cope with her first murder case, the search for a serial killer, and a growing nightmare in her close-knit town after locals find the body of a dead man and the heart of another human. Costarring Siobhan Finneran (Happy Valley) and John Sessions (Mr. Holmes), and featuring Don Gilet (EastEnders), Gray O'Brien (Coronation Street), William Ash (The Tunnel), and Simone Lahbib (Wire in the Blood), Loch Ness, an Acorn TV Original Series, premieres in the US on 19 June 2017.
Janet King: Series 3 (Australia)
Marta Dusseldorp (A Place to Call Home) returns as the eponymous Senior Crown Prosecutor for a new season of this taut legal thriller. In this eight-part story, Janet is seconded to the National Crime Commission to investigate the death of a young cricketer and uncovers a web of organized crime operating in the world of professional sports. Janet King: Series 3 premieres in the US in July 2017 (date TBA).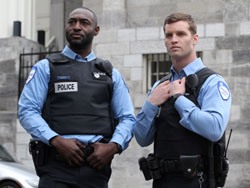 19-2: Season 4 (Final) (Canada)
This multiple award-winning and International Emmy®-nominated cop drama concludes its run with eight final episodes. Opening soon after the tragedy that devastated Montreal Police Officers Nick Barron (Adrian Holmes, Arrow) and Ben Chartier (Jared Keeso, Falling Skies) in Season 3, the final season finds the partners grappling with personal and professional issues as they and the rest of Poste 19 fight corruption and seek revenge. 19-2: Season 4 premieres in the US in August 2017 (date TBA).
The Good Karma Hospital: Series 1 (UK)
Already commissioned for a second season, this new medical drama follows Ruby Walker (Amrita Acharia, Game of Thrones), a junior doctor who chucks a broken relationship and dashed dreams in the UK for a new life in South India. Once there Ruby must face reality, including her work at the Good Karma Hospital, an under-resourced cottage hospital run by English ex-pat Dr. Lydia Fonseca (Amanda Redman, New Tricks). Costarring Neil Morrissey (Striking Out), Phyllis Logan (Downton Abbey), and Philip Jackson (Raised by Wolves), The Good Karma Hospital: Series 1 premieres in the US in August 2017 (date TBA).
And coming in Fall/Winter 2017 are…
Acceptable Risk (Ireland)
An Acorn TV Original Series set in the high-stakes world of Big Pharma, this international conspiracy thriller stars multiple-award winner Elaine Cassidy (The Paradise, No Offence) as Sarah Manning, the wife of an Irish marketing executive for a pharmaceutical company. After he is murdered while on a business trip to Berlin, she begins to believe the firm is covering up details about his killing. What's more, she learns that she and her late husband have been the object of an intense surveillance operation that has been tracking their every move.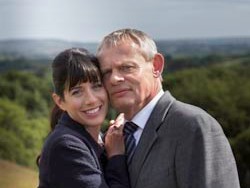 Doc Martin: Series 8 (UK)
When we last saw them, it appeared that Martin (Martin Clunes, Men Behaving Badly), Louisa (Caroline Catz, DCI Banks), and their baby James were finally going to live happily ever after. And things with Bert (Ian McNeice, Doctor Who), Al (Joe Absolom, The Level), Aunt Ruth (Eileen Atkins, The Crown), Morwenna (Jessica Ransom, Our Zoo), PC Penhale (John Marquez, Death in Paradise), and Mrs. Tishell (Selina Cadell, The Lady Vanishes) were looking good, too. But wait, these are the quirky, something-is-bound-to-go-wrong denizens of Portwenn, we're taking about! (BTW, there will be a Series 9!)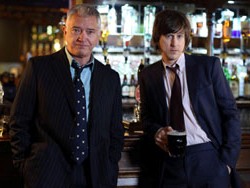 George Gently: Series 8 (UK)
As announced last month, this fan-favorite, Edgar® Award-winning mystery drama, based on the "Inspector George Gently" crime novels by Alan Hunter, is coming to a close. (Sob!) Its final season (as an Acorn TV Original Series) consists of two feature-length episodes: "Gently Liberated," in which DCI Gently (Martin Shaw, Judge John Deed) risks exposing a miscarriage of justice by reopening a case that DI Bacchus (Lee Ingleby, The A Word) had worked on as a DS; and "Gently and the New Age," which finds Gently about to retire, but not before a covert anti-corruption police unit tempts him to stay on a bit longer with the cold case of a murdered young girl.
Love, Lies and Records (UK)
This new drama, written by BAFTA Awards winner Kay Mellor (In the Club), stars Emmy® nominee Ashley Jensen (Agatha Raisin) as Kate Dickenson, a registrar juggling her personal life with the daily dramas of births, marriages and deaths, and the impact they have on her. An Acorn TV Original Series, it costars Adrian Bower (The Last Kingdom), Kenny Doughty (Vera), Rebecca Front (Doctor Thorne), and Mark Stanley (Dickensian).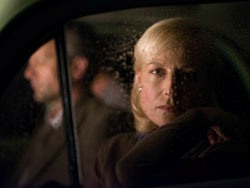 A Place to Call Home: Series 5 (Australia)
The good, the bad, and the horrible happened in Series 4 of this addictive Aussie period drama (details here), and there's more where that came from when the new season arrives. The S4 finale gave us a glimpse of what might be happily ever after for nurse Sarah Adams (Marta Dusseldorp, Jack Irish) and newbie politician George Bligh (Brett Climo, All Saints), but it also hinted at more subterfuge, so don't count George's wacko wife Regina (Jenni Baird, All Saints) out yet! And Bligh family matriarch Elizabeth (Noni Hazlehurst, City Homicide) is likely to do more masterminding to keep her clan together. (Yippee!)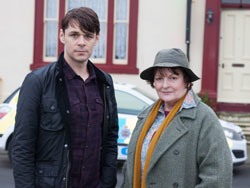 Vera: Series 7 (UK)
Two-time Oscar® nominee Brenda Blethyn (Little Voice, Secrets & Lies) returns as the brash and brilliant DCI Vera Stanhope in the latest season of this double RTS award winner for Best Drama. Inspired by the bestselling "Vera Stanhope Mystery" novels by Ann Cleeves (read my interview with her here), Series 7 features four stories that have Vera and her sidekick, DS Aiden Healy (Kenny Doughty, Stella), investigating the murders of a ranger, an unidentified man, a journalism student, and a teenager. (FYI: Series 8 begins filming in June!)
Stay tuned for updates about all the shows that Acorn TV will premiere in the US this Spring/Summer and Fall/Winter.
(All photos courtesy of Acorn TV)
__________________
Add your comments on our Facebook and Twitter pages.

Share this post/page.

Acorn TV: 14 More Exclusive International TV Premieres Coming in 2017