KCET premieres Shetland tonight, and Ann Cleeves, the bestselling British author who wrote the "Shetland" novels, chatted with me about this and her other series, Vera.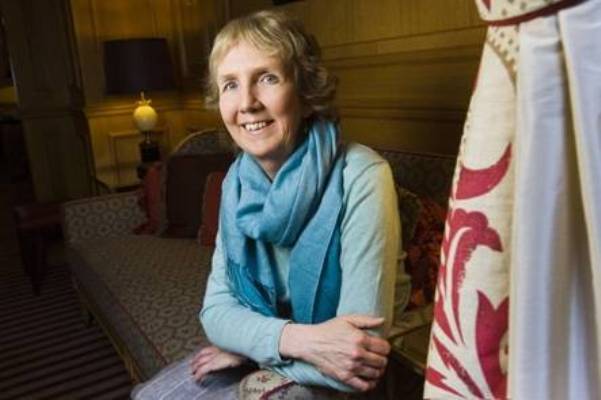 An inductee in the Crime Thriller Hall of Fame, alongside all-time greats Colin Dexter, Agatha Christie, and Arthur Conan Doyle, Ann Cleeves has lived quite an interesting life.
Now living in Northumberland, she grew up in Herefordshire and North Devon, and after dropping out of university held jobs as a child care officer, women's refuge leader, bird observatory cook, and auxiliary coast guard. Upon her return to uni, she trained to be a probation officer.
It was the cooking job that brought Cleeves to Shetland, the setting for her "Shetland" series of novels and Shetland, the Scottish noir crime drama inspired by the books.
"I first went to Shetland 40 years ago. I dropped out of university and I needed a job, so I got work as assistant cook in the bird observatory in Fair Isle, which is one of the most remote of the Shetland Islands. And I lived there for two years, and I fell in love with Shetland at that time, and I've been going back ever since… I couldn't cook, and I didn't know anything about birds, so it was a bit tricky to start with, but I learned fairly quickly."
Cookery skills weren't the only things Ann gained, and Shetland wasn't the only thing she fell in love with, during her time on Fair Isle. It was here that she met Tim, a visiting ornithologist who eventually became the warden of Hilbre, a tiny tidal island nature reserve in the Dee Estuary, as well as her husband. The couple were the only residents on Hilbre, access to the mainland was at low tide across the shore, and Ann wasn't much into birds (still isn't), so she began writing. The "George and Molly" crime novels, featuring the elderly naturalist, George Palmer-Jones, was her first book series.
Interestingly enough, a bird features in Cleeves' first "Shetland" novel, Raven Black, for which Ann became the first winner of the prestigious Duncan Lawrie Dagger Award from the Crime Writers' Association. It is also a story adapted for the Shetland TV series.
Set on Shetland, the show revolves around police cases investigated by the team led by DI Jimmy Perez, played by (the delicious) Douglas Henshall (Collision, Primeval).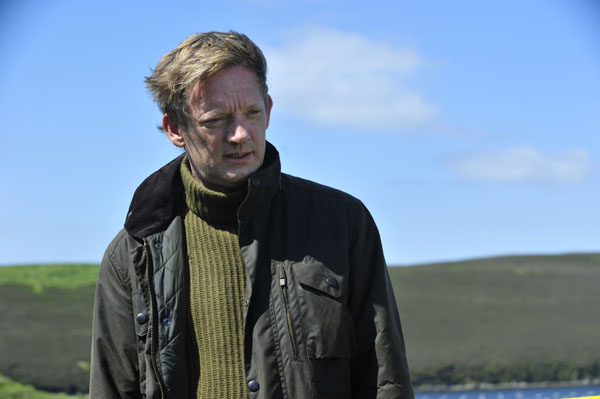 According to Ann:
"Raven Black is about what it is to be an outsider, and it was going to be a standalone novel. It was never going to be a series. And I wanted a central character who was also an outsider in a way, who belonged but didn't quite belong.

"Jimmy is a Fair Islander — that's the island that I know best — but that meant that he didn't quite belong in Shetland, because most Shetlanders think of Fair Isle as the end of the known universe. And I gave him that strange Spanish name, which made him different, as well. There really was a Spanish armada ship that wrecked off Fair Isle called El Grand Grifón, and there were 60 survivors, so it's not outside the bound of possibility that one of those survivors married a local girl, and that the name continued."
While Henshall is "not very Spanish looking," she's still thrilled to bits that he plays Perez.
"I had nothing to do with [casting Henshall], but I think Douglas is just magnificent. We've just broadcast Series 3 here [in the UK], and he is superb. The acting gets better every series.

"Because I have a very good relationship with the production team, I get invited to the read-throughs, and at the first read-through 'Dougie' asked me, 'If you could sum up Jimmy Perez in one phrase, what would it be?' He'd read the books, but I think he wanted a bit of a steer. And I said, 'Well, his ex-wife calls him emotionally incontinent, meaning that he's overly sympathetic, that he's so with other people's problems that he doesn't really have time to look after his own. And I think Dougie plays that wonderfully."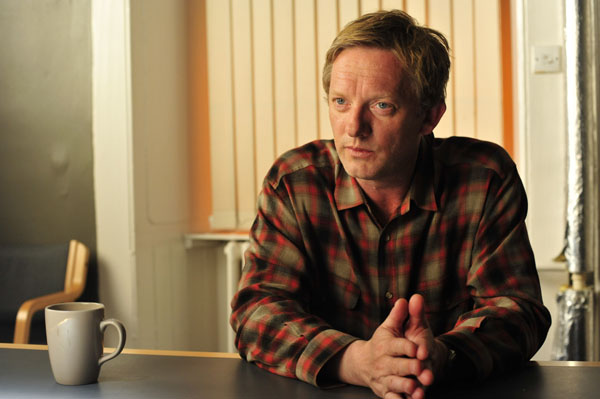 The Shetland pilot is based on the novel Red Bones, which centers on Perez and co.'s investigation into the death of an elderly woman, on whose property is an archaeological dig.
"I think archaeology is so important in Shetland, because there are lots of Viking traditions and remains there. And I did have the help of the local archaeologist, who was very supportive with the storyline and very supportive to the film crew. She actually dug the dig that you can see in the show… So, they're very helpful, the Shetlanders, to the show and to me."
Locals are involved, directly or indirectly, with the production of Shetland, including a "local fixer" who posts the casting team's calls for extras on his webpage. And Ann, while not one of the scriptwriters, provides more than just the source material for the TV series.
"What I do in both [Shetland and Vera] is work with the scriptwriters. I've got a very good relationship with the production team, and it's important to me and to Elaine Collins, who is executive producer on both shows, that we film them in the places where the books are set, and that the scriptwriters have an understanding of the places.

"So I take them on a trip. The scriptwriters come up to Northumberland if they're writing a Vera show, or I take them up to Shetland if they're working on Shetland. And we tour around and I try and give them a range of possibilities for settings, so that they understand that Northumberland is a beautiful county with beaches and hills, but it's also got a very interesting post-industrial landscape. And that Shetland is beautiful, too, and has a history, but it's also a working community. So we look at the oil terminal and where the fishing trawlers go out, as well as the beautiful bits.

"When I take the scriptwriters up, I don't just show them the place, I introduce them to people, as well. I always make sure that we go and have dinner with friends of mine, so that they have a proper Shetland meal to see them on their way."
In case you're wondering, a proper Shetland meal consists of "either lamb or fish, and lots of home baking, too."
While Series 1 and 2 of Shetland include stories adapted from Cleeves' novels, Series 3 is an original story crafted by the scriptwriters.
"It's one story over six episodes, which I think works really well.

"What I think is wonderful about the writing, which has nothing to do with me, is that they manage to bring that darkness without any explicit violence at all… I think it's very, very beautifully written… And beautifully acted…"
Since Ann didn't write the source material for Series 3, she shared this about her involvement on the production:
"Gaby Chiappe, who is the lead writer on the show… she sent me a list of things she wanted to see and do in Shetland, which included talking to a funeral director, going to the Coast Guard headquarters, going to see the power plant, because, if you see Episode 1, that features majorly. And a few things like that. So I set up lots of meetings and we went up and chatted to people, and I was there when they were talking through storylines, as well.
About the production and filming of Shetland, Ann said much of it is shot in Glasgow.
"Quite a lot of the interiors are filmed in Glasgow, because it's expensive to get all the cast and crew to Shetland, and it's not easy. It's thirteen hours by boat from Aberdeen to Shetland. It's only a couple hours plane trip, but if all the heavy equipment needs to get up on the boat, it's quite time consuming."
With Series 3 having completed its run in the UK and soon to begin in the US, can fans of the show look forward to Series 4?
"It's looking possible at the moment. It hasn't quite been decided yet, but it's looking hopeful.

"I'm not sure [if it will be an adaptation of a 'Shetland' novel]… Series 3 wasn't based on anything I'd written. It was an original story, so [Series 4] might well be an original story. I'm not sure yet."
What about a new "Shetland" novel?
"There'll be another 'Shetland' novel out here in October, and I think very soon after that in the US. It's called Cold Earth."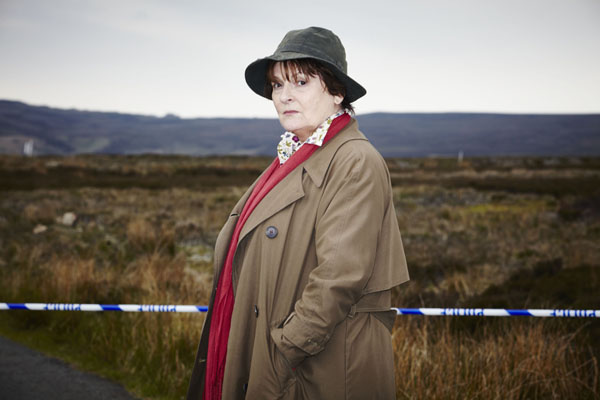 When we segued into chatting about Vera, the massively-popular crime drama set in Northumberland and starring Brenda Blethyn as the eponymous DCI Vera Stanhope, Ann shared this from the off:
"There will definitely be a Series 7 of Vera, because they're already working on that."
She went on to share much about Brenda Blethyn, too.
"She is terrific, isn't she? She really embodies my character.

"I thought the end of [Series 6] Episode 1 was stupendous acting. It was brilliant.

"Her way of working is to completely build the character. She knows absolutely that character. She worked with Mike Leigh on Secrets & Lies, and does it with every role that she plays. She knows Vera's birthday. I didn't know Vera's birthday, but Brenda did. She knows everything there is to know about her.

"[Brenda is] wonderful, and we've become very good friends, too. She's lovely… When she comes up [to Northumberland], she's here for six months. The filming takes four months, and with the prep beforehand, she's up here for quite a long time. She has an apartment here now. But she's so busy, when she's up here she's on set the whole time. She's working really hard, cuz she's in pretty well every scene.

"But she's very generous with her time, so when I've done book festivals, she's come along and chatted to readers, too. And she signs books, which is lovely. So they get my signature and they get Brenda's, as well. We did the Edinburgh Book Festival together, so that was fun."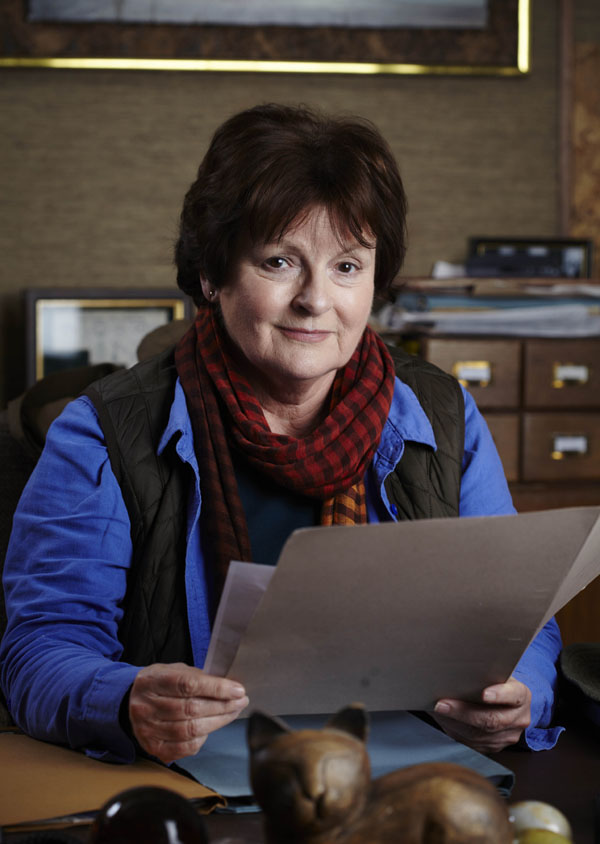 Regarding the casting of Brenda Blethyn as Vera Stanhope, Ann said:
"They were looking for someone who could do that sort of wit and malice and humor, as well as be a serious actress. And I remember them phoning up and telling me that Brenda had agreed to do the show, and [when] somebody says that a double Oscar® nominee is going to read your lines, it's pretty impressive."
And regarding the setting of Vera in Northumberland, which is a character unto itself…
"It is one county, but it's a county that goes from the River Tyne, which is where all the shipyards used to be and where the pits used to be, right up to the Scottish border. So we have all the beautiful bits, but we do have that really interesting post-industrial landscape here, as well."
Cleeves' most recent "Vera Stanhope" novel is The Moth Catcher, which was adapted for the third episode in Vera: Series 6.
Both Shetland: Series 1 and Vera: Series 6 premiere TONIGHT in Southern California on KCET, which airs an episode from each show back-to-back, starting at 9 PM PT.
My thanks to KCET for arranging this interview, and to Ann Cleeves for being so lovely and chatting with me.
__________________

Add your comments on our Facebook and Twitter pages.

Share this post/page.

Ann Cleeves: Bestselling Author Talks Shetland, Vera, Douglas Henshall, Brenda Blethyn