This ensemble-cast drama premiered in the States on select public TV stations last year. Now Brit TV fans in every corner of the country can stream it.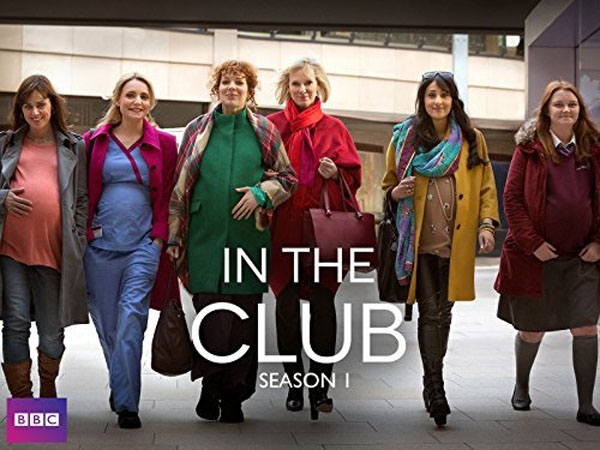 In the Club, a warm, humorous, and binge-watchable soapy-ish drama, was one of my favorite program premieres (in the UK) in 2014.
Created and written by BAFTA Award winner Kay Mellor (Fat Friends, The Syndicate), the series features a strong cast and compelling storylines that follow the intersecting lives and personal dramas of six pregnant women who attend the same prenatal class.
Roanna (Hermione Norris, Cold Feet, MI-5) is a 40-something businesswoman dating 27-year-old practically-starving artist Simon (Luke Thompson, The Suspicions of Mr. Whicher), the baby-daddy of her unborn child. She gets more than she bargained for in her divorce from Ray (John Marquez, Doc Martin), and the situation becomes one that necessitates the involvement of Simon's parents, who are against their son's relationship with a woman closer to their own age.
Kim (Katherine Parkinson, Humans, The IT Crowd) offers advice for pregnant women on her blog, works part-time as a teaching assistant, and is dating Susie (Tara Fitzgerald, Game of Thrones). The father of Susie's son, Jude (newcomer Daniel Breeze), and Kim's soon-to-be-born child with Susie, is Neil (Jonathan Kerrigan, Stan Lee's Lucky Man), Susie's ex-husband. The two are still best friends, at least until his mutual attraction with Kim moves to the next step. If this sounds complicated now, just wait.
Housewife Diane (Jill Halfpenny, Babylon, EastEnders) and her husband Rick (Will Mellor, Broadchurch) adopted two children after two miscarriages. Now they're expecting not one but two miracle babies. Meanwhile, the amount of their debts is going up, up, up, and it's about to go even higher. Unbeknownst to Diane, Rick has no way to pay them down. Desperate times call for desperate measures, and Rick takes them. Unfortunately, the outcome leaves his family and himself in dire straits.
Vicky (Christine Bottomley, DCI Banks, Land Girls) is a single midwife who leads the prenatal classes the other women attend. Like them, she is pregnant. She wants her baby's dad to do the honorable thing and marry her, but he's reluctant for reasons he hasn't told her. A secret they share is their relationship, because these no-tell lovers are both on staff at the hospital. He is pediatrician Dr. Chris Bellingham (Brendan Patricks, Downton Abbey).
Jasmin (Taj Atwal, Stella, No Offence) and Dev (Sacha Dhawan, Last Tango in Halifax) are match-made newlyweds expecting their honeymoon baby. But excitement about becoming a mother is overshadowed by stress for Jasmin: She's Asian, and doesn't know if the baby's father is Dev, also Asian, or her ex-lover Jack (Will Tudor, Humans), who's Caucasian. This causes her elevated blood pressure to rise even more and put her and her unborn baby's health in danger.
And fifteen-year-old Rosie (Hannah Midgley, Emmerdale, A Touch of Frost), one of Kim's students, got pregnant the first time she had sex. She hasn't told anyone about her impending motherhood — not her father or friends, or even the guy she slept with — but her growing belly won't let her keep her secret for much longer. Feeling quite alone and scared, she turns to Kim's blog for support… and later to Kim and Vicky when her water breaks…
When I first watched In the Club, my emotions went all over the place, from compassion to anger and back again. You can't help but feel something from the stories. The performances, too, command attention. One standout is by Will Mellor as Rick, who's desperation is so palpable, you might root for him, as I did, even when he's lying and breaking the law.
In the Club: Series 1 is now streaming in the US at Amazon Video.
__________________

Add your comments on our Facebook and Twitter pages.

Share this post/page.

In the Club: UK Drama Starring Hermione Norris & Katherine Parkinson Now Streaming in the US