Amy Huberman is tickled pink. Her new series, Striking Out, is Ireland's #1 new drama, and it's premiering in the US on the greenest, shamrock-iest day of the year: St. Patrick's Day.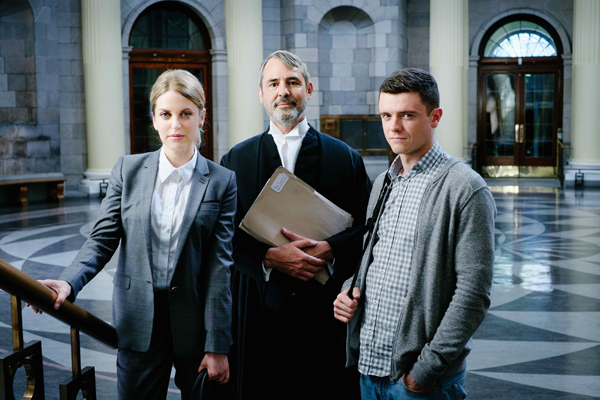 The nominees for the 2017 IFTA (Irish Film & Television Academy) Awards were announced last week, and both Amy Huberman (The Clinic, Silent Witness) and Striking Out are amongst the distinguished group — she for Best Actress in a Lead Role in a Drama and the program for Best Drama. (Congrats!)
And earlier this week, I had the opportunity to have a quick chat with Amy by phone — she with her cup o' tea, me with my mug o' joe — about her character and the series.
First, a bit of background.
Striking Out follows the often turbulent personal and professional life of Huberman's character, Tara Rafferty. A successful solicitor at a prestigious law firm in Dublin, we meet her on her hen night (aka bachelorette party), a fun-filled evening with friends that later turns into the worst kind of nightmare a bride-to-be can have: Tara finds her fiancé in flagrante delicto with another woman. And not just any woman, either, but a colleague from the same firm where all three of them work.
So begins this unexpected chapter in Tara's life, of which turning the page starts with canceling her wedding to Eric Dunbar (Rory Keenan, War & Peace, Peaky Blinders), followed by quitting the law firm and then setting up shop on her own. It all seems very matter-of-fact on the surface, but the story goes much deeper.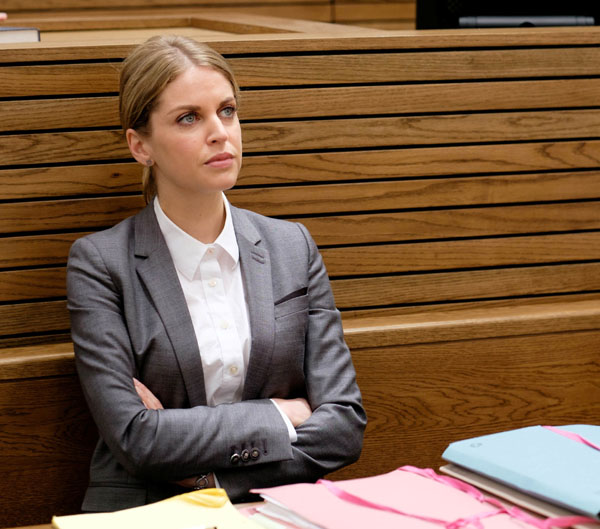 For Huberman, there were several factors in her saying yes to the series and role of Tara.
"My roots were in drama, and then I did a lot of comedy for a few years, so I was ready to flex the drama muscle again… When I read Striking Out, the first episode, I was like, 'Oh my god!' Jumping straight into the deep end was really exciting and it lured me in one hundred percent. Because I'd been doing a lot of comedy the last couple of years, I was like, 'I'm ready to cry, ready to turn on the tears.'

"When we see her, she'd had this emotional car crash, and then we look about where her life has come. Everything has kind of gone according to plan. She's one of those people who's probably done really well in school, done really well in college, met this guy, and it just works. She's someone I feel loves order and loves to know where she's going. Things have worked out the way she wanted them to until now, and then things are turned upside down with her and Eric and upset everyone. And as we continue to see, it's the makings of her reevaluating where she is and evaluating her life — what she wants to do and how she sees the world — and she's going to have to go through all of this to see what she wants and who she is. To get to play somebody like that was fantastic, somebody who has a story to tell and have a journey to go on, so I was really excited.

"Plus, I had worked over in the UK, and it was really great to work with an Irish crew on an Irish production on my doorstep, which was also handy! I got to go home to my own bed! So it was brilliant to film in Dublin, because it had been a while.

"And it's great I'm working with Irish crews, because it's a relatively small industry. You know a lot of the people and you've worked with them before, so there's that familiarity… I was so excited to get started on it and I was really glad I did it."
So are the folks who tuned in and gave RTÉ a rather hefty 37% share of the viewing audience for the second episode of Striking Out.
Single and unattached by her own choice, Tara is by no means alone. She has her mentor, Senior Counsel Vincent Pike (Neil Morrissey, Line of Duty, Men Behaving Badly — whom Any describes as "so kind and open and engaging and charming and lovely"), and Pete (Brahm Gallagher, Game of Thrones), the dishy owner of the hip café where Tara makes her office. And then there's the young, street-savvy Ray Lamont (Emmet Byrne, Red Rock), Tara's client-turned-assistant, as well as the mysterious, tech-savvy private detective, Meg Riley (Fiona O'Shaughnessy, Utopia) — all of whom help her to find her feet as, in Tara's words, "a corporate lawyer gone walkabout," taking on cases involving the right to privacy, an inheritance dispute, bigamy, and child custody.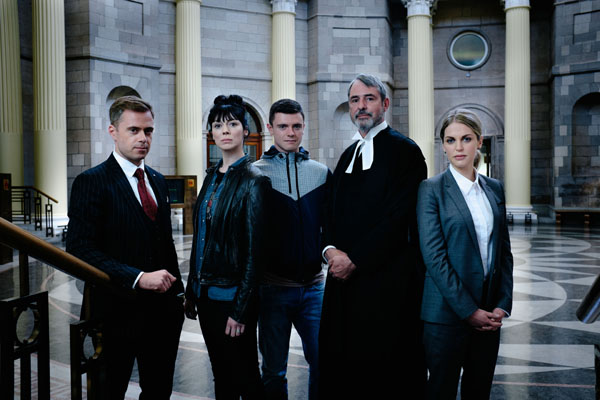 On the personal side, Tara has her loving dad Conrad (Nick Dunning, The Tudors) and mum Irene (Ingrid Craigie, Circle of Friends). Like Eric's dad Richard (Paul Antony-Barber, House of Anubis), a partner in the firm that Tara left, Irene wants nothing more than for the former couple to reunite. But it isn't their decision to make, no matter how much they try to influence the situation.
"It's a generational thing, isn't it," said Amy. "[Tara's] choosing not to go with the way that her mother thinks the order of things should be, and she's finding her feet and she's okay with that, and she's going, 'I know it's not as everybody thinks it should be and maybe that's okay.'

"For Tara, she probably has always thought that she's been in control, but it's a different type of control now. And I think there's freedom in her choosing something different for herself, and it's great to see a female character champion that."
According to the Irish Examiner, RTÉ executives confirmed that the second series of Striking Out is in development — great news for fans and also a must-have, given that nasty Series One cliffhanger. So I asked Amy what we might expect to see in Series Two.
"I'm really intrigued to see where the writers want to bring her. The challenges, obviously, that she will face again… her finding her feet, but also shaking things up a little bit. I think she was somebody who was probably just happy with the order of things, always aligned, and I think it's really interesting to see, when you shake up somebody's world, how they cope and how they choose to interact with all the other characters around, so I think more of that.

"I think we'll see a different side of Tara in Series Two, if it goes, and maybe see more of who she is, more of what makes her tick, more of the things that anger her. I think she has to kind of put the brave face on professionally and go forward, because she went out on her own and she has all these things to contend with. So I think when things have settled a little bit in her personal life, hopefully we'll see she'll let her guard down a little bit and we'll get to see more of who she is."
Striking Out, an Acorn TV Original Series, premieres Friday, 17 March 2017, exclusively on Acorn TV.
__________________

Add your comments on our Facebook and Twitter pages.

Share this post/page.

Amy Huberman Talks Striking Out, the Hit Irish Drama Premiering on Acorn TV