Agatha Raisin, the quirky new UK comedy-drama mystery series starring Ashley Jensen as the eponymous amateur sleuth, is set to stream exclusively on Acorn TV.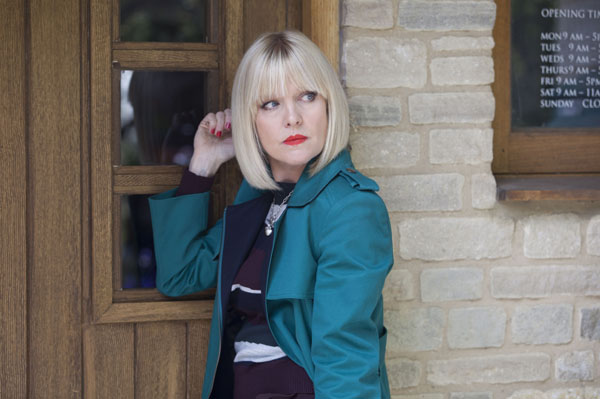 She's a successful, hotshot PR executive who's retired early from her high-flying career. She's sold her business and flat in London and moved to the idyllic village of Carsely in the Cotswolds. And as she discovers, she's got a talent for solving crimes. She is Agatha Raisin.
And Agatha Raisin, the TV series, is smart and full of zingers, a bit like Father Brown meets Mapp & Lucia but set in contemporary times.
Adapted from titles in M.C. Beaton's bestselling "Agatha Raisin Mysteries" series of novels, the show stars Primetime Emmy® and BAFTA® Awards nominee Ashley Jensen (Extras, Catastrophe, Ugly Betty) as Agatha — a strong, independent, and flawed 40-something woman with a fabulous wardrobe (depending on your taste), a devoted gay best friend, and the subtlety of a brick.
Carsely is no London, which is precisely the point. Agatha, waxing nostalgic, intends to relive cherished childhood memories in the quaint village. The thing is, that was then and this is now. Plus, you can take the publicity pro out of the big city, but you can't take the drive to succeed out of the insecure transplant.
Therein lies the start of Agatha's new life as a crime-solver.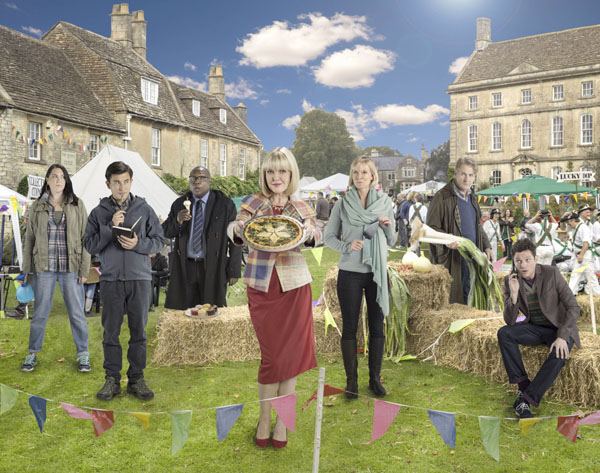 It all begins in the feature-length pilot episode Agatha Raisin: The Quiche of Death (based on Book 1 of the novels).
In an attempt that's as much about announcing her arrival in Carsely as it is about fitting in amongst the locals, Agatha enters the annual quiche-baking competition (despite her lack of Great British Bake-Off skills). While her bakery-bought pie strategy might be questionable, the outcome definitely isn't: her quiche entry kills the judge and she is the primary suspect.
Guilty until proven innocent, "Aggie" sets about to find the real murderer. Helping her are her best friend and former assistant Roy Silver (Mathew Horne, Gavin & Stacey, Bad Education), her single-mum cleaner Gemma Simpson (Katy Wix, The Windsors, Not Going Out), and DC Bill Wong (Matt McCooey, Doctors, Skins), a Carsely copper who falls for and becomes a good friend to Agatha.
And in a brilliant stroke of casting, Robert Bathurst and Hermione Norris, who played husband and wife in Cold Feet, feature here as Mr & Mrs Andy and Jo Cummings-Brown — he a philanderer and she his long-suffering better half.
The pilot proved to be a hit on Sky 1, which prompted the commissioning of a full, eight-episode series of Agatha Raisin.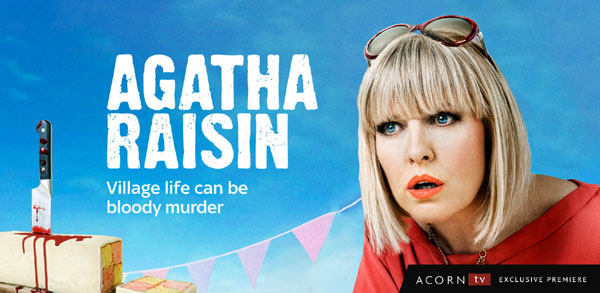 Series 1 opens with "The Walkers of Dembley" (based on Book 4), in which a blustery rambler is found murdered soon after an argy-bargy with Sir Charles Fraith (Jason Merrells, Emmerdale). To solve this mystery, Agatha and handsome neighbor James Lacey (Jamie Glover, Waterloo Road, Holby City), a man she'd love to know better, pose as a married couple, even though she has a rival for his affection.
In "Hell's Bells" (based on the short story), Amanda finds one of the bell-ringers hanged with a bell rope in the church belfry. Despite there being a suicide note, she believes the death was caused by foul play. Aggie's unofficial investigation leads her back to London, where she and Roy learn the truth about the victim's double life, and reveals a long-held secret of someone at home in Carsely.
"The Wellspring of Death" (based on Book 7) finds Agatha doing PR for Guy Freemont (Jules Knight, Holby City) to help him gain access to Carsely's natural spring for his bottled-water company. Only the parish council chairman is killed before casting the deciding vote on the matter. While Agatha and Guy get cozy, James and his girlfriend Mary (Daisy Beaumont, A Touch of Cloth) investigate the murder, leading the competitive Aggie to get back to sleuthing… and to unwittingly put herself in grave danger.
With gardens vandalized and a green-thumbed resident found dead just days before the garden competition in"The Potted Gardener" (based on Book 3), it's up to Agatha to start digging to find the killer. The village might be small, but there are plenty of suspects in Carsely. However, the arrival of two out-of-towners sheds new light and Agatha believes one of them had a major motive for murder.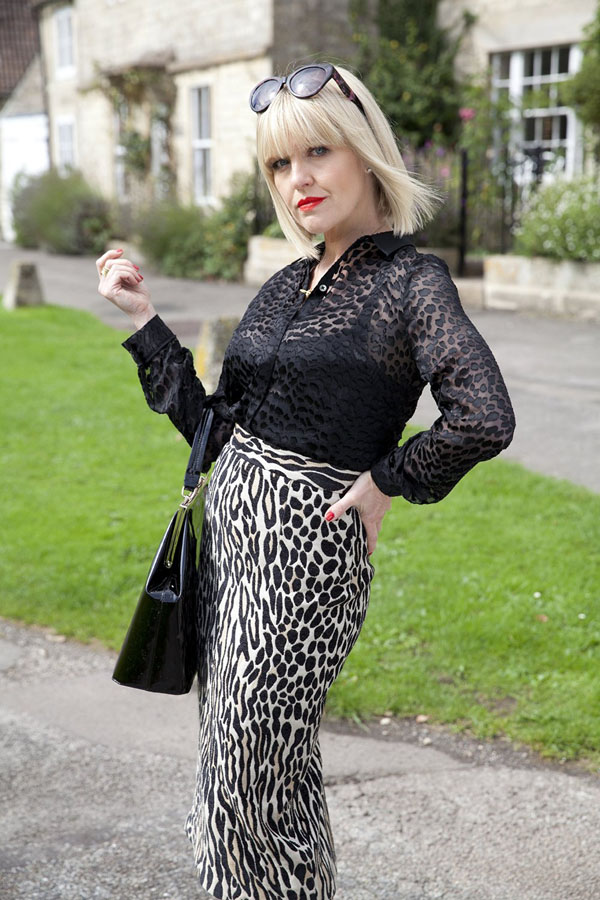 In "The Vicious Vet" (based on Book 2), Carsely's handsome vet is found dead in Lord Pendlebury's (Douglas Reith, Downton Abbey) stables the day after a date with Agatha. As she and James investigate the unlikely suicide, they learn that Pendlebury and other villagers had reasons for killing him. But then another murder occurs, Agatha is warned off delving any further into both deaths, and her cat Hodge is kidnapped, all of which leads Aggie straight to the double murderer.
Nearly everyone in Carsely attends the wedding of two villagers in "The Day the Floods Came" (based on Book 12), only to be horrified when the new bride is found murdered the next day. Warnings to Agatha not to investigate, even from Charles Fraith, fall on her deaf ears, and she realizes too late that she should have heeded them. As the intrigue continues, Aggie gets herself into danger. Again.
"The Witch of Wyckhadden" (based on Book 9) is a clairvoyant in the village of Wyckhadden whom Agatha visits and later finds bludgeoned to death. Now a suspect in the murder, she gets help from her friends to find the real killer while also falling for the dishy Inspector Jimmy Jessop (Steven Brand, Secrets and Lies). Things get deadlier following a séance and, for Agatha, more complicated when James pops the question.
Bringing Series 1 to a close is "Murderous Marriage" (based on Book 5). It's Agatha and James' wedding day, and since this is Aggie we're talking about, things do not go off without a hitch. Her first husband, whom she'd presumed was dead, shows up, halting the ceremony. Worse yet, he's found truly dead the next day after arguing with Aggie, now the prime suspect in his murder. If she's to prove her innocence and marry James, she'd better hurry.
The series features in recurring roles Rhashan Stone (Strike Back) as Rev. Jez Bloxby, Lucy Liemann (Rev.) as Jez's wife Sarah, Jason Barnett (The Bill) as DI Wilkes, June Watson (The Café) as Mrs Josephs, and Richard Durden (Jonathan Strange & Mr Norrell) and Marcia Warren (Vicious) as Mr and Mrs Boggle.
Guest stars include Sally Bretton (Death in Paradise), Tom Chadbon (Wire in the Blood), Debbie Chazen (Sherlock), Antonia Clarke (Lightfields), Lu Corfield (Doctors), Nell Hudson (Outlander), Daniel Ings (W1A), Georgia Taylor (Law & Order: UK), and Jason Thorpe (Poldark), amongst many others.
Written by Stewart Harcourt (Agatha Christie's Marple) and Chris Murray (Midsomer Murders), and filmed in Bristol and Wiltshire, the series is executive produced by Cameron Roach for Sky, Michele Buck for Mammoth Screen, and Barry Ryan and David Walton for Free@Last TV.
Agatha Raisin is an Acorn TV Original Series. The Quiche of Death premieres tomorrow, Monday, 1 August 2016, and Series 1 premieres Monday, 8 August.
__________________

Add your comments on our Facebook and Twitter pages.

Share this post/page.

Agatha Raisin: Acorn TV Premieres Quirky Brit Dramedy Mystery Series in the US