Fans of George Gently, rejoice! The beloved mystery/crime drama series starring Martin Shaw and Lee Ingleby will be back for its eighth and final season.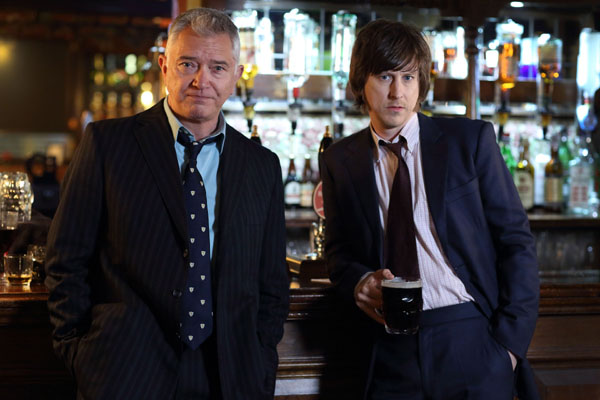 One of our favorite detective duos will be back when George Gently, the hit mystery series based on the "Inspector George Gently" novels by Alan Hunter, returns to telly later this year for its last-ever season.
Starring Martin Shaw as Chief Inspector George Gently and Lee Ingleby as Detective Inspector John Bacchus, the series has been a must-watch Brit mystery for folks on both sides of the pond since the debut of the pilot episode a decade ago.
Back then the setting was 1964 Northeast England. The locale will be the same for Series 8, but the two new television movies — "Gently Liberated" and "Gently and the New Age" — will take place in 1970, following the events that occurred during Christmastime 1969 in the finale of Series 7.
(Speaking of, Series 7 earned a 2016 Edgar® Award — the only annual television award given by the Mystery Writers of America, the leading mystery writers association — for Best Television Episode Teleplay, for the opening episode, "Gently with the Women.")
In "Gently Liberated," retirement is imminent for Gently, but that doesn't stop him from reopening an investigation that risks exposing an appalling miscarriage of justice and potentially embarrassing the police force. And in the series finale, "Gently and the New Age," Gently is about to retire on a professional high when he is approached by a covert police unit with one last tantalizing offer.
Joining Shaw, Ingleby, and Lisa McGrillis (as Detective Sergeant Rachel Coles) in Series 8 is Richard Harrington (Hinterland, Poldark).
The final episodes are currently in production and should air on BBC One in the UK in late 2017. Acorn TV will stream Series 8 in the US as an Acorn TV Original series soon thereafter.
George Gently: Series 8 is a co-production of all3media International and Acorn Media Enterprises.
__________________

Add your comments on our Facebook and Twitter pages.

Share this post/page.

George Gently: Martin Shaw & Lee Ingleby Return for Final Series of Hit Brit Mystery