Line of Duty, one of the best UK crime dramas EVER, has returned to the US with its latest season, and it is one heckuva humdinger.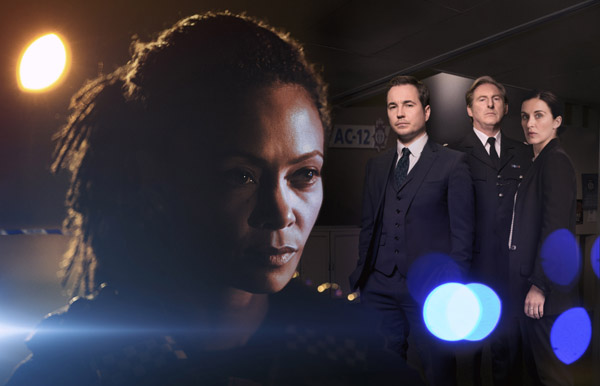 Before I get into Line of Duty: Season 4, let me start by saying…
1. Jed Mercurio (Critical, Strike Back) is a freaking genius. He's the creator and writer of Line of Duty, which won the 2015 Royal Television Society award for Best Drama Series.
2. If you haven't seen Seasons 1, 2, and 3 yet, and have them on your to-watch list, pause anything else you have queued up, login to Hulu, and begin the 23-hour binge-fest of all four seasons to date. (Yes, there are more coming.)
3. See #2 if you've already watched the first three seasons but not the fourth (6 hours).
4. And if you've watched Season 4… It's crazy awesome, am I right?!?
I just finished watching the Season 4 finale and my heart is still beating like crazy. This, after having held my breath for the better part of the last ten minutes.
But I get ahead of myself.
Fans of the show will recall how dislikable DI Lindsay Denton (Keeley Hawes, The Durrells in Corfu) could be in Seasons 2 and 3. Well, as they say in the vernacular, she ain't got nothin' on the new copper in question: DCI Roseanne "Roz" Huntley (Thandie Newton, Westworld, Rogue).
This woman is ice cold, and I don't mean in that OutKast, "what's cooler than being cool" kind of ice cold, either. More like Foreigner's "Cold as Ice," actually, insofar as some of the sacrifices go. And Huntley is more besides. Steely, disingenuous, manipulative, yet outwardly professional and respectful and a person who engenders loyalty amongst her team.
Series 4 opens with the abduction of a young woman, saved from a fiery death by Huntley herself. Soon thereafter, the police arrest the suspect, convicted sex offender Michael Farmer (Scott Reid, Still Game), and Forensic Coordinator Tim Ifield (Jason Watkins, Trollied, Taboo) finds what appears to be evidence against him. Pretty straightforward, right?
Not quite.
Huntley is under intense pressure from Assistant Chief Constable Derek Hilton (Paul Higgins, Raised by Wolves, Utopia) to charge Farmer pronto, because the public have "been killing us [the police] on Twitter" for a series of unsolved crimes against women. The thing is, Ifield believes his analyses of the items found at the latest crime scene actually point to Farmer's innocence, while Huntley insists it is "mountains of evidence" against him.
AC-12, the Met's (fictional) anti-corruption unit, enters the picture after Ifield meets with DS Steve Arnott (Martin Compston, The Great Train Robbery, Monarch of the Glen) and alleges that evidence was probably planted and suppressed to frame Farmer, given that a particular kind of forensic analysis shows that he can't be the attacker.
As with the previous AC-12 investigations, Superintendent Ted Hastings (Adrian Dunbar, The Hollow Crown, Ashes to Ashes) concocts a cover story to get DS Kate Fleming (Vicky McClure, The Secret Agent, Broadchurch), his go-to undercover operative, on Huntley's team in order to gather intelligence about the DCI and whether she has been intentionally perverting the course of justice in her role as the SIO (Senior Investigating Officer) on Operation Trap Door, the inquiry into the attacks. While Fleming works the AC-12 investigation from the inside, Arnott does the same from the outside by putting pressure on Huntley.
The plot thickens when Ifield is found dead and new evidence suggests Huntley's husband, Nick (Lee Ingleby, George Gently, The A Word), could be involved in one or more crimes being investigated by both Roz's team and AC-12.
I'm going to put a pin in it here, because we're on the cusp of spoiler territory. And trust me; you do not want to know what happens without seeing for yourself how things play out in this intricately-woven story told over six gripping, at times heart-pounding episodes.
Let me end by saying this: To grasp all the nuances in Season 4, go back to Season 1 and 3. (Season 2 is tangentially related, as well.) And stay tuned for Seasons 5 and 6, because the AC-12 story is most definitely not over…
Line of Duty: Season 4 is now streaming in the US exclusively on Hulu.
__________________

Add your comments on our Facebook and Twitter pages.

Share this post/page.

Line of Duty: Season 4: Oh. Em. Freaking. Gee.