"In like a lion, out like a lamb?" Not for British TV in the US, because this month is chock-full of must-watch premieres of new and returning shows, plus lots of Irish programs, too!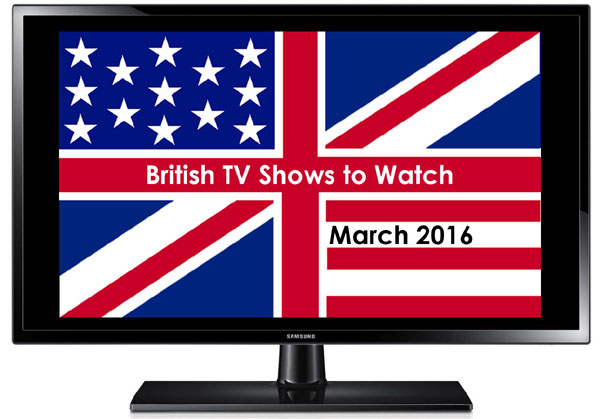 NATIONAL PREMIERES
Downton Abbey: The Finale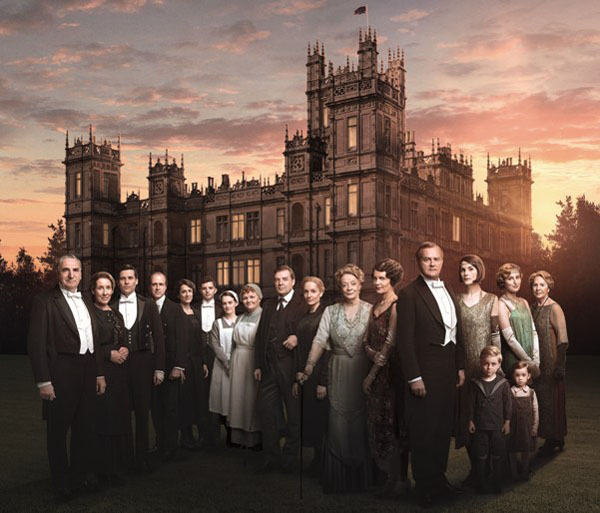 The most popular costume drama in the world is drawing to a close and millions of fans are sobbing into their tea and crumpets. From the love stories and the heartbreaks, to the battles royale and the zingers, we've shared the joys, sorrows, fears, and triumphs of the Crawleys and their staff for six glorious seasons, and wish there were more coming. But, alas, no. So let's be upstanding and raise our glasses to Downton Abbey and every member of its cast and crew. We love you and we'll miss you. The final-ever episode of Downton Abbey airs Sunday, 6 March 2016, at 9 PM ET, on PBS. (Check your local listings.)
Cuckoo: Series 1 & 2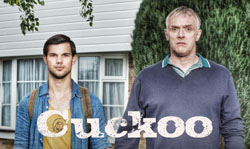 Greg Davies (The Inbetweeners) and Helen Baxendale (Cold Feet) star as Ken and Lorna Thompson, whose lives are turned upside down in Series 1 when their daughter Rachel (Tamla Kari, The Musketeers) returns from her gap year with a husband, the New Age slacker Dale "Cuckoo" Ashbrick (Andy Samberg, Brooklyn Nine-Nine). In Series 2 Dale Jr. (Taylor Lautner, The Twilight Saga) turns up and ends up staying with the Thompsons after claiming he's searching for his late father. Also featuring Tyger Drew-Honey (Outnumbered) and Esther Smith (Cockroaches), Cuckoo is a Netflix Original Series that premieres Monday, 7 March 2016.
And Then There Were None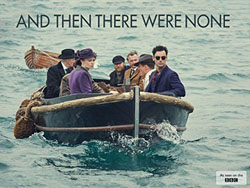 One of my favorite UK TV premieres of 2015, this miniseries is adapted from Agatha Christie's And Then There Were None, the bestselling mystery novel of all time. Set in 1939, the story centers on ten strangers who meet at the home of Mr and Mrs U.N. Owen, the only house on the isolated Soldier Island. The reasons for going vary amongst the guests, but what they have is common is, one by one, they're being picked off. As in murdered. For crimes they've committed. For further details, read "Agatha Christie's And Then There Were None: Now Filming with Stellar Cast Including Aidan Turner, Toby Stephens." And Then There Were None premieres in the US as a two-night event series, starting Sunday, 13 March 2016, at 8 PM, and concluding Monday, 14 March, at 9 PM, on Lifetime.
Janet King: Series 1 (Australia)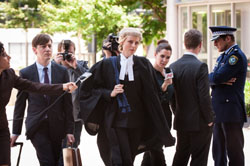 This Australian legal and political thriller stars Marta Dusseldorp (A Place to Call Home, Jack Irish) as Janet King, a talented Senior Crown Prosecutor whose return to work following a year's maternity leave finds her preeminence at the Department of Public Prosecutions in jeopardy, especially after she fails to get a conviction in her first case back on the job. To prove her mettle, she throws herself into a controversial case involving a senior-ranking police officer, but conspiracy and corruption threaten not just her career, but also her family and her life. An Acorn TV exclusive, the eight-part Janet King: Series 1 premieres Monday, 14 March 2016.
Schitt's Creek: Season 2 (Canada)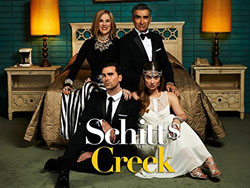 SCTV alums Eugene Levy (American Pie) and Catherine O'Hara (Beetlejuice) star in this hilarious Canadian comedy as Johnny and Moira Rose, a wealthy couple who lose nearly everything and, with their hipster son David (Dan Levy, Cyberstalker) and socialite daughter Alexis (Annie Murphy, Rookie Blue), are forced to move from their swank digs to a rundown motel in Schitt's Creek, the small town they bought as a joke but is now their only asset. Season 1 found the Roses involved in various misadventures as they tried to rebuild their lives, and in Season 2, the hilarity continues. Schitt's Creek: Season 2 premieres Wednesday, 16 March 2016, at 8 PM ET, on Pop.
Happy Valley: Series 2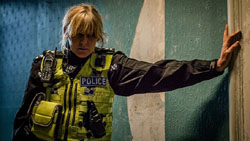 Following the brutal events in Series 1, the second series of this BAFTA Award-winning crime drama finds Catherine Cawood (Sarah Lancashire) rebuilding her life after capturing psychopathic killer Tommy Lee Royce (James Norton) a year and a half earlier. But just because he's behind bars doesn't mean he isn't still the source of torture for her. And this time, he has help. (For further details, including new cast members, read "Happy Valley: Sarah Lancashire, James Norton Return for Series 2 of Award-Winning Crime Drama.") A Netflix Original Series, Happy Valley: Series 2 premieres Wednesday, 16 March 2016.
Jimmy Carr: Funny Business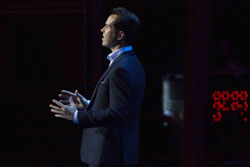 English comedian and TV show host Jimmy Carr (8 Out of 10 Cats, Big Fat Quiz of the Year) is back on US telly with Funny Business, one of his recent stand-up shows. Not one to shy away from being rude and offensive while delivering his trademark dark humor and edgy one-liners, Carr is still on the road with this show, so if you'd like to see it live, check out the upcoming cities and dates on his website. A Netflix Original Series, Jimmy Carr: Funny Business premieres Friday, 18 March 2016.
Vera: Series 6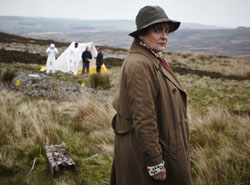 Yes, pet. Two-time Oscar® nominee Brenda Blethyn reprises her role as the brilliant, no-nonsense DCI Vera Stanhope for another season of the hit crime drama based on the bestselling novels by Ann Cleeves. In the sixth series, Stanhope and her sidekick, DS Aiden Healy (Kenny Doughty) (introduced in Series 5), tackle cases that include: the body of a woman found on the Northumberland moors; the mysterious death of a young man whose remains are discovered in remote caves in an area notorious for illicit teenage gatherings; a mysterious double murder in a remote country manor house; and the body of a missing trawler man pulled from the sea. An Acorn TV exclusive, Vera: Series 6 premieres Monday, 21 March 2016.
Grantchester: Season 2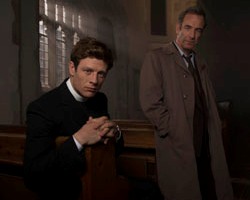 Based on the popular "Sidney Chambers" stories by James Runcie, this charming 1950s-set mystery drama stars James Norton as the single, jazz-loving Anglican priest Sidney Chambers, and Robson Green as the married, often harried DI Geordie Keating. Unlikely as their friendship might be, the two are perfectly matched as sleuthing partners. If only something similar could be said for Sidney's love life. By the way, Poldark's Aidan Turner isn't the only Masterpiece Mystery hunk to go shirtless; Norton does his own bit of stripping down in Season 2, too. Let the battle of the bare chests begin! (For further details, read "Grantchester: Season 2 & Churchill's Secret on PBS in 2016, Victoria Gets Downton's Slot in 2017.") Grantchester: Season 2 premieres Sunday, 27 March 2016, at 10 PM ET, on PBS. (Check your local listings.)
Mr. Selfridge: Season 4 (Final)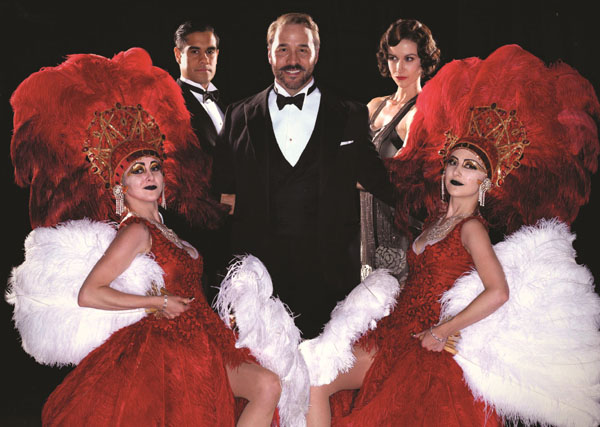 The final series of this hit period drama opens nine years after Season 3 and finds Harry Selfridge (Jeremy Piven) losing hold of his empire and social status, a downfall as dramatic as his rise to fame and fortune. Meanwhile, the stories of others within Selfridge's get resolved, including those of Mr. Grove (Tom Goodman-Hill) and Miss Mardle (Amanda Abbington), and Kitty (Amy Beth Hayes) and Frank Edwards (Samuel West). Series regulars are joined by new cast members, including Sacha Dhawan (Last Tango in Halifax) and Robert Pugh (Game of Thrones). (For further details, read "Mr. Selfridge: Fourth and Final Series Premieres on ITV and PBS in 2016.") Mr. Selfridge: Season 4 premieres Sunday, 27 March 2016, at 10 PM ET, on PBS. (Check your local listings.)
Very British Problems: Series 1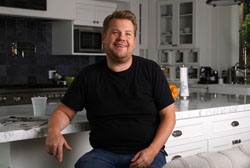 Based on the bestselling book Very British Problems: Making Life Awkward for Ourselves, One Rainy Day at a Time by Rob Temple, and narrated by Julie Walters (Indian Summers), this three-episode series features some of Britain's most famous faces sharing their endless struggles with the social awkwardness that comes with being British. Hilarious contributions come from James Corden (The Late Late Show), talk show host Jonathan Ross, and actors Nigel Havers (Chariots of Fire), Jimmy Akingbola (Arrow), and Stephen Mangan (Episodes), amongst others. American comedian Rich Hall (Saturday Night Live) and Irish actress Aisling Bea (Trollied) also offer insights. An Acorn TV exclusive, Very British Problems: Series 1 premieres Monday, 28 March 2016.
LOCAL PREMIERES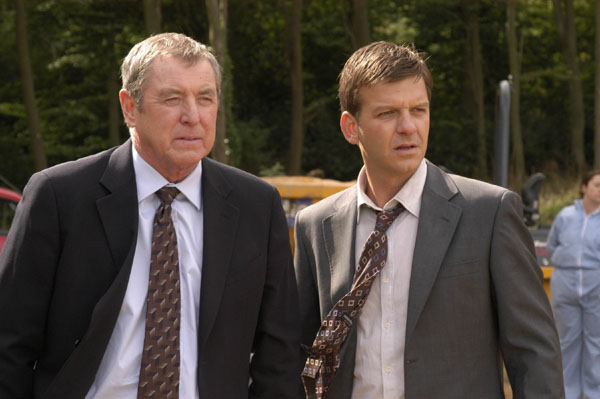 Midsomer Murders: Series 11
One of British TV's best-loved mystery series returns to American telly with John Nettles and Jason Hughes reprising their respective roles as DCI Tom Barnaby and DS Ben Jones (who, together, should not be confused with Barnaby Jones, the private eye played by Buddy Ebsen in the '70s TV series – lol). Across seven episodes, the detective duo have to solve nearly two dozen murders, some more creatively executed than others. Midsomer Murders: Series 11 begins airing on these public TV stations starting today, 1 March 2016. Check your local listings or contact the station that serves your area for broadcast details, as air dates vary from station to station.
1916: The Irish Rebellion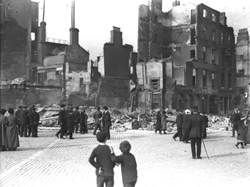 Narrated by acclaimed actor Liam Neeson, this incredible documentary commemorates the 100th anniversary of the Easter Rising, the armed uprising of Irish rebels against the British on Easter Monday 1916, which led to the establishment of an independent Irish State and, indirectly, to the breakup of the British Empire. Each of the three 60-minute episodes features a combination of rarely seen archival footage, new segments filmed on location worldwide, and interviews with leading international experts. 1916: The Irish Rebellion begins premiering on public TV stations starting Monday, 21 March 2016. Check your local listings or contact the station that serves your area for broadcast details. (Stay tuned for the full station list.)
Also check your local listings for more Brit TV programs that air in the US exclusively on a local basis, such as Dalziel & Pascoe, The Inspector Lynley Mysteries, and Shetland.
OTHER PROGRAMS ADDED TO STREAMING SERVICES

Kingdom: Series 1-3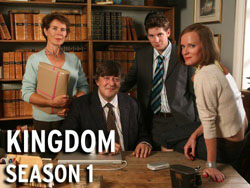 I adore this show and am thrilled to bits that it will be streaming again. Set in Market Shipborough in Norfolk, the drama stars Stephen Fry (Jeeves & Wooster) as Peter Kingdom, a solicitor whose life is overshadowed by the mysterious disappearance of his brother Simon and turned upside down by the moving in of his half-sister Beatrice (Hermione Norris, Cold Feet). Costarring in this delightful series are Celia Imrie (Calendar Girls), Karl Davies (Happy Valley), Tony Slattery (Coronation Street), and Phyllida Law (Much Ado About Nothing). Kingdom: Series 1-3 begins streaming Monday, 14 March 2016, on Acorn TV.
Moving On: Series 1 & 2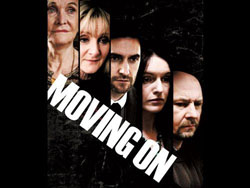 This critically-acclaimed anthology series, created by Emmy® and BAFTA Awards winner Jimmy McGovern (Cracker), features standalone contemporary dramas that explore complex issues, from addiction and depression, to love and loss. As characters grapple with them, they reach a turning point… and move on. The cast in Series 1 (5 episodes) includes Richard Armitage (MI-5), Dervla Kirwan (The Silence), and Lesley Sharp (Scott & Bailey), and in Series 2 (10 episodes) Robert Glenister (Hustle), Anne Reid (Last Tango in Halifax), John Simm (Life on Mars), and Claire Skinner (Outnumbered), amongst others. Moving On: Series 1 & 2 begins streaming Monday, 21 March 2016, on Acorn TV.
The Trench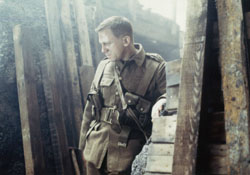 This war drama centers on the experiences of a group of British soldiers stuck in the trenches on the eve of the devastating Battle of the Somme during World War I. Daniel Craig (Spectre, Skyfall) leads the cast, which includes Paul Nicholls (Law & Order: UK), Julian Rhind-Tutt (Banished), Danny Dyer (EastEnders), James D'Arcy (Broadchurch), Cillian Murphy (Peaky Blinders), and Ben Whishaw (London Spy), amongst others. The Trench begins streaming Friday, 25 March 2016, on Acorn TV.
Acorn TV also celebrates the Irish and St. Patrick's Day in March with several Irish programs. Scroll below to read more about them.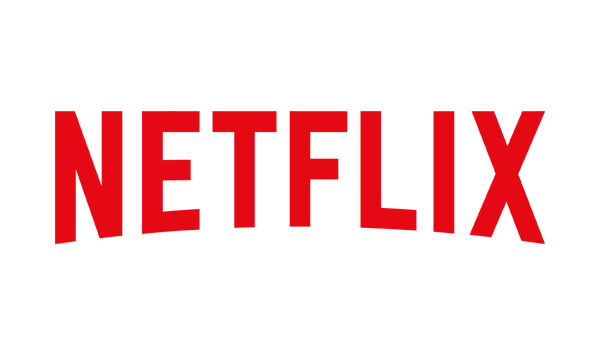 Fresh Meat: Series 2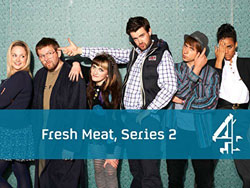 The second season of this multiple award-winning dramedy finds the housemates — Violet "Vod" Nordstrom (Zawe Ashton, Case Histories), Howard McGregor (Greg McHugh, Gary Tank Commander), Josephine "Josie" Jones (Kimberley Nixon, Hebburn), Melissa "Oregon" Shawcross (Charlotte Ritchie, Call the Midwife), Kingsley Owen (Joe Thomas, The Inbetweeners), and Jonathan "J.P." Pembersley (Jack Whitehall, Bad Education) — back at Manchester Medlock University for a new term and more challenges at school and in life. Fresh Meat: Series 2 begins streaming today, 1 March 2016, on Netflix.
Midsomer Murders: Series 17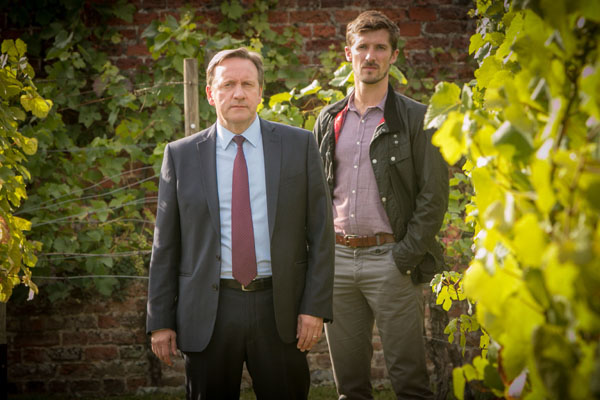 Neil Dudgeon and Gwilym Lee reprise their roles as DCI John Barnaby and DS Charlie Nelson in this long-running hit Brit mystery series, accompanied by Tamzin Malleson as pathologist Kate Wilding, Fiona Dolman as John's wife Sarah, and Sykes the dog. The long list of guest stars includes Una Stubbs (Sherlock), Joe Absolom (Doc Martin), Dean Andrews (Last Tango in Halifax), and Rosie Cavaliero (Prey). (If you've read elsewhere that Series 17 is a Netflix exclusive, it isn't. It is still streaming at Acorn TV, where it premiered in June 2015.) Midsomer Murders: Series 17 begins streaming today, 1 March 2016, on Netflix.
FOR THE LOVE OF THE IRISH & ST. PATRICK'S DAY

The Lilac Bus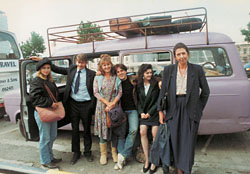 Interrelated stories in The Lilac Bus, written by the late, great Irish author Maeve Binchy, make up this Irish drama about six people — five from the village of Rathdoon, each of whom reaches a crossroad in their life, and the driver of the lilac-colored bus, who drives them from Dublin to their hometown and back again every Friday and Sunday evening. Starring in the film are Con O'Neill (Criminal Justice) as bus driver Tom; Stephanie Beacham (The Colbys) as Judy, a health food shop worker; Beatie Edney (Poldark) as law student Dee; Rynagh O'Grady (Father Ted) as Nancy, she of the reputation for meanness; Dervla Kirwan (Ballykissangel) as nurse Celia; and Brendan Conroy (Dominion Creek) as bank porter Mikey. The Lilac Bus begins streaming Friday, 4 March 2016, on Acorn TV.
Father Ted: Series 1-3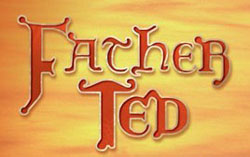 This hilarious, multiple BAFTA Award-winning classic Britcom revolves around the misadventures of three Catholic priests — Father Ted Crilly (Dermot Morgan), Father Dougal McGuire (Ardal O'Hanlon, My Hero), and Father Jack Hackett (the late Frank Kelly, Emmerdale) — whose life in exile (for transgressions) on the remote Craggy Island doesn't stop them from dreaming and scheming. And their housekeeper, Mrs Doyle (Pauline McLynn, Shameless), always wants to serve them tea. Father Ted: Series 1-3 begins streaming Monday, 7 March 2016, on Acorn TV.
The Hanging Gale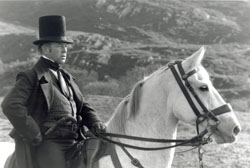 In 1846 Donegal, the Great Famine and injustices of the landholding system threaten the lives of tenant farmers, including Phelan brothers Dean, Conor, Liam, and Daniel, played by the real-life McGann brothers Joe (The Upper Hand), Mark (The Grand), Paul (Luther), and Stephen (Call the Midwife). The arrival of the new land agent, Captain William Townsend (Michael Kitchen, Foyle's War), doesn't offer all the relief the locals want, and his life is perpetually in danger, despite his appeals to the absentee English landowner for relief for the suffering tenants. Three of the Phelan brothers try to work with him, but one takes more drastic measures and sets off a devastating chain of events. Costarring Tina Kellegher (Ballykissangel), Sean McGinley (Single-Handed), and Gerard McSorley (Bloody Sunday), the four-part The Hanging Gale begins streaming Monday, 7 March 2016, on Acorn TV.
Troubles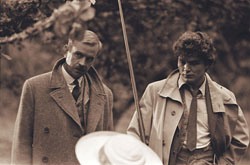 Set in 1919 against the backdrop of the Irish War of Independence, Troubles is adapted from the Lost Man Booker Prize-winning novel by J.G. Farrell. Major Brendan Archer (Ian Charleston, Chariots of Fire) arrives at the Majestic Hotel on the Wexford coast to reunite with fiancée Angela Spencer (Susannah Harker, Ultraviolet), but the once-grand hotel owned by her Unionist father Edward (Ian Richardson, House of Cards trilogy) has decayed into a shadow of its former self, as has Angela. Archer soon falls in love with her Nationalist friend, Sarah Devlin (Emer Gillespie, The Cook, the Thief, His Wife & Her Lover), then disturbing aspects about their relationship threaten to explode into violence, destruction, and murder. Also featuring in the two-part miniseries are Sean Bean (Legends), Dervla Kirwan (Injustice), and Jerome Flynn (Ripper Street). Troubles begins streaming Monday, 7 March 2016, on Acorn TV.
Anner House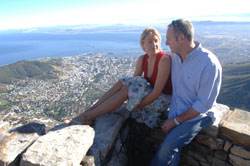 Based on a short story by Maeve Binchy, Anner House follows Neil Barry (Liam Cunningham, Game of Thrones) and Ruth Maguire (Flora Montgomery, Endeavour), Irish émigrés who meet by chance in Cape Town, South Africa. Both struggle to deal with their pasts, but as she helps him to quiet his inner demons and put his life back together, he helps her to fulfill her dream of opening a seaside hotel. The romantic Anner House begins streaming Friday, 11 March 2016, on Acorn TV.
For updates about March 2016 program offerings, see the British TV Viewing Guide.
__________________

Add your comments on our Facebook and Twitter pages.

Share this post/page.

British TV to Watch in March 2016: Grantchester, Happy Valley, Vera, and More [UPDATED]